Inspirational interior designers: Kelly Hoppen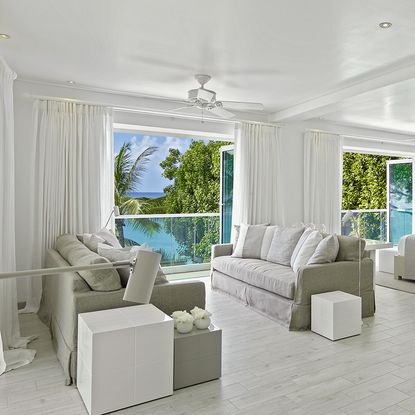 In the first of an occasional series on inspirational interior designers that have changed the way we decorate our homes, we look at the stunning work of Kelly Hoppen MBE.
One of Britain's most famous interiors designers, Kelly Hoppen MBE was only 16-years-old when she designed a family friend's kitchen. It was the start of a luminous career that saw Kelly design homes for many of the world's greatest names and culminated in an MBE for services to interior design. Kelly is also the author of many interior design books, including the recently published Design Masterclass and an investor on BBC Two's The Dragon's Den.
Kelly's Style
Traditional with a modern twist, Kelly's signature style is about harmony and balance, with some East-meets-West themes. She is famous for her clean lines, and her palette of taupes and neutrals.
Great Projects
Kelly has designed many celebrity homes, as well as top hotels. Her latest project is Footprints (pictured), a 7,000 square feet beach house in Barbados, where she drew inspiration from the lush tropical setting to create a bright and inviting environment.
Great Projects
Neutrals and white contrast beautifully with the vivid colours of the tropical landscape in this restful four-poster bedroom at Footprints
Great Projects
Another of Kelly's recent projects is this elegant private home in Britain.
Great Projects
A touch of green adds zing to this calm, beautifully understated room.
Kelly's Top Tips
Clean lines and symmetry always work well. Take your time when planning a space: pick a base colour - Kelly would of course chose something neutral, like taupe - and build on it, but don't be afraid to take some risks and think outside the box.
Where To Shop
Shop for Kelly Hoppen products at her new online luxury store, www.kellyhoppen.com (opens in new tab)
Carla Passino is a multimedia journalist with more than seventeen years' experience in national and international media.
Carla's primary areas of interest are political, economic and housing trends in global cities. Much of my time is spent writing about the world's prime property markets and the factors that affect it, covering fiscal, legal, political and financial issues linked to home ownership, and reporting on major shifts in British, European and international housing. Over the years, Carla has written about culture, education, interiors, farming, travel, food, wine and more.