100 years of Agatha Christie: Agatha Christie's book adaptations ranked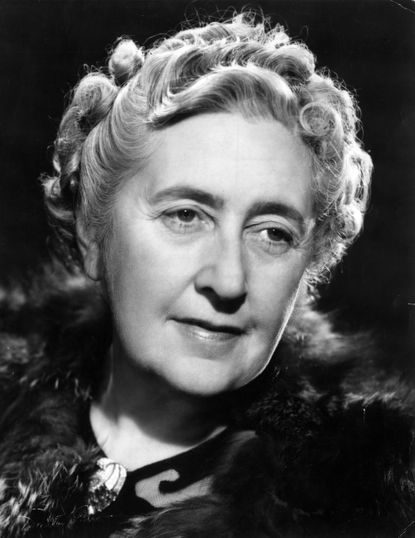 (Image credit: Mondadori via Getty Images)
With their classic whodunnit charm and cast of colourful characters, there's nothing quite like an Agatha Christie mystery to keep us hanging on for more.
This year marks the 100 year anniversary of the publication of Agatha Christie's first novel, The Mysterious Affair at Styles, which introduced perhaps her most famous character Hercule Poirot, to readers everywhere.
And she didn't stop there, going on to write another 65 detective stories alone - many of which have been brought to life on our television screens. And with so many intriguing adaptations to dive into, we're spoilt for choice when it comes to selecting the best mystery.
100 years of Agatha Christie: we share the top 9 Agatha Christie adaptations around
9. Witness for the Prosecution
https://www.youtube.com/watch?v=2YbTPDWQLhM
The 2016 adaptation was based on Agatha Christie's short story of the same name and stars the likes of Toby Jones and Kim Cattrall. Leonard Vole is arrested for the murder of wealthy older woman Emily French who had made him her principle heir. His wife then agrees to testify as a witness for the prosecution, making his path to proving his innocence that bit more complicated...
8. Ordeal by Innocence
https://www.youtube.com/watch?v=0_mek23YTjM
This three-part 2018 drama follows the highly dysfunctional Argyll family, whose world is thrown into disarray when a man arrives at the family home and provides an alibi for Jack Argyll. The only problem is - Jack has recently been killed in jail before he could stand trial for the murder of his wealthy mother Rachel. Now they start to question who is really telling the truth. Starring Bill Nighy, Anna Chancellor and Morven Christie, the ending is very different from the original story, but is nonetheless compelling.
7. The Pale Horse
https://www.youtube.com/watch?v=8aKSIMB0PQU
Broadcast in early 2020, Sarah Phelps' adaptation of this sinister story starred Rufus Sewell in the lead role of Mark Easterbrook. He discovers that his name has appeared on a mysterious list found inside the shoe of a dead woman and decides to get to the bottom of why and what it means. His journey takes him to The Pale Horse in a tiny village, where witchcraft is rumoured to take place. But are the strange goings on the result of black magic or is there a simpler explanation eluding him? It's twisted and dark - perfect mystery viewing.
6. Agatha Christie's Marple
https://www.youtube.com/watch?v=Dw0lGUB6pYM
Played both by Geraldine McEwen and Julia McKenzie in this delightful series, Miss Marple is undoubtedly one of Agatha Christie's most beloved characters. Hailing from the tiny village of St Mary Mead, her sharp observation and knack for solving mysteries soon wins over sceptics. Each episode is wonderfully brought to life, with a few changes made here and there, whilst staying largely faithful to the original works. If you've yet to try any of these episodes, there's never been a better time to settle down and enjoy season after season of nostalgic crime-solving.
5. The ABC Murders
https://www.youtube.com/watch?v=3mGS-GCv-K8
This is yet another Poirot classic, but this adaptation has American actor John Malkovich taking on the role of the Belgian detective. It follows Poirot's investigation into a series of murders, where each victim's first and last name and the murder site begin with the next letter along in the alphabet. Starting with the murder of Alice Asher in Andover, the detective knows he's running out of time to catch this twisted killer.
4. The Mousetrap
https://www.youtube.com/watch?v=war8rQciu5U
As the longest running play, The Mousetrap is one entrancing stage show. Seven strangers arrive at Monkswell Manor during a blizzard. Before long they are joined by a police sergeant who is convinced one of the guests is a murderer. When a guest is killed, the investigation begins in earnest. It's clear that one of them is a killer, but which "mouse" will be next? And can they prevent any more deaths? The longevity of the play shows just how much it continues to entertain mystery lovers.
3. Murder on the Orient Express
https://www.youtube.com/watch?v=Mq4m3yAoW8E
Perhaps one of Agatha Christie's most famous stories, Murder on the Orient Express has been adapted many times. But Kenneth Branagh's 2017 version will forever hold firm in our memories. With a star-filled cast including Johnny Depp, Michelle Pfeiffer and Judi Dench, the acting is wonderful and the setting suitably mysterious. Poirot must solve the murder of a man on the lavish Orient Express, suspecting all his fellow passengers. Soon he uncovers the secrets the dead man hoped would remain buried. It's a classic for a reason.
2. Agatha Christie's Poirot
https://www.youtube.com/watch?v=_4ypEmJlfn8
For many people, acclaimed actor David Suchet is Agatha Christie's most famous character - Belgian detective Hercule Poirot. In this beloved series which brought to life each of her mysteries, he truly embodies Poirot and his distinctive quirks. Along with his best friend Captain Arthur Hastings and Chief Inspector Japp, he never fails to get the job done. This makes for addictive viewing and Christie's grandson himself has praised Suchet's portrayal highly.
1. And Then There Were None
https://www.youtube.com/watch?v=srOKFpdNOSk
This tale follows eight strangers who are invited to a tiny island, only to discover there is a killer in their midst. It is brilliantly brought to life by Sarah Phelps' in her 2015 miniseries. The show stars Charles Dance and Miranda Richardson and is perhaps our favourite of all of these brilliant adaptations. The race against time to uncover which of them is the killer is sure to keep you hooked.
Which is your favourite Agatha Christie novel?
Emma is a Senior Lifestyle Writer with six years of experience working in digital publishing. Her specialist areas including literature, the British Royal Family and knowing all there is to know about the latest TV shows on the BBC, ITV, Channel 4 and every streaming service out there. When she's not writing about the next unmissable show to add to your to-watch list or delving into royal protocol, you can find Emma cooking and watching yet more crime dramas.