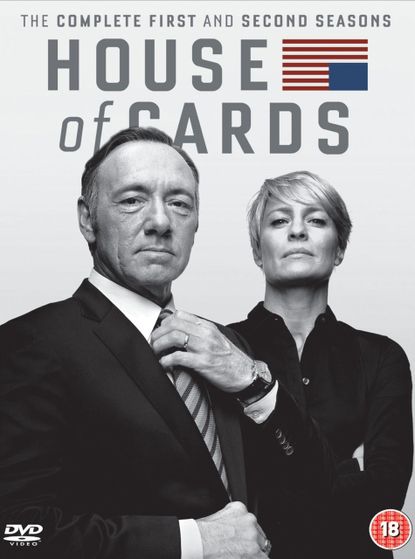 Catch up on the gripping shows everyone is talking about...
If you loved West Wing, you'll adore this political thinker.
Kevin Spacey wows audiences as Frank Underwood, the ruthless Democratic Congressman who is hell bent on gaining a cabinet position in the House of Representatives.
After working tirelessly to secure Garret Walker's election as President on the promise of a promotion, Frank is betrayed. Furious, he devises an intricate plan to exact revenge and ultimately gain power. The perfect present for the TV fan who has seen them all. House of Cards was only shown on the online streaming service, Netflix, so it's a real exclusive. And the third season is ready to review from today...
Buy House Of Cards: Series 1-2 (opens in new tab)
Mad Men: Series 1-6
Hard drinking, chain smoking, over-sexed and smoulderingly stylish, the Madison Avenue pioneers sell an ideal they are struggling to achieve in their own lives. Mad Men is a sexy, stylish and shocking portrait of a time that was anything but innocent. It makes irresistible watching. Catch up on the first part of season 7 now before the finale begins in April. Buy Mad Men Seasons 1-6 (opens in new tab) and Mad Men season 7 - part one (opens in new tab)
True Detective: Series 1
This gripping series has received much critical acclaim thanks to its stand-out performances and fascinatingly tense script.
Woody Harrelson and Matthew McConaughey star as two detectives whose lives become entangled in a 17-year hunt for a serial killer.
Dark and compelling, this is a crime drama with an extra edge. One for anyone who likes to be left wondering...
Game Of Thrones: Series 1-4
Game Of Thrones is the series that everyone is talking about - and that doesn't look set to be changing any time soon.
An adaptation of George R. R. Martin's book A Song Of Ice And Fire, the fantasy drama series interweaves several clever plot lines to leave you utterly gripped.
With a stellar cast and beautiful backdrop, it's easy to see why everyone is obsessed!
Orange Is The New Black: Series 1 - 2
Last year's surprise hit, Orange Is The New Black has the whole world fascinated with its witty dialogue and excellent cast.
Based on a true story, the series focuses around main character Piper Chapman, a woman who is sentenced to 15 months in prison for a decade-old crime. Now a law-abiding citizen, she must try to adjust to her new life behind bars.
The perfect mixture of dark and funny, OITNB will leave you desperate to watch the next episode. Just make sure you have a whole day free when you start!
Buy Orange Is The New Black: Series 1
(opens in new tab)
Downton Abbey: Series 1- 4
This fabulous, nineteenth-century costume drama sets the standard for British TV. Written by Julian Fellowes, it follows the lives of the Crawley family and the servants who work for them. There are four series to catch up on, so you best start soon! Downton Abbey has been passed down from generation to generation of Crawleys for decades. But now, with three daughters, and the latest male heir having floundered with the Titanic, Lord Grantham must devise a plan to save the inheritance of his beloved estate. Buy Downton Abbey: Series 1 - 4 (opens in new tab)
Breaking Bad: Complete Series
Leading the pack is Breaking Bad, the hugely successful crime thriller series that has sparked many a social media storm with it's nail-biting plot lines. With five seasons to get through, now is the perfect time to find out what everyone's so obsessed about. After discovering he has terminal cancer, downtrodden chemistry teacher Walter White decides to become a methamphetamine cook in a bid to secure his family's financial future. He teams up with small time drug dealer and former high school student, Jesse Pinkman, in a bid to shift his illicit produce - but it doesn't take long before the operation starts to ruffle a few Cartel feathers. Buy Breaking Bad: The Complete Series (opens in new tab)
The Good Wife: Complete Series
Sassy, law firm-based drama, The Good Wife, is a w&h favourite. With her high-flying husband jailed for corruption - and his sex tapes with prostitutes all over the internet - Alicia Florrick (a feisty Julianna Margulies) has a lot of battles to fight. Forced back into her law firm as the lowest of the low after 15 years away, The Good Wife follows Alicia's slow and steady climb back to her best in a world where everyone is flawed. With four series of action to catch up on, now is the perfect time to get ahead! Buy The Good Wife: Complete Series (opens in new tab)
The Killing Series 1-6
The original and best Danish series follows the tactiturn, superhumanly determined detective Sarah Lund. Each series follows a separate case - in the first series, she investigates the death of a Copenhagen teenager. As the case rapidly takes over Lund's life it will do the same for yours - we found ourselves watching the last four hour-long episodes in one evening! Buy The Killing Series 1-3 (opens in new tab)now
Homeland Seasons 1-3
When marine sergeant (the hunky Damien Lewis) is returned to the US after years missing-presumed-dead in Iraq, CIA agent Carrie Mathison (Claire Danes) suspects him of being a double agent. As her investigation continues, you'll be gripped - while Mathison's bipolar disorder means the viewer is never quite sure of the truth. Buy Homeland Series 1-3 (opens in new tab) now
Inspector Morse Complete Boxset
We can't resist a classic Morse case on a rainy day - invest in the Complete Boxset and you'll never be without your fix! Buy the Inspector Morse Complete Boxset (opens in new tab) now
The West Wing - The Complete Series
Aaron Sorkin's idealistic, acclaimed drama follows the staff, the runners and riders behind the scenes at the White House. It's packed with witty dialogue and brilliantly drawn characters including our heroine, the formidable CJ. Buy The West Wing Series 1-7 (opens in new tab) now
Lewis: Series 1-8
Murders, mysteries and mayhem! Morse's replacement solves crime after crime on Oxford's picturesque streets. We love it! Buy Lewis Series 1-8 (opens in new tab) (opens in new tab)now
Sex and the City Seasons 1-6 Complete Boxset
We love it and know you do too! And what could be more delicious than the entire box set following the exploits of Carrie Bradshaw and her pals? All their triumphs, all their tragedies and everything in between. Buy Sex and the City Seasons 1-6 Complete Box Set (opens in new tab)now
The Wire: Complete HBO Season 1-5
The Wire delves into the seedy side of Baltimore, with stories told from the point of view of both the police and their targets. The series captures a universe of subterfuge and surveillance, where easy distinctions between good and evil, and crime and punishment, are challenged at every turn. Buy The Wire: Complete HBO Season 1-5 (opens in new tab) now
Bleak House
Arguably the best ever Dickens adaptations, this mini series brims with fabulously eccentric characters and gripping plot. The cast is fab too: Gillian Anderson, Charles Dance, Carey Mulligan, Anna Maxwell Martin and more. One for a rainy weekend when you can watch the whole series in one sitting! Buy Bleak House (opens in new tab) now
Damages - Seasons 1-3
Gripping, tense, suspenseful drama in which you follow the life of revered litigator Patty Hewes (Glenn Close) and her ambitious protégée Ellen Parsons (Rose Byrne). We started watching over one weekend and then cancelled everything to stay in and see the lot! Buy Damages - Seasons 1-3 (opens in new tab) now
Absolutely Fabulous - Absolutely Everything Box Set
Enjoy 10 discs of Edina and Patsy being grotesque and debauched and very, very funny, not to mention Saffy and Bubble. Though the early episodes date back to 1992, the humour remains completely razor sharp today. Buy Absolutely Fabulous - Absolutely Everything Box Set (opens in new tab) now
24 - Complete Season 1-8 and Redemption
Kiefer Sutherland stars as counter terrorism agent Jack Bauer, whose rogue tactics constantly pit him against his superiors. Each one-hour episode will have you on the edge of your seat! Buy 24 - Complete Season 1-8 and Redemption (opens in new tab) (opens in new tab)
The Sopranos - HBO Complete Season 1-6
Brilliant series that follows the life of New Jersey-based Italian-American mobster Tony Soprano and the difficulties he faces as he tries to balance the conflicting requirements of his home life and his criminal work life. Buy The Sopranos - HBO Complete Season 1-6 (opens in new tab) now