An expert explains what happens to your credit if your energy supplier goes bust
What you need to know about what will happen to your credit if your energy supplier goes bust and which suppliers are at risk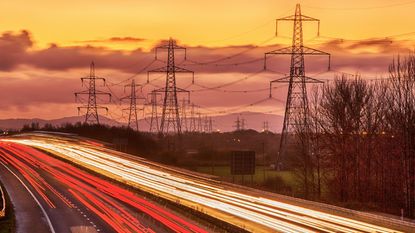 (Image credit: Ashley Cooper / Getty Images)
An energy expert reveals to woman&home what will happen to your credit if your supplier goes bust, and which energy suppliers are currently at risk.
The UK is currently facing an Energy Crisis that will affect many of us as we head into the winter months, but thankfully there are experts at hand to help answer our concerns.
Love Energy Savings (opens in new tab) is a company that has been helping customers save money on their energy bills since they entered the market in 2007. They have relationships with the Big Six energy suppliers, along with a multitude of smaller independent ones, which puts them in the prime position to offer advice and support.
Woman&home spoke to Phil Foster, the CEO of Love Energy Savings, about what these changes mean and how we might be affected.
---
1. What happens if your energy supplier goes bust?
Phil explains that although our energy supplier going bust is a fear that concerns many of us, there is nothing to be concerned about as a regulator is in place to ensure that you are switched to another supplier.
"If your energy supplier goes bust, there will be no impact on gas or electricity flow into your property as this will continue uninterrupted," he says.
"Ofgem (the UK regulator for the gas and electricity industry) will ensure that you will be switched to a new energy supplier. They refer to this process as 'The Ofgem Safety Net', and it means that when a supplier ceases to trade, Ofgem steps in to make sure supply continues and contracts are honored."
Phil reassures us that should this take place, many customers will not even notice the transition.
"Ofgem takes responsibility for finding the customers of the closed company a new supplier and will do their utmost to ensure that you don't even notice a transition."
"When selecting a new supplier, Ofgem will place your account out to tender. This competitive process is designed to get you the best deal. This usually takes a couple of days and is often referred to as a 'Supplier of Last Resort'."
This means that thankfully, your energy bills won't be skyrocketing if your supplier does in fact go out of business!
2. What happens to your credit if your energy supplier goes bust
Phil adds that if you have accumulated a large amount of credit with your current supplier, your new supplier will be able to honor this. If the new supplier is not able to honor it, there are also systems in place to remedy this.
"Any credit accumulated with your old supplier will be transferred. If an energy supplier is not available to take on your supply, the regulator Ofgem and the government will work together and appoint a special administrator."
"This means your old tariff will automatically come to an end and a new supplier will place you on a special 'deemed rate' contract. This lasts for as long as you want it to."
He adds, "Deemed contract rates are usually quite expensive. The new supplier will automatically place you on this type of deal as they are taking on more risk. Business energy is not protected in the same way as domestic which means that any credit balances will not be transferred over, and you may not get your money back."
But he says, reassuringly, "In the first instance, Ofgem will try to choose an energy supplier that can refund some or all your credit."
If you have a large amount of credit with your old supplier, you will need to contact the administrator who will be handling its debt to register as a creditor and explain how much you're owed.
"You will need some evidence so you should have recent energy bills to hand. Any refunds can take over 12-months and you may only receive some money back."
It seems that although losing your credit may be unlikely, it is best to be prepared and hold onto any past energy bills that state how much credit you have banked to date.
3. Which energy companies have gone bust so far?
In the last month, six energy suppliers have gone bust. Phil says, "As of today [September 28, 2021], the following suppliers have gone bust in the last month, PFP Energy, Money Plus, Utility Point, People's Energy, Green, and Avro Energy."
4. Which energy companies are at risk?
Although it cannot be confirmed which suppliers are at risk, Phil has suggested that smaller suppliers are in particular danger and there are rumours about a couple of providers.
"There is speculation that Igloo and Bulb Energy are in crisis, but Ofgem is predicting that many more suppliers are likely to go bust in the coming months—specifically smaller or independent suppliers," he tells woman&home.
5. Why are energy prices going up?
Phil says that the rise of energy prices in the UK is down to a variety of factors instead of one single reason.
"With a 250% increase in energy prices since January—several factors have come into play which means there is no single reason why UK energy prices are soaring. However, here are some of the reasons that have contributed to the price increase."
Phil then lists six primary factors that have contributed to this increase in prices:
A cold in winter in 2020 & 2021 caused the UK to drain a lot of the national gas shortage in a period where gas is already difficult to source.
Post-lockdown energy demand has soured across Asia—who supply gas to the majority of Europe—leading to a race to refill gas stores before they return to colder temperatures.
Ofgem's increase in the energy price cap that is taking effect in October 2021 and will increase household energy bills by around £139 per year.
The UK has had one of its least windy summers since 1961 at the most inopportune times—leading to low amounts of wind power being generated.
Delays involving the Nord Stream 2—a long offshore natural gas pipeline connecting Europe to a large reserve in Russia—has had some complications.
Finally, the demand has shot up in recent months following the shutdown of a major power cable that brings in electricity from France."
Laura is a news writer for woman&home who primarily covers entertainment and celebrity news. Laura dabbles in lifestyle, royal, beauty, and fashion news, and loves to cover anything and everything to do with television and film. She is also passionate about feminism and equality and loves writing about gender issues and feminist literature.
Laura loves drinking and eating and can often be found trying to get reservations at London's trendiest restaurants. When she's not wining and dining, Laura can also be found travelling, baking, and hiking with her dog.