Amanda Redman Reveals All About The Good Karma Hospital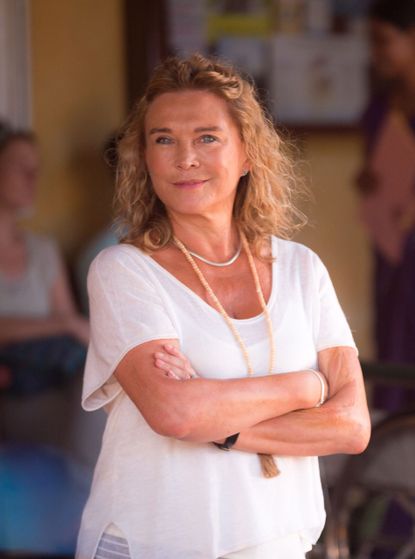 If, like us, you love a good medical drama, you'll be pleased to hear there's a brand new one on the horizon - and it stars none other than w&h favourite Amanda Redman. A six-parter for ITV, The Good Karma Hospital follows a team of British and Indian medics at an under-funded hospital, run by Amanda's character, Lydia Fonseca. Set in a coastal town in tropical South India and also starring Phyllis Logan and Neil Morrissey, expect everything from terrible accidents to fighting between families and cultural differences - but best of all, expect to be hooked. Amanda, 59, and the cast tell us more about the series...
Amanda, what did you think of your character when you first read the script? I thought Lydia was wonderful. She just leapt off the page to me - and I love her one-liners! She's quite complex and passionate. In fact, I just thought the entire thing was so rich.
She's quite tough a tough doctor too, isn't she? Well, I believe that's what people in those sort of vocational professions have to deal with on a daily basis. They have to be able to live their lives, as well as dealing with some horrible stuff at work.
In the first episode, an Indian woman gives birth to a girl, but it's clear the couple were hoping for a boy and it throws up several issues. How did you find that storyline?
The storyline is heartbreaking. We learnt a lot from all these different storylines and realised that while we here in the West can stand on the moral high ground and say, "That's very wrong", it's a very different matter when you're living the lives of these people. Lydia tries to teach Amrita Acharia's character [a young British paediatrician who joins her team] that you can't be too blinkered - you have to be able to be quite broad-minded about it. Did you have much downtime during filming?
I was there for the full 12 weeks of filming, but we got weekends off and I fell in love with it - it's such a beautiful place.
Phyllis, how about you?
I didn't want to come home. It was lovely because my husband was able to come out and join me for a bit, so it was like having a holiday!
And Neil?
It was wonderful because no matter where you are in the world, it's still a job and you've still got to get yourself prepped and get your lines in your head. But whenever we knew another cast member was going to arrive, we'd contact them to say, "This is where we're going to be tonight - we're all going to this restaurant. Plus, if you want to go through your words or anything, you're boring!" We're all on Whatsapp and our group is still extremely active (though I'm the worst at replying), and when I flew back from France recently, I had 91 new messages!
Tell us about your character, Neil...
Greg is having a "mutually beneficial arrangement" with Amanda's character, Doctor Fonseca. He's a lovable rogue; he loves where he is, but as Doctor Fonseca says in the first episode, "We get lots of runaways here" - there's a story behind everyone who's ended up there!
Did the locals enjoy having you out there?
The bar Greg, runs looked like one of the most beautiful bars in the world and I had punters walking up and down the beach all the time saying, "Can I get a beer?" and "Can I get this?" - and they were always thoroughly disappointed that there wasn't a single real drink at this bar! Some of them actually ended up as extras because I said, "Hang about, you'll be in this scene" - and they did.
The Good Karma Hospital starts on Sunday 5 February, ITV at 9pm. Find out more about Amanda Redman here.
Natalie Whittle is a British journalist specialising in celebrity content in the women's lifestyle sector. She previously held the role of Celebrity Director at Woman & Home and has also worked at Prima, Red & Good Housekeeping.