Poldark's Aidan Turner: 'Filming Ross And Demelza's Love Scenes Was Really Awkward!'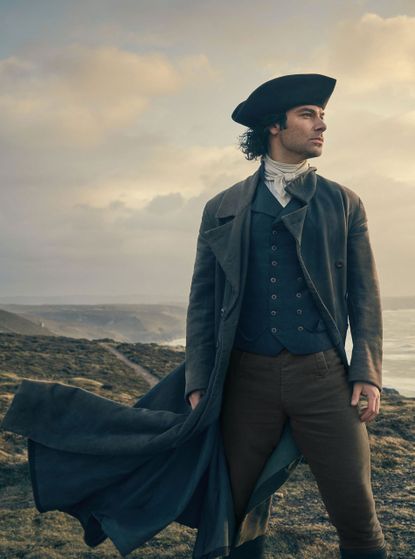 The debut series peaked with 9.4 million viewers and at last, the Cornish saga is back for a second dose of dramatic beach scenes, bitter rivalries and class struggles between the wealthy and the working poor - that's right, we're talking about Poldark! The second ten-part series adapted from Winston Graham's historical novels sees Aidan Turner reprises his role as Cornish mine owner Ross Poldark - and it's now 1790 when revolution is in the air. Poldark (Turner) must fight for his freedom when George Warleggan (Jack Farthing) tries to have him hanged as a revolutionary.WhileFrancis (Kyle Soller) and Elizabeth (Heida Reed) watch on inhorror, can Demelza (Eleanor Tomlinson) save Ross from himself? We caught up with the cast and crew to find out more... The new series picks up in 1790 in the midst of revolution - have you stuck quite closely to the storylines in the books this series?
[Writer] Debbie Horsfield: Generally we have, but we have made changes and there are all sorts of reasons for that. Some are logistical and some are to do with the fact that we don't have the money to have a cast of thousands, so sometimes we have to make other characters work harder than they do in the books by giving them a role that they may not necessarily have in the books. One example is that there's an incident at Christmas in the new series, but it costs a fortune to have snow everywhere and we were filming at harvest time, so we had to change a Christmas festival into a harvest festival. It's only ever small things like that.
What's the most difficult thing about translating the books into a script?
Debbie: It can be anything from deciding which characters to jettison because we just don't have the time in the story to do justice to them or often the story is told through internal monologue, particularly with Ross and Demelza, so you have the choice of having them stand on a cliff and think aloud for five minutes, which wouldn't be particularly dramatic, or you have to find somebody who realistically might be their confidante and they can express those thoughts to them.
As actors, do you ever get moments where you read the scripts and think, "Wow!"
Eleanor [Tomlinson]: Definitely and I read the books just to see what's happening because I get too excited and can't wait for the scripts. I often turn to Debbie once I've read them and just say, "What?"
Aidan [Turner]: Sometimes I read the script and I don't take it all in because I'm stupid, so I read it again at the read through and go, "Oh my god, this is happening, this is brilliant!" Then the third time round, I can get the same feeling all over again.
Aidan, how do you prepare to play Ross Poldark ahead of each series? Last year, I did three or four jobs and I came in a bit tired and burnt out, so it took me a while to get back on track again and it probably wasn't the smartest thing to do. But this time I feel well rested - I've taken three or four months off to travel and I was in Dublin recently with a bunch of old school mates sailing down the River Shannon. I got to do normal, good things like that. Now it's back into training, so I make sure I fit the costumes again!
What is it like playing someone who is essentially a deeply flawed, complicated hero?
Aidan [Turner): That's what makes it fun and that's why he feels like a real man to me. He makes fundamental, terrible mistakes and he doesn't even know how to apologise for them properly until he sees that Demelza is upset - I do it all the time! But he does learn and he accepts that in himself. Who wants him to be benevolent all the time anyway?
What has it been like filming the love scenes this series?
Eleanor: It's like a hilarious dance routine; we have conversations where I'll say, "Aidan, where are you going to put your hand?" or "I don't want it there because I don't want the camera to see that side of me" - it's really unglamorous! It's very funny though and we just have a laugh.
Aidan: It's a real thing - it's really awkward!
Aidan, you're a famously reluctant sex symbol, how did you feel when you read the script for series two and saw you'd be getting your top off in the first episode?
Aidan: That may have been my suggestion actually! No, I can't really remember how it happened...but you just oil yourself up and get on with it!
You're about to start filming the third series, what can we expect from it?
Debbie: We have nine episodes in series three, but we're not doing as many books; we're only covering one and a half because the books are much fatter and we didn't want to skimp on the storytelling. Poldark starts on Sunday 4 September at 9pm on BBC One.
Natalie Whittle is a British journalist specialising in celebrity content in the women's lifestyle sector. She previously held the role of Celebrity Director at Woman & Home and has also worked at Prima, Red & Good Housekeeping.