The £7.50 M&S Apothecary Candles that will turn your home into a spa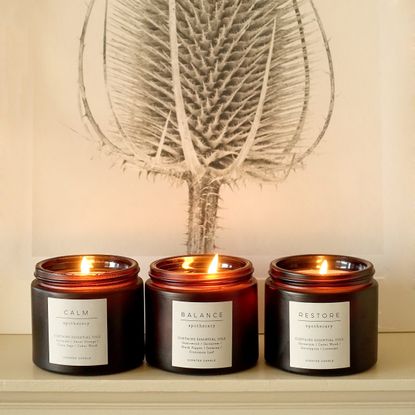 Looking to add a little relaxation into your home? We all love luxury home fragrance like Jo Malone, The White Company and Molton Brown candles (opens in new tab). But Lifestyle Director Jayne Marsden swears by the more reasonably-priced M&S Apothecary Collection candles.
Since discovering aromatherapy massage as a huge stress reliever many years ago, I have enjoyed and I believe, my health and wellbeing have benefited, from aromatherapy, whether it is a massage, or burning an aromatherapy candle. My favourite aromatherapy fragrances include geranium, rose and lavender. I like burning candles in my home but need to be careful trying new candles as I can be allergic to some. I know soon after lighting a candle, because my eyes will begin stinging and watering.
One I have been using recently is Calm from the M&S Apothecary collection. As soon as it was lit it began giving off a gorgeous spa-like fragrance. There are two other fragrances in the M&S Apothecary Collection - called Balance and Restore. All single candles are £7.50 each, great value, as they smell like they are more expensive, and the collection also has a hand wash, £5, diffuser, £15, and hand lotion, £5. I have used all three fragrances:
Calm
Think sweet orange and lavender essential oils with cedar wood and a dash of clarry sage– for me, this fragrance has a real therapeutic feel, which cleared my fuzzy head and generally made me feel positive and in a good place.
Buy now: M&S Apothecary Collection Calm Candle (opens in new tab)
Balance
Two of my favourite aromatherapy oils are included in this uplifting wellbeing boost in a jar - jasmine and geranium are among the fresh floral tones you can smell a dash of cinnamon.
Buy now: M&S Apothecary Collection Balance Candle (opens in new tab)
Restore
I could certainly smell the eucalyptus, lavender and geranium in this candle. It reminded me of the aromatherapy massages I have enjoyed and even my husband and two teenage sons commented on the lovely fragrance.
Buy now: M&S Apothecary Collection Restore Candle (opens in new tab)
Get the best from your candle
For the best candle burn trim the wick to just below 1cm – essential for a clean, smoke-free burn.
When you light the candle for the first time, burn it for 3-4 hours so that your candle has a large pool of wax. This helps maximise the scent.
Always place on an even surface and never leave a burning candle unattended