Where to buy nice furniture online in the US: Our top picks for 2023
Browse our list of where to buy nice furniture online – no matter your aesthetic or budget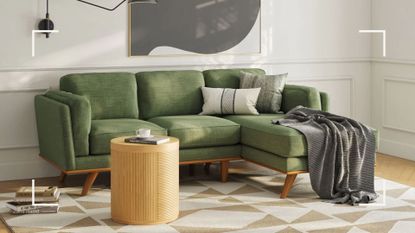 (Image credit: Article)
Knowing where to buy nice furniture online will allow you to refurbish your bedroom, living area, or home office without ever having to step into a store.
Large ticket purchases like home furniture are daunting, especially if you're merely relying on a collection of pixels to help you make a decision. Below, we've compiled a list of eight of the best sites to buy nice furniture in the US, catering to a range of budgets, functions, and aesthetics. These brands have not only earned our seal of approval based on our experiences, but they're well-regarded by consumers, as well. We've also shared some handy tips when it comes to buying furniture online.
Whether you're refreshing your space to include this year's best interior design trends or want to inject a bit of Japandi design into your home, these are the best brands to shop now. And if you're looking for the best outdoor furniture brands in the US, we've also got a guide on that.
Where to buy nice furniture online in the US: quick links
Why you can trust Woman & Home Our expert reviewers spend hours testing and comparing products and services so you can choose the best for you. Find out more about how we test.
Only have time for a quick glance at our favorite go-to spots for nice furniture? Check out the links below. Otherwise, keep scrolling to learn more about our top picks plus our favorite pieces from each retailer...
Best furniture brands to shop online in the US as chosen by a shopping expert
1. Article
Article specializes in modern, mid-century-inspired designs for indoor and outdoor spaces. This online-only retailer works directly with global manufacturers, eliminating overhead costs so consumers can purchase quality pieces at reasonable prices. Buying furniture sight unseen can be daunting, which is why Article offers a 30-day return policy with free exchanges. (Meanwhile, returns cost up to $49.)
Consider this brand if... you want to furnish a whole room on a budget
Avoid this brand if... you'd prefer a longer return window
RRP: $1,899 | This sofa flooded social media feeds in 2020, and it's still Article's best-selling piece today. Why is it so popular? Per reviews, its buttery-soft Charme Leather is as comfy as it is durable, even after years of heavy use. If you're a slave to the latest living room trends you'll also note that the hues are very on-trend. By way of comparison, a similar sofa from West Elm will set you back over $2,000.
RRP: $399 | Feel like you're floating as you drift off to dreamland on this elevated platform bed. With a walnut veneer frame and solid wood legs, it'll complement any minimalist or Japandi bedroom – although you can also level up the aesthetic by pairing it with one of Article's stylish headboards.
2. Birch Lane
Birch Lane (a Wayfair company) is the place to go for traditional New England-style cottage pieces, earthy rustic furniture, and farmhouse-inspired fixtures. This retailer caters to a broad range of budgets and hosts regular sales. However, warranties aren't included with most items – although you can purchase a separate protection plan that'll last up to five years.
Consider this brand if... you're committed to a classic aesthetic
Avoid this brand if... you don't want to pay for a separate protection plan
Warrington 82'' Upholstered Sofa
RRP: From $800 | This classic sofa will instantly make your home cozy. Choose from over 50 material options including cotton, polyester, and pet- and child-friendly fabrics that'll repel most spills and stains. The removable cushions make it easy to clean, too.
Keswick Wood Kitchen Island Set
RRP: $1,630 | Upgrade your kitchen with this charming farmhouse-style island, a key kitchen trend of 2023. A pair of stools are included; however, the countertop can expand to fit up to six people comfortably. This versatile piece also features three open shelves plus a cabinet for storage.
3. CB2
CB2 is the funkier sibling of Crate & Barrel with more of a big-city feel. It's home to several high-profile collaborations from renowned designers and celebrities including Lawson-Fenning, Paul McCobb, Gwyneth Paltrow, and Lenny Kravitz. Find savings during seasonal sales, or browse the clearance section for markdowns of up to 60% off.

Consider this brand if... you're on the hunt for edgy statement pieces
Avoid this brand if... traditional designs are more your speed
Matra Velvet Lounge Chair
RRP: $1,099 | This striking accent chair comes from Barcelona-based Mermelada Estudio. The eye-catching design makes it look like it's being folded into its unique shape. Use the space underneath to store a footrest.
Sunset Teak Patio Loveseat
RRP: $1,799 | Bring a piece of SoCal living to your patio with this Fred Segal-designed loveseat. It has a golden teak frame, but leave the wood untreated and it'll morph into a silvery grey finish within six months for a laid-back, rustic look.
4. Design Within Reach
Design Within Reach partners with renowned designers worldwide to provide unique home and office furnishings that'll last for decades. Careful attention to quality yields more exorbitant prices, but browse DWR's sale section for savings of up to 50% off MSRPs. Additionally, its highly-anticipated biannual sale events feature markdowns on nearly every item sitewide.
Consider this brand if... you want modern designs from global artists
Avoid this brand if... you're working with a modest budget
RRP: From $2,695 | 'Kam' is the Danish word for 'comb' – fitting, since the slatted top of this coffee table from designer Chris Liljenberg Halstrøm is inspired by a traditional Japanese comb. It's available in a solid oak or walnut finish.
RRP: From $5,495 | This best-selling sofa by design trio Egg Collective merges traditional and modern elements, culminating in a piece you'll want to sink into during your Netflix binges. Its baffled back cushions are filled with a luxurious feather-silk blend. Sofa trends will change over the years, but this timeless piece will never date.
RRP: From $345 | If you want to declutter your books but don't have room for a traditional bookcase, consider this space-saving vertical design from Stockholm-based duo Afteroom. Rotate the shelves forward or sideways, ensuring the perfect fit.
5. Joss & Main
Joss & Main is a subsidiary of Wayfair with a focus on current home trends. Due to the influence of its parent company, J&M has an incredible selection of furniture and decor at prices that won't bust your wallet. It's a sound solution if you're seeking eclectic pieces without the high costs exclusive design houses typically charge.
Consider this brand if... you're seeking affordable, on-trend furniture
Avoid this brand if... you can afford higher-end builds
RRP: From $260 | This twisted geometric end table is handcrafted from solid mango wood and available in three finishes. Bonus: it arrives fully-assembled so all you'll need to do is set it down and admire it.
RRP: $790 | Add a pop of color to a neutral space with this vibrant blue barrel chair. It swivels so you can seamlessly move between watching television and talking with guests.
Everlee Metal Outdoor Sofa
RRP: $2,100 | Furnish your outdoor living room with a sofa ideal for entertaining or solo lounging. Featuring a rust-resistant aluminum frame and Sunbrella cushions, you won't have to worry about the weather wearing it down.
6. Outer
Outer sells functional, eco-friendly furniture for all types of outdoor spaces. Prices are high and discounts are rare, but you get what you pay for here. Each piece is crafted to endure decades of use and comes with up to a 10-year warranty. Best of all, you can recycle your Outer furniture when you're ready to change things up.
Consider this brand if... sustainable living is a goal of yours
Avoid this brand if... you're looking for regular sales and deals
Concrete Tiered Side Table
RRP: $550 | This coffee table is made from glass fiber-reinforced concrete. It's inspired by ancient architecture and will complement almost any setting. Since each table is handcrafted, no two will be exactly the same – so the table you receive will be one-of-a-kind.
RRP: $1,350 | You'll love sinking into the enveloping memory foam cushion of this armless chair on a lazy summer afternoon. An all-weather wicker frame and OuterShell cover will help it withstand the elements; the removable cushion makes off-season storage a cinch.
Fire Pit Table Cooking Set
RRP: $4,150 | Give your oven the summer off and cook meals outdoors over an open fire. This fire pit comes with a dual-sided griddle plus ceramic balls to centralize heat and protect flames from the wind. It also turns into a coffee table for when you need more surface space.
7. Saatva
Saatva makes some of the best mattresses around, but it also produces luxurious handcrafted bedroom furniture including bed frames, chairs, and storage benches. The exceptional perks that come with Saatva's mattresses apply to its furniture as well – free in-room delivery, a 1-year trial, and a lifetime warranty. Better yet, Saatva offers regular discounts that shave hundreds off the list price.
Consider this brand... to make your bedroom feel like a luxury hotel
Avoid this brand if... you want to browse a wider range of items
RRP: From $1,695 | This platform bed frame blends contemporary and classic elements. With deep channel tufting and durable hardwood construction, it's guaranteed to be a lasting piece you'll appreciate for years to come.
RRP: $1,395 | This plush velvet bench will make your room look like a 5-star suite. Place it at the foot of your bed for a comfy place to sit when taking off your shoes, or put it by a window to create a cozy retreat where you can lounge with your favorite book.
8. West Elm
West Elm is known for creating sophisticated mid-century pieces and its dedication to upholding sustainable, ethical practices. From spacious sectionals for your living room to welcoming outdoor dining sets for summer entertaining, you can find it all here - and often at a discount. West Elm hosts occasional sales, and its vast clearance section features markdowns of up to 60% off.
Consider this brand if... contemporary, eco-friendly furniture is your vibe
Avoid this brand if... mid-century designs and neutral colors bore you
Harmony Modular 3-Piece Sectional
RRP: From $5,197 | This modular sectional is easy to move around – great for those who like to refresh their room layouts often. Each component can be rearranged or used individually. Don't be surprised if you or your guests end up napping on its ultra-soft cushions. It's large though, so to avoid making a common sofa-buying mistake, opt for a smaller one if you're working with a small space
Portside Outdoor Dining Set
RRP: From $349 | Here's an industrial outdoor dining set that'll make your guests think they're dining at a chic urban bistro. It features a 60" round table with a glass fiber reinforced concrete top plus matching wicker chairs. (Note that components are sold separately.) A great addition to any outdoor kitchen.
What to look for when buying furniture online
Buying furniture online is a different experience from purchasing in-store – especially since you won't have the ability to view items up close until they're delivered to your home. To ensure you end up with something you'll love, keep the following five tips in mind:
1. Measure your space
This is a step you should take regardless of where you're buying furniture – but you'll want to keep an extra careful eye on measurements when shopping online since product photos may not give a clear idea of how well a piece will fit in your home. Not measuring your space properly and buying furniture that doesn't fit is one of the most common interior design mistakes, but luckily, it's easy to avoid. While some online furniture retailers offer AR technology that'll virtually 'place' items in your room or yard, it's not always perfect. If you find the dimensions or other details unclear, contact the manufacturer for clarification.
2. Know your style
When buying nice furniture online, you'll want to have a style in mind – whether that's mid-century, contemporary, or industrial. Purchasing from specialty stores will not only help you discover pieces that suit your aesthetic, but they'll also be of higher quality compared to what you'd find at general retailers like Amazon or Walmart. Don't fall into making a common living room design mistake by buying trend-led pieces that don't match your room (or taste!)
3. Read the return policy
It's crucial to understand the return policy when buying furniture online. Whether your order arrives damaged or isn't what you expected, it's good to know your options. Most retailers offer a 30-day return window. While some may charge a return fee, many provide free exchanges or a limited money-back guarantee. Familiarize yourself with these policies in advance to avoid any unpleasant surprises.
4. Consider your delivery options
Standard shipping should suffice for smaller pieces with minimal assembly required. However, for larger furniture, consider front-door or in-room delivery. If you're not the DIY type, see if in-home furniture assembly is available. Note that direct-to-door or in-room delivery often costs extra and involves scheduling a time for a crew to visit your home. Policies differ among retailers, so review the terms and conditions to understand what's available.
5. Remember to shop around
While it might be tempting to get the first thing that catches your eye, hastily clicking the buy button could lead to headaches later on, especially if you spend beyond your means. Shop four to five online furniture stores that align with your style and budget, and check out the customer reviews for a sense of their build quality and customer support. Keep in mind that the best option won't always be the cheapest one, although you'll want to capitalize on furniture sales whenever you can.
When is the best time to buy furniture?
Furniture sales take place all year round, but there are peak times to buy, depending on what you're looking for:
The best times to buy indoor furniture are late winter and late summer. That's because new styles roll out during spring and fall.
The best time to buy outdoor furniture is right as the summer entertaining season is winding down, from late August to October.
Major holidays are a great time to buy, especially if they coincide with peak furniture sale periods. For example, Labor Day typically offers significant discounts on both indoor and outdoor furniture, while Presidents' Day sales often feature big savings on bedroom and living room pieces. Black Friday and Cyber Monday are also worth checking out for steep markdowns on all types of furniture.
How long does it take to ship most pieces of furniture?
Delivery windows for furniture will depend on whether the item is in stock and ready to ship. If it is, you can usually expect delivery within a week (or sooner if it's a smaller item). However, for furniture that's not readily available — either because it's sold out or a custom-made piece — prepare to wait at least three weeks.
Since shipping varies widely among these types of items, many online furniture stores provide up-to-date estimates on individual product pages. Just enter your ZIP code to pull up a range of delivery dates depending on the shipping methods available to you. For white glove delivery, you'll be able to schedule a date for a crew to come out to your home several days or weeks in advance.
Supply chain issues wreaked havoc on the furniture industry over the last couple of years, especially for retailers that work with international manufacturers. Though things have begun to improve and warehouses are now filling back up, FurnitureToday reports that rising costs in fuel prices and container rates could slow the progress on that.
Freelance writer and editor
Alison Barretta is a freelance writer and editor from Philadelphia, USA who specializes in home and lifestyle, skincare, and tech. For the last 15 years, she has been sharing buying advice and product reviews with curious, cost-conscious shoppers from around the world. Alison's work has been featured in Forbes, Business Insider, Tom's Guide, TechRadar, and Creative Bloq.
When she's not reviewing mattresses or waxing poetic about her favorite face cleansers, Alison can be found teaching/training in martial arts, streaming underrated TV series, trying new recipes, and singing karaoke until her throat is hoarse.