Three women reveal the impact of a silk pillowcase on their skin and hair
Are the amazing silk pillowcase benefits really all they claim to be? These three women put them to the test...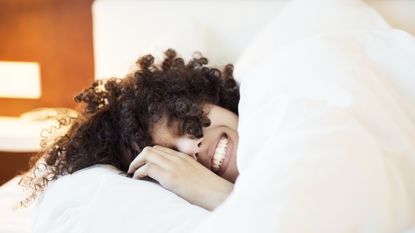 (Image credit: Getty Images)
woman&home newsletter
Sign up to our free daily email for the latest royal and entertainment news, interesting opinion, expert advice on styling and beauty trends, and no-nonsense guides to the health and wellness questions you want answered.
Thank you for signing up to . You will receive a verification email shortly.
There was a problem. Please refresh the page and try again.
Silk pillowcase benefits – including softer skin, less frizzy hair, and fewer wrinkles – have long been touted by beauty experts. But how do the claims stack up when put to the test?
Considering that we spend decades of our lives sleeping, it's important to understand how pillows can affect sleep quality. Once you've got yourself one of the best pillows, finding a great pillowcase is equally critical.
Silk pillowcase benefits - what are the claims?
Beauty experts rave about the benefits of silk and tout its superiority in the silk vs satin pillowcase debate. Here are a few of the claims about silk pillowcase benefits...
Claim 1: Silk pillowcases don't absorb moisture (or dirt) easily. This reportedly keeps skin and hair from drying out – whereas cotton pillowcases absorb moisture, which can apparently dry out your skin. But how often should you change your pillows to minimise the chances of this happening? The general rule is every one one - two years.
Claim 2: Silk's smooth texture is gentle on the skin and can reduce fine lines, whereas cotton pillowcases can cause creases in the skin, which can lead to wrinkles over time. (Even the best travel pillows can cause creases in the skin too, so it might be worth investing in a silk pillowcase for travel too.)
Claim 3: Silk has a resistance to moisture, mites and dust, which makes it naturally hypoallergenic. But bear in mind, you should wash your pillows every two months anyway to avoid these nasties.
Claim 4: Due to the smooth texture of silk, people tout that it reduces friction on your hair, therefore helping to prevent frizzy, tangled hair as you sleep.
Claim 5: Silk can help to regulate temperature, so while it won't cool you down (like the best cooling pillows will), it can prevent you from getting too warm in bed.
Three women on their experience with a silk pillowcase
Is the hype real? To put these claims to the test, we explored what three women, who switched from cotton to silk pillowcases, had to say about the impacts of the swap on their hair and face.
They are a yoga instructor, a beauty professional, and a self-avowed Redditor. Here is what the women had to say about their experiences...
A yoga instructor's experience
Lillian Zahra (opens in new tab), a professional yoga instructor, is dedicated to a low-maintenance, yogic lifestyle. One day, she decided to deviate from her usual habits and splurge on a silk pillowcase.
After a week, she experienced surprising results:
"There have so far been zero pillow creases on my face and my serums and oils still feel just perceptible on my skin in the morning (rather than having long been absorbed by a cotton pillowcase).
"As for my hair, the baby hairs around my hairline seem a little less unruly and my day three hair now looks much more like my day two hair of old (I wash my hair twice a week). It also just feels so… nice.
"The silk is always the perfect temperature (no having to lie on a cold pillow) and it's super soft. I had visions of my head just continually sliding off my pillow but it is soft without being slippery."
A beauty blogger's experience
The Spears Sisters (opens in new tab) are two lifestyle bloggers who share beauty and fashion tips with thousands of followers. Heather Spears raves about her experience after deciding to experiment with a silk pillowcase.
"While my skin benefits were enough to sell me on continuing my journey with new silk bedding, my hair is an even larger advantage. I have naturally wavy/curly hair, it's a balance somewhere in-between.
"Due to my hair texture, one of my big problems is frizz. After using my silk pillowcase for the first night I noticed far less frizz in my hair. With the silky nature of the case, it creates less friction between my head and the pillowcase. This leaves my hair less prone to frizzing up."
An online reviewer's experience
Although beauty bloggers and influencers provide critical information about the newest products and trends, there's no substitute for a layperson's perspective. And silk pillowcases are a common topic on the popular forum Reddit.
One Redditor (opens in new tab) shared her experience with a silk pillowcase. "I really wanted to be disappointed or hate it but... I like it and I think it's worth it. I use the Slip one [...] which keeps the serums and moisturizer locked-in better than if I were to use cotton type pillowcases, I feel less dry in the morning.'
Across the board, everyone who tried a silk pillowcase saw improvements in hair and skin health and would recommend using one. Silk pillowcases can be pricey – especially if you go for a 100% mulberry silk model. But for many, the glowing skin and no-frizz hair benefits are more than worth it.