These outdoor Christmas light deals will mean you'll definitely be THAT Christmas house on your street this year!
These outdoor Christmas light deals will make your whole street sparkle and shine from space!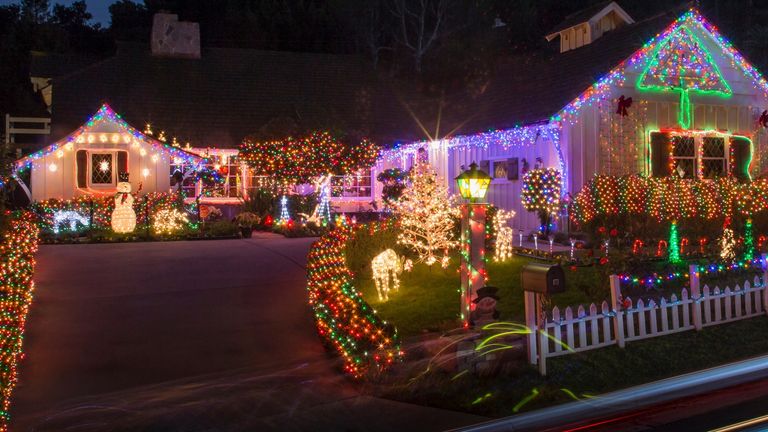 (Image credit: Getty Images / Rob Lewine)
Want outdoor Christmas light deals so good that your house will be seen from space this year? We don't blame you. When it comes to adding sparkle to the outside of your home, then why not go big? There's always a house that seems to put up more lights than anyone else, so why not let that be you! Surely, it can only be a good thing? And what's better, you don't have to spend a fortune because we've found some of the best Black Friday deals to help.
Some of these lights need electricity to power them, while others are solar powered, so there's no excuse not to hang them up for your neighbours to see!
Here's our round-up of the best deals below. Fill your boots! Go on, Santa would approve. It's Christmas time after all, right?
Best outdoor Christmas light deals
Argos Home Set of 4 Christmas Tree Path Finder Lights in White: £15 £11.25 (save 25%) | Argos
Save £2.75 This mains-powered buy is ideal if you have access to an outside plug. These four swirly Christmas trees look amazing lining any pathway or along a garden fence. Ideal for creating a mini winter wonderland! We love.View Deal
Argos Home 960 Bright White Icicle Lights 15m: £45 £33.75 (save 25%) | Argos
Save £11.25 There's something about icicle lights that really make you think of busy Christmas markets selling mulled wine by the bucketload. These are suitable for both indoor and outdoor use, and look great above windows or along the edge of the roof. Mains powered.View Deal
Ooklee Outdoor Solar Garden Lights: £10.88 £8.70 (save £2.18) | Amazon
Save £2.18 Consisting of 50 bendable light strings with 150 LED lights, this design is so simple, yet can look absolutely stunning when it's dark outside. Only one light set is included in this deal, but you only need about 4 or 5 to really add wow factor to your front driveway. Plus, Amazon Prime members can get free delivery.View Deal
LED Solar Powered String Outdoor Lights Waterproof: £12.99 £9.59 (save 26%) | Amazon
Save £3.40 These colourful LED lights are so pretty that you will want to hang them outside all year round. Plus, they are solar powered so you don't have to remember to turn them on and off. Waterproof and safe, these are also great for parties. A good investment for years to come.View Deal
Argos Home Bright White Chasing Waterfall LED Lights 9m: £25 £18.75 (save 25%) | Argos
Save £6.25 There's something so mesmerising about watching waterfall lights on the outside of a house. These ones are such great value. Plus, with 5m of cable between the plug and the first bulb, there is plenty of room to spread them out around your garden. Truly magical!View Deal
Flintronic Solar String Lights Outdoor: £11.99 £9.59 (save 20%) | Amazon
Save £2.40 Not only are these solar powered (so no extra electricity bills for you), but they have eight different lighting modes so they can flash on their own. And these are long! At 10 metres (33ft) they are perfect to wrap around a tree trunk in the garden. A great buy.View Deal
Fairy Globe String Lights: £14.95 | Amazon
Want to save £2.99 off these lights? Then join Amazon Prime and the saving will come off at the checkout. These mini ball lights look stunning outside. Wrap them around a tree or place them around windows to really add some wow factor. Plus, they are easily charged by USB.View Deal
Whichever ones you pick, we hope you get some admiring glances!
Enjoy and Happy Christmas!