How to make a food processor smoothie - plus some simple recipes to try
Always wanted to know how to make a food processor smoothie? It's super simple and here are some recipes to try...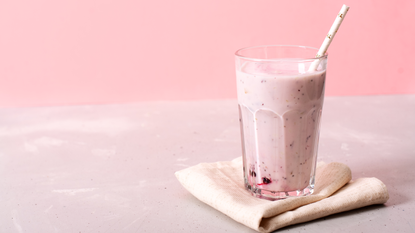 (Image credit: Getty)
Packed with nutrients from various fruits, vegetables and even fresh herbs, a smoothie can be a great way to kick-start your day. Getting your hands on a delicious fresh smoothie needn't be a matter of buying pre-made (or made-to-order) or using a stick blender. Actually, we'll let you in on a secret: one of the best food processor tricks is that it's actually the perfect smoothie maker in disguise. Yet another reason for us to rave about the many (multifunctional) virtues of food processors.
Yes, if you don't have a blender or stand-alone smoothie maker, you don't have to run out and buy one (and clutter up your cupboards); just turn to your trusty food processor to blitz your favourite fresh or frozen ingredients into a smooth drink, which you can enjoy in the moment or on-the-go.
Now we've shared this little nugget of information, it's only right we walk you through the steps to making a food processor smoothie.
Step 1: choose your ingredients

Food processors are great at making smoothies as long as you pick the right ingredients. Because their blades aren't quite as thorough as a NutriBullet or blender, you may have to be a little more considered about what you choose to blitz to achieve a smooth texture; we'd suggest choosing soft fruits and veggies that will yield easily. Anything too tough – such as root vegetables – will never break down completely, which will result in a lumpy drink. Some of our favourite options for a food processor smoothie are green leafy veg, such as spinach and kale, and high water-content things such as cucumber. The traditional smoothie bases of soft fruits – think strawberries, stone fruits and bananas – are also great starting points.
As a general rule, you'll need around three parts liquid to two parts fruit or vegetables, then (if you like yours super chilled) typically a couple of ice cubes. A few spoonfuls of 'extras', such as oats or ground nuts, can be great for a bit of extra protein or sustenance, too.
Step 2: check you're using the right attachment

Most food processors have a couple of different size options when it comes to blades and bowls, but you'll usually want to use the main blade for this particular task. If it's just a smoothie for one you're after, however, you can plump for the smaller bowl and blade if that's an option.
Step 3: blitz in stages

It's time to start blitzing. Remember that your food processor blades are really powerful – given a little time and the right treatment, they can purée lots of ingredients really well. Initially, however, it pays to exercise a little caution; don't add too much liquid too soon, as there's a chance the fruit or veg you're trying to blitz will never come together smoothly. No one wants to try to drink coarsely chopped fruit and vegetables suspended in liquid. Start by blending the fruits and veg, and keep the motor going continually. If your smoothie ingredients begin to stick to the sides of the jug, add a little liquid through the funnel at the top. Once this comes together to form a thick, smooth texture you can add the remaining liquid slowly, again through the funnel at the top. This should result in a lovely, lump-free smoothie mixture.
Step 4: Pour and enjoy

Arguably the best step – it's time to enjoy the fruits of your labour. Pour your smoothie out into a glass to enjoy while it's fresh, or pop into a reusable bottle for later on.
The food processor smoothes recipes we love
Once you've mastered the process of making a smoothie using a food processor, you can go to town experimenting with flavour combinations. If you need a little extra inspiration to get you started, consider the recipes below. Each makes enough for one serving, so simply multiply the ingredients if you're catering for a crowd.
1. Cucumber, apple, pear and mint
This super-fresh smoothie has a sharp tang of green apple, softened with the sweetness of pear. We love this combination first thing in the morning to kick-start the metabolism; it'll set you up for the day.
Ingredients and method
Method Roughly chop the cucumber, apple and pear and add to the food processor along with the mint and ice. Blitz for a few seconds and then begin to slowly add the apple juice through the funnel until the mixture is smooth and well blended.
2. Blood orange, strawberry and vanilla smoothie
If you prefer your smoothies a little creamier, this one is perfect. The vanilla yogurt adds a subtle fragrance to the mix, while the tangy blood orange marries beautifully with sweet strawberries. If you can't find blood oranges don't panic; they can be substituted for any other variety, and you can even try using satsumas or clementines as an alternative.
Ingredients and method
Method Chop the strawberries. Peel and chop the orange. Add to your food processor along with the rest of the ingredients and blitz, adding ice if liked.
3, Black Forest smoothie
Looking for a thick, indulgent drink? This smoothie, which tastes more like dessert than breakfast, might be the one. Its sweet chocolate and cherry flavour feels like we're getting a real treat. If you want to add some extra nutrients you can throw in a handful of leafy greens, such as spinach.
Ingredients and method
Method Remove the stone and chop the plum, then add to your food processor along with the cherries, honey and cocoa. Blitz for a few seconds before slowly adding the milk through the funnel, until you reach your desired consistency.
Rosie Conroy is a food and drinks journalist with over a decade of experience working for big-name titles in both print and online. Formerly the Digital Food Editor of woman&home, Rosie went on to head up the team at SquareMeal, reviewing the best London restaurants and hunting out emerging culinary trends. With previous experience in food styling and recipe development, Rosie knows what to look for in a good piece of kitchenware and has extensive experience testing consumer goods—from kitchen electricalz and cooking accouterments through to new foodie treats.