How often should you rotate your mattress and how to rotate it for an optimum night's sleep
The experts answer 'How often should you rotate your mattress?' and share top tips on how to turn it for optimum sleep comfort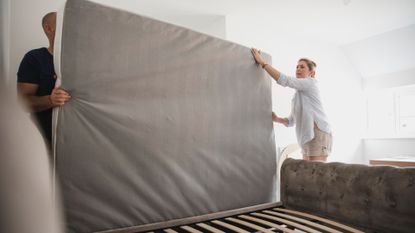 (Image credit: Getty)
Most mattresses can and should be rotated, so the question of 'how often should you rotate your mattress?' is a common one.
Rotating your mattress regularly will prevent sagging in the areas you sleep on the most. This is because the process of turning a mattress helps spread the depreciation that comes from body pressure when sleeping on the same area of a mattress every night.
In the past, manufactures urged customers to both flip and rotate their mattresses in order to guarantee optimum quality and lifespan.
However, today's mattress technology and design innovation have almost eliminated the practice of flipping. Now, if you buy one of the best mattresses, just rotating it every six months is enough in most cases to ensure you sleep easy for years to come.
How often should you rotate your mattress?
To find out how often you should rotate your mattress, check your owner's manual or the Sleep Council offers the below general guidelines:
Memory foam and latex mattresses - Rotate one to two times per year
Newer innerspring mattresses - Rotate one to two times per year
Older innerspring mattresses - Rotate two to five times per year
Can all mattresses be rotated?
No, not all mattresses can or should be rotated.
It's really important that, before you rotate your mattress, you check the instructions in the manual first, as your mattress may not need rotating if it has been designed to have a 'pillow top' at one end.
Other mattresses are designed with zoned support, for example, beds designed to help ease back pain at night, and these types of mattress should not be rotated either. This is because if you turn the mattress, the zoned support will be in the wrong place to give you the help it's designed for.
If your mattress does require regular turning, the manual will list specific instructions and recommendations.
How to rotate a mattress: A step-by-step guide
1. Clear the area around the bed
Although technology has decreased the weight in recent years, mattresses are still big and cumbersome, so make sure any breakable belongings and bedside lamps have been removed from the surrounding area.
Strip the bedding including your duvet, best pillows and sheets to make the move as simple as possible.
Move bedside tables if needed. Look for and remove any items such as shoes or cables that may be a trip hazard.
2. Reposition your bed
It may be necessary to pull the bed frame away from the walls and windows, especially if you don't have a headboard, to prevent scuffs on wallpaper or paintwork.
3. Prepare your mattress to pivot
Position yourself centrally on one side of the bed. Put your hands underneath and grip the thick band on the sides.
Bending your knees, pull the mattress up towards you and walk with it backwards (still with knees bent) just enough so the majority of the weight is still being supported by the bed frame.
4. Rotate the mattress
If you have the luxury of side handles, use these to quarter-turn the mattress around in a "helicopter motion" using the bed frame as the foundation.
Repeat another quarter turn until the mattress has rotated 180 degrees and the pillow end is now at the foot of the bed.
Slide the bed back into place.
5. Make a note of when to repeat the process
Mark on your calendar a note as a reminder for when it's time to rotate your mattress again.
This is a job that's easier done with a partner, so if possible have someone help out, especially if you own a larger mattress size.
When it comes to how often you should rotate your mattress and how often you should clean your mattress, experts are aligned in suggesting a very similar timeframe–roughly once a year for both jobs. So you could also plan to give your mattress a clean at the same time you rotate it each year.
Should you ever flip a mattress instead?
Unless specifically stated by the manufacturer, the general answer for modern mattresses is no.
The Sleep Foundation states this is because "the majority of modern mattresses are designed to be one-sided, meaning that their design is not conducive to flipping."
Having said that, there are exceptions to the "no flip" rule. Some mattresses are designed with varying firmness levels on either side of the mattress and can be flipped to customise your sleep experience. Mattresses designed to be flipped are now more lightweight and often have handles on either side for ease.
Rachel Homer has been in the interiors publishing industry for over 15 years. Starting as a Style Assistant on Inspirations Magazine, she has since worked for some of the UK's leading interiors magazines and websites. After starting a family, she moved from being a content editor at Ideal Home to be a digital freelancer and hasn't looked back.