The best outdoor furniture deals ahead of Memorial Day 2022
Browse the best outdoor furniture deals from Wayfair, Overstock, Target, and other major retailers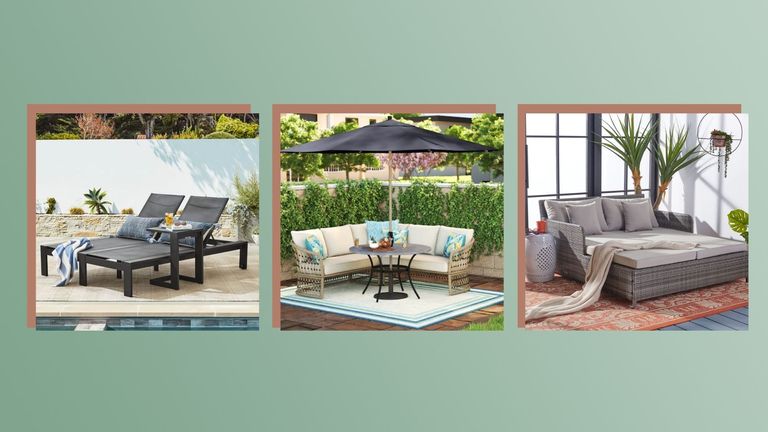 (Image credit: Future)
Shopping the best outdoor furniture deals is a fantastic way to revamp your yard, deck, or balcony without breaking the bank.
With summer around the corner, you're no doubt taking stock of the state of your outdoor space before entertaining friends for lunch al fresco or even just hang out. Generally speaking, purchasing outdoor patio items in-season won't always yield the absolute lowest prices but, that doesn't mean you won't be able to find some noteworthy bargains—thanks in large part to Memorial Day sales.
Whether you want to keep up with the latest garden trends or create a cozy open-air oasis rooted in your unique vision, browse our selection of the best outdoor furniture deals ongoing from Wayfair, Overstock, Target, and other major retailers. And if you're a newbie to maintaining a green space, give our guide to gardening tips for beginners a look, as well.
Where to shop the best outdoor furniture deals right now
Rather browse the sales yourself? We've included quick links to retailers with the best outdoor furniture deals right now. Otherwise, keep scrolling for our top individual item picks.
The best outdoor furniture deals right now
How can I find the best outdoor furniture deals?
If you want to pick up a few outdoor pieces ahead of summer entertaining, then it's worth checking out this year's Memorial Day furniture sales, but be aware that prices for these items won't be their absolute lowest right now.
"For the best prices, and the best availability, shop for outdoor furniture during the fall months, specifically September and October," says Jeremy Yamaguchi, CEO of Lawn Love (opens in new tab), "Similar to how the best prices on Christmas decor occur right after Christmas, the best prices on outdoor furniture occur right after the summer season when they are primarily used."
That being said, don't hesitate to click 'buy' if you spot something you really like for your deck or patio right now, even if the discount is fairly meager.
"[We've been] seeing supply chain issues the last two years," says Brittney Fischbeck (opens in new tab), an HGTV interior designer, "Lead times are outrageous right now...waiting to order may mean that you don't have furniture for summer."
However, if you spot a stellar Memorial Day outdoor furniture deal, you'll want to be extra discerning. David Mason, an interior designer and owner of The Knobs Company (opens in new tab), recommends you "check the quality of the [outdoor furniture] before you buy [during Memorial Day sales], as some retailers may try to offload lower-quality items that didn't sell well during the spring."
Once you've tackled your outdoor space, you may feel inspired to update the rest of your home. Need some inspiration on that front? Our guide to 2022's most popular interior design trends will likely spark your imagination. And if you want to get really specific, check out our guides to the best kitchen trends and bedroom trends of 2022.
Alison Barretta is a freelance writer and editor from Philadelphia, USA who specializes in home and lifestyle, skincare, and tech. For the last 15 years, she has been sharing buying advice and product reviews with curious, cost-conscious shoppers from around the world. Alison's work has been featured in Forbes, Business Insider, Tom's Guide, TechRadar, and Creative Bloq.
When she's not reviewing mattresses or waxing poetic about her favorite face cleansers, Alison can be found teaching/training in martial arts, streaming underrated TV series, trying new recipes, and singing karaoke until her throat is hoarse.