The best outdoor furniture deals to shop over Memorial Day weekend
Browse the best outdoor furniture deals from Amazon, West Elm, Overstock, Target, and other major retailers available this Memorial Day weekend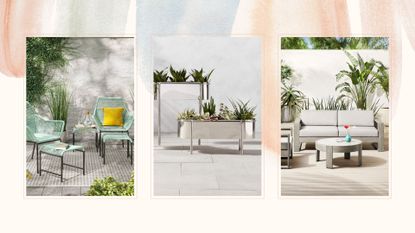 (Image credit: Future)
Kick off Memorial Day weekend by shopping the best outdoor furniture deals and give your yard, deck, or balcony a major summer refresh on a budget.
With spring in full effect and summer just weeks away, now is the perfect time to invest in outdoor furniture. We know furniture can cost a pretty penny, but luckily Memorial Day comes with major markdowns. We've rounded up quality outdoor pieces with a slashing price tag from major retailers such as West Elm, CB2, Target, and more.
Our picks of the best outdoor furniture deals below showcase the best sales taking place right now. If you crave some inspiration before renovating your yard, check out these outdoor living room ideas. And liven up your green space using any of the ideas inspired by this year's top garden trends.
Where to shop the best outdoor furniture deals right now
Rather browse the sales yourself? We've included quick links to retailers with the best outdoor furniture deals right now. Otherwise, keep scrolling for our top individual item picks.
The best outdoor furniture deals right now
How can I find the best outdoor furniture deals?
Memorial Day weekend is a great time purchase discounted outdoor furniture. But, according to experts, there are always great deals during the fall months.
"For the best prices, and the best availability, shop for outdoor furniture during the fall months, specifically September and October," says Jeremy Yamaguchi, CEO of Lawn Love, "Similar to how the best prices on Christmas decor occur right after Christmas, the best prices on outdoor furniture occur right after the summer season when they are primarily used."
That being said, don't hesitate to click 'buy' if you spot something you really like for your deck or patio right now, even if the discount is fairly meager.
"[We've been] seeing supply chain issues the last two years," says Brittney Fischbeck, an HGTV interior designer, "Lead times are outrageous right now...waiting to order may mean that you don't have furniture for summer."
However, if you spot a stellar outdoor furniture deal right now, you'll want to be extra discerning. David Mason, an interior designer and owner of The Knobs Company, recommends you "check the quality of the [outdoor furniture] before you buy [during summer sales], as some retailers may try to offload lower-quality items that didn't sell well during the spring."
Once you've tackled your outdoor space, you may feel inspired to update the rest of your home. Need some inspiration on that front? Our guide to 2023's interior design trends will likely spark your imagination.
Freelance writer and editor
Alison Barretta is a freelance writer and editor from Philadelphia, USA who specializes in home and lifestyle, skincare, and tech. For the last 15 years, she has been sharing buying advice and product reviews with curious, cost-conscious shoppers from around the world. Alison's work has been featured in Forbes, Business Insider, Tom's Guide, TechRadar, and Creative Bloq.
When she's not reviewing mattresses or waxing poetic about her favorite face cleansers, Alison can be found teaching/training in martial arts, streaming underrated TV series, trying new recipes, and singing karaoke until her throat is hoarse.