South Beach Diet: how does it work and does it lead to weight loss?
Will the South Beach Diet work for you? Our expert has all the answers before you give it a try...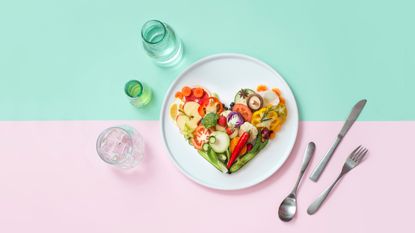 (Image credit: Getty Images / twomeows)
Want to try the South Beach Diet but not sure if it will work for you? Created by Miami cardiologist Dr Aurthur Agatsto, it was named after the glamorous location near his offices.
Here's everything you need to know about the South Beach Diet...
What is the South Beach Diet?
"The South Beach Diet is relatively low in carbs (although not as low as the super-low versions), but high in protein and some healthy fats," says Suzie Sawyer, clinical nutritionist from Alive! makers of evidence backed nutrition.
South Beach Diet – how does it work?
Not sure how it works? "The South Beach Diet is based on eating relatively low amounts of complex carbs which are high in fibre, with high protein and healthy fats," says Suzie. "This means you'll be fuller for longer, therefore will consume less calories overall. Calories are also monitored and should not exceed around 1,200-1,500 per day. As with other similar diets (such as Atkins), it starts with an initial tougher phase where overall carbs should not be more than around 200g daily."
What do you eat on the South Beach Diet?
There are three phases of the South Beach Diet, so it depends which stage you are in.
Phase one is about reducing refined starches and sugary foods. Lean meats, nuts and beans are on the menu, as are snacks. You avoid things like bread, booze, pasta, potatoes and rice.
Phase two is about re-introducing carbs, slowly and carefully. This involves small portions of wholegrain breads and brown rice.
By phase three, your mindset towards food and diet should have changed. So, while you can eat more freely, the idea is that you still make the right choices as your body knows how it reacts to certain foods a lot more clearly.
Could the South Beach Diet work for you?
If you need to shape up, fast – then this could be the diet for you. "The South Beach delivers quite dramatic weight loss during the first couple of weeks (in some people over 8lb) so this will appeal to many people wanting a quick fix," says Suzie.
"It is not too difficult to follow as a wide range of foods are permitted and it will help balance blood sugar and insulin levels if this is a factor. This should also keep hunger pangs at bay, although calorie intake is low."
READ MORE:
Is the South Beach Diet bad?
"The South Beach Diet doesn't prioritise fruits and vegetables, therefore nutrients, especially magnesium for example, (rich in green leafy vegetables) will be lacking," warns Suzie.
"Additionally, there is a large emphasis on eating fats, many of them from processed sources such as low-fat margarines. The South Beach Diet will be lacking in antioxidants overall which are essential for protecting the body against degenerative disease, supporting the immune system and holding back the ageing process."
How much weight could you lose on the South Beach Diet?
This is where the diet wins big!
"Those on the South Beach Diet have claimed at least 8lb in the first couple of weeks," says Suzie. "Much of this would be water weight, though, as low carb diets release stored glycogen from the muscles and organs which are also stored with water. You can continue the diet until you have reached your weight loss goal."
Is the South Beach Diet worth trying?
"If you're heading for type 2 diabetes or your blood pressure is raised then these diets might help reverse potentially serious illness," says Suzie.
And that's not all. "Additionally, if you're determined to lose weight quickly then they might be the answer," adds Suzie. "However, there is research to suggest that quick weight loss can encourage weight gain when the diet is no longer followed. This may be partly down to people just being much less restricted after being 'on a diet'."
South Beach Diet cookbooks and plans
Want to try the diet? Then one of the easiest ways is with a book to guide you through.
What does the South Beach Diet cost?
"As with everything, information is freely available on the internet so you can certainly find what you need in order to get a feel for the diet," says Suzie.
"There are many plans that give you a 30-day free trial before signing up if you want a more tailored plan and on-going meal plans. For most people sustaining a diet is difficult therefore tailored plans tend to be more successful."
Sign up to our free daily email for the latest royal and entertainment news, interesting opinion, expert advice on styling and beauty trends, and no-nonsense guides to the health and wellness questions you want answered.
Faye M Smith is an award-winning journalist with over 15 years experience in the magazine industry. Her continued work in the area of natural health won her the coveted title of the Health Food Manufacturers' Association (HFMA) Journalist of the Year Award 2021. Currently Health Editor across several brands including woman&home, Woman and Woman's Own, Faye specialises in writing about mental health, the menopause, and sex and relationships.