Noom diet plan—what is it and could it work for you?
The Noom diet plan is great for losing weight and not having to worry about cutting out certain food groups...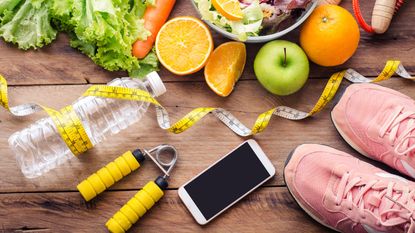 (Image credit: Getty Images / Atit Phetmuangtong / EyeEm)
If you're looking to lose weight or start leading a healthier lifestyle, chances are you've probably heard of the Noom diet plan.
The app-based weight loss plan has had a huge surge in popularity recently thanks to social media and advocates of the new Noom way of life.
But how exactly does the Noom diet plan work and what makes it so different from the hoard of calorie-tracking apps out there and the many programs that are constantly fighting to be the best diet around?
If you've tried the Cambridge diet or the 24hr smoothie diet, and are interested in trying Noom next, you're in the right place.
We've done some investigating to bring you all the information you need on the Noom diet plan so that you can make healthy and informed decisions about whether it's the right way to go for you.
So if you want to try the Noom diet plan - or just want to find out a bit more about this new social media phenomenon - then here's everything you need to know about the plan...
What is the Noom diet plan?
"Noom is a psychology-based weight-loss programme," says psychologist and broadcaster Honey Langcaster-James. "With traditional diets, you're told what to eat and what not to eat, but you never really learn the whys behind your eating choices or get taught how to eat."
But the Noom diet plan changes all that. "Noom is a holistic programme, hosted on an app, that helps users re-learn the way they think about food, why they eat certain things, and reconsider what they eat to reach a big-picture goal," says Honey. "Whether that's weight loss, fitting into a dream outfit, or just feeling healthier."
How does the Noom diet plan work?
You don't have to spend hours learning lots of rules. "Noom doesn't have lots of rules, because rules aren't sustainable and don't suit everybody," says Honey. "To lose weight and keep it off for good, you need to recognise and understand the ingrained food habits you have, the triggers for these habits, and recognise how to manage them."
Noom is all about understanding your body, rather than trying to just lose weight in a week. "Getting healthy and losing weight are both much easier to do if you know how and why you make the decisions you do about food," says Honey. "It's also easier to change your habits if you understand what prompts your cravings and triggers."
So, how does it work? "The Noom programme enables users to improve their food habits using a curriculum that includes psychological techniques based on evidence-based therapies like Cognitive Behavioural Therapy (CBT). Noom's approach is therefore grounded in science, designed by behavioural psychologists, nutritionists and personal trainers, and it provides health and lifestyle improvements for the long-term because it changes the thought processes behind your unhealthy habits," explains Honey.
"Noom helps you understand the difference between physical and emotional hunger and become more aware of how you eat, why you eat the foods you do, and when you've actually eaten enough to be satisfied."
Noom food list: What foods can you eat on the Noom diet plan?
Hate cutting out certain food groups? You're in luck because this isn't a regime where you have to limit your intake like the popular 5:2 diet and 16:8 diet or opt for meal replacements (though if you're into that we'd suggest trying the Cambridge diet weight loss plan) - Noom is all about balancing what you eat. "Noom isn't about restrictive dieting," says Honey. Kind of like with the DASH diet, which focuses on healthy eating but the Mediterranean diet way, this is all about a lifestyle change. "The programme teaches you that a little of what you like is OK, with less emphasis on the amount of food eaten. Instead, it addresses more than just food, it looks at your psychological processes, so that way you can start to change your underlying behaviours and habits which are related to your diet."
As it's based on an app, it's really easy to follow. "The programme asks users to track all of their meals. You stick to a daily calorie intake that is determined by background information and goals which are developed when signing up to the programme," says Honey. "No food is "good", "bad" or "off-limits." Instead, users keep track of their food within green, yellow and red categories."
And this is what sets it apart from some other diet plans. "Noom teaches moderation and can accommodate any dietary preferences and restrictions," says Honey. "However, it also gives users the knowledge and freedom to decide when they want to still eat things like cookies and pizza and when they want to make food choices which support their health-related goals."
Is the Noom diet plan free?
You can download the Noom app for free and there is sometimes a 14-day trial available so you can test it out before splashing out on a membership first.
However, a full subscription will set you back around $59 a month, although you can save some money by opting for a longer commitment and paying for multiple months at once.
How much weight could you lose on the Noom diet plan?
This diet really delves deeper into why you eat the way you do - it's not like intermittent fasting where the results can be pretty drastic or immediate - so while some may lose a stone in a month, for others it could be different - and that's okay. "Unlike other weight-loss plans, Noom tackles the thoughts, triggers and obstacles that can sabotage your progress," says Honey. "Its approach helps address the individual mental and emotional barriers between where you are and where you want to be.
"Again, this is down to how much you want to lose and what your target weight is," says Honey. "However, we do know that in a study published in the BMJ, 60% of Noom users lost more than 5% of their body weight! In a follow-up study published in the Journal of Medical Internet Research, Noom showed a 6% average weight loss among users at 65 weeks – showcasing sustainable weight loss. As a psychologist, I know that evidence-based behavioral change methods are absolutely key."
"One of the first things users are asked to do is to set a 'Big Picture Goal'. This is a personal goal that gives Noom users something to work towards which has nothing to do with a number on a scale," says Honey. "Noom never tells you what to do. You're always in charge of your journey, so there's no "slipping up" or mistakes, like with a diet. If you eat too much dessert, fine! Noom helps you understand why and how you respond to your cravings or particular social situations, so you can stay healthy in all situations. As with all weight loss journeys, a lot of it is down to the individual person and their preferences," says Honey.
"What's key is figuring out what actually works best for you. Some people may prefer attending weekly weight-loss meetings or slimming groups, some prefer ordering set meal packs, but many find that their weight-loss journey is personal and their relationship with food is deeper than they thought, for them, they may find going solo more effective and a program like Noom can really help."
Sign up to Noom
Want to sign up? It's easy, just head to the website or download the app on your phone. "Noom offers a 14-day trial to new users," says Honey. "This gives you immediate access to a personalized plan and weight-loss program."
Want to sign up for longer? "You can subscribe to a plan, which gives you ongoing access to thousands of recipes, articles, quizzes, plans, and more, as well as the support of online coaching and real-life experts," says Honey. "Your plan length will be determined by the amount of weight you want to lose and ensuring this is done in a healthy and sustainable way. You can expect to lose one to two pounds per week, and most customers are on the four-month plan which gives you time to create lasting change!"
Sign up to our free daily email for the latest royal and entertainment news, interesting opinion, expert advice on styling and beauty trends, and no-nonsense guides to the health and wellness questions you want answered.
Faye M Smith is an award-winning journalist with over 15 years experience in the magazine industry. Her continued work in the area of natural health won her the coveted title of the Health Food Manufacturers' Association (HFMA) Journalist of the Year Award 2021. Currently Health Editor across several brands including woman&home, Woman and Woman's Own, Faye specialises in writing about mental health, the menopause, and sex and relationships.