The best weighted blanket Black Friday sales and deals to shop in November 2022
Shop the best Black Friday weighted blanket sales and discover the lowest prices from Amazon, Layla, Luna, Emma and more...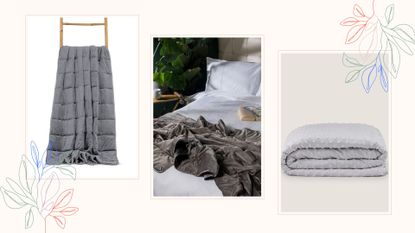 (Image credit: Future)
Save money and sleep more soundly at night by shopping the best weighted blanket sales this Black Friday and investing in a new sleep aid when the prices are reduced.
Having a weighted blanket can transform your sleep experience in a major way — much like how the best cooling pillow can help a perpetually warm sleeper find relief. Weighted blankets can feel as cozy as a traditional fleece throw but contain weighted balls or pellets, typically made from plastic or glass. Weighted blankets are scientifically proven to help you sleep better by reducing stress, anxiety and even pain.
A quality weighted blanket will cost you anywhere from $100 to $300 across sizes — but you can pay much less than that for one if you shop the weighted blanket Black Friday deals. Below, we've rounded up a selection of the best weighted blanket sales currently happening in the UK and US, with discounts at high as 67% off. We also have a brief checklist you can follow to ensure you're buying the proper sleep aid for your needs.
Where to shop the best weighted blanket sales in the UK
The best weighted blanket Black Friday sales in the UK
Where to shop the best weighted blanket sales in the US
The best weighted blanket sales for Black Friday in the US right now
How do you pick a weighted adult blanket?
When shopping the best weighted blanket sales, there are five things to keep in mind when it comes to choosing the right blanket for you...
Weight: A weighted blanket should be 10 percent of your body weight. So for instance, if you weigh 68kg/150lbs, aim for a blanket that weighs 6.8kg/15lbs. When it comes to purchasing a weighted blanket for couples, it's best to buy a blanket that's 7.5 percent of the combined body weight of both adults.
Size: You can measure a weighted blanket against the size of your mattress. If you sleep on a queen-sized mattress, for example, opt for a weighted blanket that has similar dimensions. It should be large enough to drape over your body without you completely sinking into it.
Filling: Two of the most common types of weighted blanket fills are plastic poly pellets and glass microbeads — the latter being the more expensive option of the two. You can also find weighted blankets filled with sand, steel shot beads or even rice. Ultimately, it comes down to which feels best against your skin, as all fills have their pros and cons.
Materials: How do you want the outside of the blanket to feel? Several weighted blankets offer double-sided outer covers that are plush on one side and cool to the touch on the other. If you tend to overheat, definitely seek a blanket with a cotton shell (or another breathable material).
Trial Period: Some weighted blankets come with risk-free trial periods if you're hesitant to buy one sight unseen. These can be as short as 30 nights or as generous as 200 nights, depending on the brand. It will take some time for your body to adjust to a new weighted blanket so it's a good idea to find one with a trial included.
Are glass beads better than plastic in weighted blankets?
Frankly speaking, the main advantage plastic pellets have over glass beads is cost. Glass is more expensive than plastic, which is why the cheapest weighted blankets tend to be filled with plastic poly pellets — but glass is a higher quality (and more eco-friendly) option.
Glass microbeads are finer and heavier than plastic poly pellets, which means manufacturers won't have to include as much filling. That'll result in a thinner, less bulky blanket, which is a bonus for hot sleepers or anyone who doesn't like being overly swaddled.
Also, plastic beads can make a weighted blanket lumpy and noisy, which may upset anyone with sensory issues. A weighted blanket with micro glass beads is more suitable for such individuals since they lay more evenly and don't make as much noise when rustled.
Bear in mind that plastic and glass are the two most popular fill options — but they're not the only choices available. Natural fillers like sand or rice can be used, but these can be more difficult to maintain over time. Steel shot beads are a viable alternative to glass since they're larger and more durable, but they're also noisier.
Ultimately, much like finding the best pillow or the best mattress for your sleep needs, the filling you choose for your weighted blanket comes down to how much you're willing to spend and your overall comfort level.