Is Peloton worth it? I've had my bike for 3 years and here are my honest thoughts
Wondering if Peloton is still worth it in 2023? Here, writer Jennifer Barton speaks to six other users and reveals what she really thinks three years down the line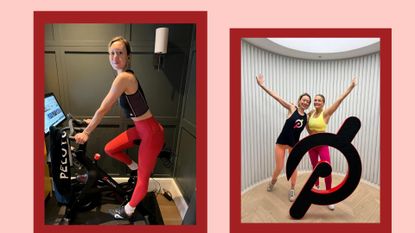 (Image credit: Jennifer Barton)
woman&home newsletter
Sign up to our free daily email for the latest royal and entertainment news, interesting opinion, expert advice on styling and beauty trends, and no-nonsense guides to the health and wellness questions you want answered.
Thank you for signing up to Woman & Home. You will receive a verification email shortly.
There was a problem. Please refresh the page and try again.
Is Peloton worth it in 2023? Whether you're looking to get fit from home and thinking about investing or you're just curious to know what's going on with the cult brand three years after it shot into the mainstream, I've got you covered.
Peloton – as you likely well know – is the American exercise company known for its Internet-connected fitness equipment with built-in touchscreens, offering thousands of live-streamed and on-demand classes, and a virtual community, to its users. The pandemic made the fitness brand a household name as gyms and fitness studios closed, turning its instructors into celebrities and leading to collaborations with megastars like Taylor Swift, Beyoncé, and Ed Sheeran.
In recent years, the brand has expanded beyond the bike, launching a new version of the Tread (for indoor walking and/or running) and a rowing machine in the US, alongside an upgraded stationary bike.
However, safety issues and recalls of various products, including the original Peloton bike, have plagued the business. Pop culture hasn't helped (those who have watched Sex And The City revival And Just Like That will know what I'm talking about) and the return to real-life gym-going and doing cycling as a workout outdoors has led to waning user interest and company-wide layoffs in the last couple of years. So, is Peloton worth it in 2023 or not? I've had my bike for three years, here's what you need to know.
Is Peloton worth it?
Peloton first came on my radar in the spring of 2020 – it seemed like just what the doctor ordered. Quite literally, in my case: I'd had knee surgery in January, my face-to-face rehab was delayed due to lockdowns, and my left leg was buckling beneath me because I had gotten so weak. My surgeon suggested indoor cycling as a way to build up strength safely.
"Is Peloton worth it?" I asked my (few, at the time) friends who owned the bike already. They were evangelical in their praise. In fact, people were almost cult-like in their obsession with Peloton - and I was intrigued. As a parent of four kids (aged two to nine at the time), a Peloton bike seemed like a pricey, but ultimately worthwhile, investment for two time-poor adults who needed childcare every time they went to the gym (which is why we didn't go, ever). We put the bike in the centre of our living room, the only place it would fit. "Let's pretend it's an art piece," I joked to my (unimpressed) husband.
Peloton came into my life when I needed to exercise for my physical health but also my mental health. My anxiety during the pandemic was very high, made worse when my beloved dog of over 10 years died and I found myself grieving. My Peloton bike became the place I could laugh, cry, scream and sing my way through all my emotions. It was a sanctuary in my home. My escape. My comfort.
As a New Yorker-turned-Londoner, Peloton's US-meets-UK sensibility and instructor roster appealed to me right away. So did the music choices: I never knew I could work out while listening to musicals before. I also loved how low-pressure it felt: there were no mirrors, there was no judgment, I was riding against myself each day and even 15 minutes on the bike felt like a victory. In those days, I could also video chat with my friends via the bike screen, though the brand has since retired that feature.
Three years on and Peloton slowly worked its way through my family. My husband, the sceptic, ended up a total convert, in the best shape of his life, and 18kg slimmer thanks to a healthier diet, daily commitment to the bike, and the Peloton AI-based personal strength trainer called Guide I bought as a Christmas gift in the Black Friday sale last year. While my two older children use the app and Guide for strength training and bodyweight workouts, my younger five and seven-year-olds like to do family yoga and meditation classes with me. Working out isn't stressful or a chore, it feels like something we can enjoy as a family.
It's not a perfect system, of course. When you've paid a fortune for a piece of workout equipment, you feel guilty when you don't use it enough - and I've barely been on my bike in months after falling over and breaking my sacrum (the bone above your coccyx), then getting back on it, only to find the bike uncomfortable thanks to some pelvic-floor-related symptoms. Not sexy or fun. The Peloton's hulking presence in my living room, where other workout detritus is now scattered, is a guilty reminder I can't avoid. Because of the high initial cost of the Peloton, I can't justify or afford other fitness classes, even when I crave them.
I'd like to think the bike has paid for itself given how many workouts we've done on it as a family but now I've been injured for some months, I have to ask: has it, really? Is Peloton still worth it in 2023? Or could I have gotten by with a workout app and a home fitness routine all along? These are the benefits and disadvantages that I - and other Peloton fans - have found in the past three years.
Benefits of Peloton
1. Peloton reframes what fitness can look like
For me personally, Peloton has reframed my idea of what fitness has to look like. Working around four kids means I don't always have a spare hour in the day, let alone time to go running every day or do a full spinning programme, but I do have pockets of time here and there.
I like snacking, aka "exercise snacking", with my Peloton. That's a 15-minute bike ride in the morning, a walk at lunch, and then a short yoga and meditation session before bed. Unlike many other fitness routines I've tried, it doesn't suggest you need to take hours from your day to make progress.
2. Community and friendships
When considering whether Peloton is worth it in 2023, it's key to remember that exercise is only one aspect of what you're getting with this product. The six-million-strong Peloton community across the globe is another. It's something I've seen for myself too, since my sister who lives in Munich has the same virtual yoga instructors as I do.
Jennifer Leckstrom, a 42-year-old based in New Jersey, says she "bought the bike for the exercise" back in 2015. At the time, the Peloton community only numbered a few thousand, but Jennifer, SVP of RoseComm and #jrock on the Peloton leaderboard, made some deep connections.
"Today, some of my best friends are women that I met through Peloton," she says. Jennifer's Peloton gang stays connected through group chats and IRL meetups like "girls' weekends in Boston, Maryland and Palm Springs, concerts, dinners, and shopping trips."
3. It's a commitment without time pressure
In terms of leaderboard hashtags and social media groups, Peloton's 'Mom tribes' (e.g. #workingmomsofpeloton; Facebook's Official Peloton Mom Group, which has over 113k members), include some of the most active, supportive and committed members. It's no surprise that busy mums have embraced Peloton as a way to get their workouts in without needing to call up the babysitter.
"Peloton is great for busy and working women, especially moms," notes Cynthia Post of Artlogo, another fan of the brand. "I try to take a 20-minute ride three times a week. All I have to do is go to my garage and jump onto the bike. Gone are the days of having to drive to the gym, park, and wait for the class to begin."
3. There's so much variety
Arabella Neville-Rolfe, who runs her own theatre PR company in London, describes Peloton as "one of the best things in my life at the moment." She was first introduced to the app and bike by her ex-wife during the pandemic and became a fan of Peloton's yoga classes before buying her own Bike+ earlier this year.
"I have never regretted it. It's been a huge revelation to me this year. I've really enjoyed the huge diversity of instructors and the amazing amount of variety you can find on the platform. A combination of spinning, yoga, walking, meditation, and strength has been absolutely brilliant and my fitness has rocketed this year."
This was something I found too - Peloton definitely made me more adventurous with my fitness. I've been learning to skateboard and roller skate, I've started running and lifting weights, and I have even tried rowing using the app. I've followed arm workouts and core programmes. I tend to walk more purposefully now that I know I can listen to a Peloton instructor while heading off on an errand outdoors. I'm so confident in the quality of teaching, the music, the enjoyment factor and the style of instruction that I trust any type of Peloton workout.
Disadvantages of Peloton
5. It's not for everyone
That being said, there will never be one form of exercise that works for everyone. Lisa, a property search agent based in London, got a Peloton in 2021. The self-confessed "exercise-detester" hoped it would motivate her to work out. Since she hates to be seen exercising outdoors, she thought she'd enjoy the intimacy of having workout equipment on her home turf.
Initially, the bike seemed promising. Within the first few days, she'd ridden her Peloton a couple of times and had that initial rush of "I love it already!" excitement. But she found the shoes and the seat uncomfortable, and the instructors grating.
"I haven't done anything since the third week of buying my Peloton," she says. "It works much better as a clothes horse." She's looking to sell her bike, joking it's been with "one very careful owner, used 10 times max."
6. You'll need to have some level of fitness to make the most out of Peloton
Unfortunately for some, Peloton's leaderboard - which allows riders to track their performance and compete with each other during the workout - may not always feel the most encouraging for those who aren't at the top of it. Jade, a 38-year-old assistant principal in London explains that the bike "can feel quite intimidating, as you have to be quite 'bike-fit' to be able to complete a lot of the rides. 65+ resistance is just unachievable for me so my stats always seem poor."
This competitive element may work for some people but when it comes to workout motivation, the uphill struggle can be difficult to overcome. So while she still counts herself as a Peloton fan, she prefers the yoga, Pilates, strength and outdoor running classes, all of which are available with a subscription to the app. She describes the experience as "you and a PT feeling the rush of a successful workout, without the nagging feeling you weren't as good as the others in your age/sex category."
7. The app might be enough to reap the benefits of Peloton
One of the big downsides when it comes to the question of whether Peloton is worth it or not is the cost. With bikes starting at £1,345 and treads at £3,345, plus the monthly fees, it's a significant commitment upfront - although you can spread the cost with financing options.
It's not necessarily a disadvantage - if you've not yet purchased the pricy bike system - and it may be entirely possible to use Peloton's best offerings using the app alone, as Jade's experience attests to. It's one of the best fitness apps around and a subscription with a limited selection of on-demand classes across a variety of disciplines is now available for free. If you want unlimited app access and three cycling, rowing or tread classes a month, memberships are £12.99 a month (these include a 30-day free trial), while unlimited access to the entire Pelo-verse is now £24 a month with the free trial.
8. You'll need to factor in other types of exercise
Adam Cardona, a certified personal trainer and the founder of Elite Healers Sports Massage in New York, points out that while the classic Peloton set-up has many perks, it can't do everything. And if you want it to do everything, it will cost you a lot.
"Without additional gear or bodyweight exercises, you might miss out on comprehensive strength training since cardio equipment won't build strength. So if you want to bodybuild, then at-home cardio equipment should not be your equipment of choice," he explains.
Plus, as we get older, it's important to prioritize weight-bearing, higher-impact exercise to reduce the chance of conditions like osteoporosis and some of the more uncomfortable menopause symptoms - like muscle loss.
Peloton launched the Guide in autumn 2021 to expand its strength offering, with instructor-guided strength workouts. There are strength training classes on the app (both weights-based and body-weight focused), as well as barre and Pilates for strength training classes. In March 2023, Peloton launched yoga conditioning classes to add a weight component to yoga, too.
In recent months - while I've barely been on the bike - I've been getting my Peloton fix through yoga, Pilates, core strength and barre classes.
9. There's a risk of injury if you set the bike up incorrectly
Much like how you're more likely to develop shin splints if you wear unsupportive running shoes or twist an ankle without proper walking shoes, if you set up your bike incorrectly (which many people do), you could develop aches, pains, and even injuries over time.
During lockdowns, you may have heard of the "Peloton pandemic," an uptick in cycling injuries from newbies overdoing it on their bikes. Issues included everything from knee pain and tendonitis in the hips to lower back issues from improperly positioned handlebars.
This is something Dr Raj Dasgupta, a quadruple board-certified physician in internal medicine, pulmonary, critical care and sleep medicine, is keen to flag to anyone looking to buy a Peloton in 2023.
Dr Dasupta, who is also the chief medical advisor for Garage Gym Reviews, notes that "without proper guidance, there's a small risk of doing exercises incorrectly and getting hurt. Plus, it can be challenging to stay motivated without the support and encouragement of an instructor or others at a gym or workout class. Overall, it's essential to be careful and seek advice from experts to have a safe and effective workout routine with at-home fitness equipment."
How much is Peloton?
For many, the question "is Peloton worth it in 2023?" ultimately comes down to the cost. It's way cheaper to buy now than it used to be, much to my frustration. The original bike has gone down in price with the launch of the Bike+ (it's now £1,345 whereas it was previously around £1,800. The Bike+ (from £1,995) features an improved screen which rotates and a resistance knob that automatically adjusts the resistance on the bike.
Now that demand has quieted a bit, you can also find secondhand Pelotons - sub-£900 is considered a decent price for a well-maintained, preloved Peloton - and the company offers a bike rental option to those in the US from $80 but not the UK.
Peloton also offers various accessories for your workouts, from the strength training Guide (£225) to weights (from £45), bike shoes (from £120) and mats (from £60). Bundles including a bike and accessories (light weights, cycling shoes, a mat and a water bottle) start at £1,600.
Back in 2020, my subscription cost £39 a month, but on the plus side, multiple people are allowed on it, so all six of my family members (as well as some extended family members), were using the bike and app simultaneously for one membership fee.
The bottom line
So, is Peloton worth it? Even considering all the above, it's relatively easy to say that yes, Peloton was absolutely worth the investment for me. While not everyone will be able to afford the pricey set-up costs and subscription, or the space to install such equipment in their home, if the budget stretches and you're looking to invest in game-changing fitness tech, I'd say that Peloton is still worth it in 2023.
I'm really hoping to get back in the saddle soon to reap all the benefits of cycling again. Considering the bike (and the instructors attached to it) have felt like my therapists, friends, coaches and cheerleaders over the years, I'm determined to feel it's been worth every penny.
I think back to those months of cycling five-or-more days a week and I crave that rush of dopamine and energy. I think I was at my fittest those first six months after investing in the bike.
Sign up to our free daily email for the latest royal and entertainment news, interesting opinion, expert advice on styling and beauty trends, and no-nonsense guides to the health and wellness questions you want answered.
Jennifer is a London-based freelance journalist, originally from New York. Her byline has appeared in British Vogue, Stylist, WIRED, Grazia and others. She spent a decade training to become a professional ballet dancer and loves to write on all things fitness and wellbeing, from skateboarding to spin class. Jennifer is passionate about mental wellbeing, too, especially when it comes to destigmatizing the shame and silence around mental health conditions.