How Exercise Changed My Life: "Ice swimming gives me more of a purpose"
Kate Steels started ice swimming in her 40s. Now 53, she's one of three people to hold the top achievement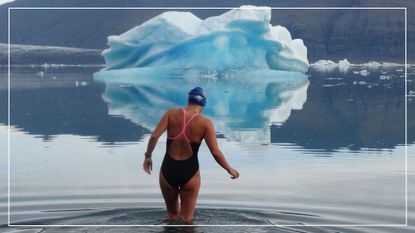 (Image credit: Rory Fitzgerald)
There are still so many barriers to be broken down when it comes to our sense of belonging in sport as women, but in woman&home's new series, How Exercise Changed My Life, we meet those who are doing just that after changing their lives through sport after the age of 40, defying stereotypes and ageist narratives about what we are truly capable of at any age.
"When you get down to about minus 12 degrees [10.4 Fahrenheit], that's when the little hairs inside your nostrils freeze and your eyebrows freeze. That's when you get properly cold," says 53-year-old international ice swimmer Kate Steels, casually referring to her swim in arctic China where organizers cut the pool out of a frozen lake.
As I sit down with Kate against the backdrop of Andark Lake (opens in new tab) in Southampton, on a classically windy and cold (in my opinion) English day, however, I quickly realize minus 12 is just the tip of the iceberg for this extreme wild swimming convert.
Ice swimming in its most obvious sense has been around for hundreds of years but the sport we have today was only officially named in 2009, at the same time as the formation of the International Ice Swimming Association (IISA). The rules of ice swimming are simple, if not brutal: swimmers must be in a water temperature of 5 degrees maximum [41 Fahrenheit] unassisted - for comparison, the average indoor swimming pool is heated to 25 degrees (78 Fahrenheit) - and they can only wear a silicon cap, goggles, and standard bathing suit.
One of the biggest achievements in ice swimming is the Ice Sevens Challenge: an Ice Mile in each of the seven continents on earth, including a polar region either in the North or Antarctica, either inland or in the sea. Kate is one of three people in the world, and the only person in the UK, to have achieved this. It's her proudest moment in the sport so far, she tells me. "It's the ultimate goal in the adventure strand of ice swimming. One of those swims, which is the hardest twist to it, has to be at zero degrees and that was the toughest swim of my life."
Kate's other swims took place in the UK, Norway, New Zealand, the African High Atlas mountains, Lake Simcoe in Canada, and at Lake Esmerelda in Argentina.
The Ice Sevens Challenge wasn't the beginning of Kate's list of achievements though. In 2015, she was one of a handful of Brits to compete in the first ice swimming World Championships. "I was selected as one of two people who went to Murmansk in arctic Russia, which was my first introduction to water at zero degrees," she says. "That at the time was my proudest moment as never in a million years did I think I'd represent Great Britain in any major event."
With so many accolades in her back pocket at 53 years old, you wouldn't be blamed for thinking Kate had been competitively swimming her whole life - but that's far from the case. "My parents were both teachers and we moved around the country a lot growing up so I did go to a club but literally for just over a year, maybe 14 months. I didn't have the opportunity [to swim at a young age], but I really wish I did. I'm in a masters club now so I wonder what else I would have been able to do if I'd been in a club for longer. I've always liked water but I'm not from a swimming background at all."
Kate completed her first Ice Mile in 2015 after getting into open water swimming a few years before. "I came to ice swimming inadvertently," she tells me. "I started open water swimming back in 2009 and I found it was really my niche, it was something I really wanted to do. Then I found the Portsmouth Triathletes, who have a club and go swimming every weekend. It was also around this time that I became a single mum and I went every other weekend when I didn't have my son with me. That's how I got into it and by meeting people like myself, who were more geared towards swimming."
If you're interested in ice swimming - or exploring the numerous benefits of cold water swimming generally - finding a community like this is integral to staying safe and getting the most enjoyment out of the sport. "Some people like myself at Portsmouth were more geared towards swimming [rather than running or cycling] and the club was really friendly, you didn't have to be a triathlete to enjoy sea swimming sessions with them. Here, I met some friends and people who swam through the winter, some in wetsuits and some without, some who just dipped," she says. "I really recommend meeting someone experienced, having a coached session if you can as one of the things ice swimmers have to be careful of is safety, making sure we're fit enough. But enjoy it [when you go] and have fun."
Other than pure enjoyment, something I can see is certainly the case from the way Kate talks about the sport, her dedication to ice swimming is two-fold. "I put a lot into ice swimming, not just me personally but actually bringing other people on board and introducing them to the sport. I love helping people and giving back," she says. But Kate also swims in memory of her son, Daniel, who died in 2018. "He was my only child and since then, swimming has kept me going. It's given me more of a purpose," she tells me. Kate dedicated the Ice Sevens Challenge to her son and raised money for the Samaritans with her achievements.
"My life, my heart, my everything was smashed into a million pieces and not a day goes by where I don't think about him, without wishing he was here. I can't turn the clock back, all I can do is some swims to raise awareness and money for charities, to try and prevent other people from losing their lives to suicide and all the destruction and heartache for the families they leave behind."
To many, ice swimming seems like an inaccessible sport. Going down to temperatures lower than 5 degrees [41 Fahrenheit], and as low as -30 degrees [-22 Fahrenheit] in Kate's case, isn't for the faint of heart. And yet, it's becoming more popular than ever after being swept up in the outdoor swimming trend of the past few years. Though you don't need a membership, club access, or need to belong to a swimming group to explore all the benefits of swimming outdoors, the IISA tells me their membership base has grown an impressive 64% from 2020 to the start of this year, showing just how much of an impact the pandemic and recovery from lockdown have had on the sport.
The interest in ice swimming is something that Kate's also seen for herself - and she says it's women who are leading the charge. "I've seen more women than men getting into open water swimming," she says, with one theory being the celebration of different body types in the ice swimming community. "Open water and wild swimming take people of all shapes and sizes and, actually, in winter swimming unless you're very fast, you get fewer very thin people because a bit of insulation helps you deal with the colder temperatures.
Tips for getting into outdoor swimming
Find a coach: Open water swimming of any kind is a serious activity and one that comes with plenty of safety warnings, Kate says. "Meet someone experienced and have a coached session the first time you do it," she reminds me.
Avoid the after-drop: "One of the things ice swimmers have to be careful of is after-drop. Your core body temperature will get colder 10 to 20 minutes after you get out of the water, which many people don't realize. You need to get somewhere sheltered and warm, lots of layers on you like a windproof top, a Red Evolution Robe (opens in new tab) or Parka Revolution (opens in new tab) if it's really severe, a warm hat, and a warm drink inside you.
Swim within your own limits: "Just because someone else is staying in the water for 10 minutes doesn't mean you should. And to think that it's one minute per degree, that's also wrong."
Know your entry and exit points and NEVER go alone: "It's easy to get into a river and think you'll know where to get out again because there's a particular tree that's in blossom, for example. But by the time you come back, there will be another one you couldn't see from the bank." You should also never go alone when doing what is a pretty extreme activity.
A digital health journalist with over five years experience writing and editing for UK publications, Grace has covered the world of health and wellbeing extensively for Cosmopolitan, The i Paper and more.
She started her career writing about the complexities of sex and relationships, before combining personal hobbies with professional and writing about fitness. Everything from the best protein powder to sleep technology, the latest health trend to nutrition essentials, Grace has a huge spectrum of interests in the wellness sphere. Having reported on the coronavirus pandemic since the very first swab, she now also counts public health among them.