Best electric toothbrush deals for November 2022: Save up to 50% on top models
These are the best electric toothbrush deals we've spotted across the web ahead of Black Friday 2022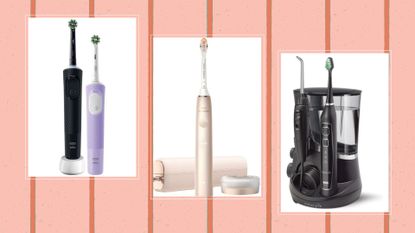 (Image credit: Future)
Thanks to these electric toothbrush deals, you can finally upgrade your generic manual toothbrush without breaking the bank.
Electric toothbrushes come with a whole range of benefits - from their ability to remove plaque in hard-to-reach areas to smart tech that can help you brush properly. But they come at a cost, with many devices easily costing over $100 / £100 Luckily, with these early Black Friday sales and discounts, you can hop on the electric toothbrush wave without feeling guilty about overspending.
If you don't have time to scavenge online to find the best electric toothbrush models and sales, no worries. We rounded up the best places to shop for the biggest deals, including the best models for all your oral hygiene needs.
We've also summarized why we think each deal is worth your attention but if you're at the start of your electric toothbrush journey, head to our dedicated guide on the best electric toothbrushes to help you decide which one is right for you.
The best electric toothbrush deals available in November 2022
You can say Black Friday came early in the electric toothbrush market, with retailers currently offering deals of up to $100 off in the US and up to £150 in the UK.
Major toothbrush brands such as Oral-B, Philips Sonicare, and Waterpik are currently offering major electric toothbrush deals. Of course, Amazon is home to many savings in both the US and UK, but if you're in the US, you can also find the best electric toothbrush sales at Best Buy, Kohl's, and Bed Bath & Beyond, ranging from $30 - $100 off. For UK readers, the best current deal comes courtesy of Argos, where you can currently get an electric toothbrush duo pack for just £40.
We expect more prices to be slashed during the Black Friday sales, taking place between Friday 25 November to Monday 28 November, but the current deals are pretty strong, and we imagine the toothbrushes will get snapped up fast.
Who has the best electric toothbrush deals right now in the US?
The best electric toothbrush deals in the US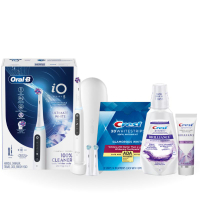 (opens in new tab)
Oral-B + Crest Brilliance Whitening Bundle: $214.99 $179.99 (save $35) | Oral-B (opens in new tab)
Oral-B is one of the most popular and reputable toothbrush brands, and right now, its highly-rated whitening bundle is $35 off. Whether you have sensitive teeth or need some extra whitening, this bundle includes the Oral-B iO5 that has five brushing modes (daily clean, whiten, super sensitive, sensitive, and intense), two replacement brush heads, teeth whitening toothpaste, 3D white stripes, and mouthwash. The Crest 3D whitening toothpaste also made it to our list of the best whitening toothpastes, so it's safe to say we're fans of this range.
Don't worry about those brushing pep talks at the dentist. This electric toothbrush bundle will leave you feeling like you just left the dentist.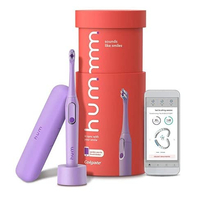 (opens in new tab)
Hum by Colgate Smart Electric Toothbrush Kit: $69.99 $26.95 (save $43) | Amazon (opens in new tab)
If you need help tracking your brush time and hitting those areas that may need some extra TLC, this smart electric toothbrush kit is the perfect accountability tool. With an app to track your brushing progress and a two-minute timer, this is the toothbrush you never knew you needed. Plus, you'll only need to recharge the battery after 10 days of using it.
The toothbrush has three vibration modes, a deep cleaning mode for clean pearly whites and modes for normal and sensitive teeth. With its soft bristles, this is the perfect electric toothbrush option for gentle cleaning and is currently 61% off. We also love the vibrant lilac color, which will look great in any bathroom.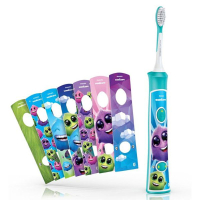 (opens in new tab)
Philips Sonicare for Kids Electric Rechargeable Toothbrush: $69.99 $29.99 | Kohl's (opens in new tab)

Say bye to cavities and start your kiddo early with a toothbrush that'll teach them better brushing habits with this cute and colorful cartoon electric toothbrush. An expensive price tag is one of the main reasons we opt for a manual toothbrush, so buying an electric toothbrush for your child is usually not even a thought, but with a $40 discount, you might reconsider.
This Philips Sonicare electric toothbrush is tied to an interactive app that teaches your child how to brush their teeth in a fun way with a two-minute timer and music.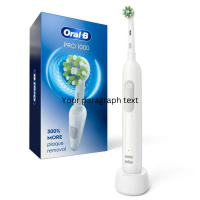 (opens in new tab)
Oral-B Pro 1000 Rechargeable Electric Toothbrush: $49.99 $39.97 | Walmart (opens in new tab)
Sometimes all you really need is a strong, reliable electric toothbrush without all the frills and attachments. This is where the Oral-B Pro 1000 model comes in. It promises to remove 300% more plaque than a regular toothbrush and is easy to use and long-lasting. At under $40 we really can't fault it.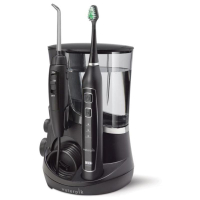 (opens in new tab)
Waterpik Complete Care 5.0 Waterflosser and Toothbrush: $119.99 $99.99 | Bed Bath & Beyond (opens in new tab)
Flossing your teeth properly is an important part of a good dental routine but it's a step many of us often skip. Enter the Waterpik Complete Care 5.0 Waterflosser and Electric Toothbrush. This set includes an electric toothbrush that features a clean, whiten, and massage mode. And no more having to worry about positioning your hand awkwardly with string floss. The water flosser is much easier to use and is clinically proven to be 50% more effective in improving gum health. While the $20 discount isn't as sizable as some others, the starting price of this duo set is already brilliant so it's a real bargain.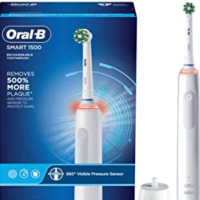 (opens in new tab)
Oral-B Smart 1500 Electric Toothbrush: $79.99 $49.99 | Amazon (opens in new tab)
This 38% saving won't last forever, so get it before it's gone. With a two-minute timer, a pressure sensor and an impressive speed range, you really feel as though you're brushing your teeth properly with this one as the bristles reach every crevice. But don't just take our word for it - the Smart 1500 toothbrush has over 10,000 ratings on Amazon with an average 4.5-star rating.
Who has the best electric toothbrush deals in the UK right now?
The best electric toothbrush deals in the UK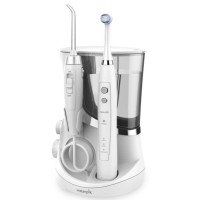 (opens in new tab)
Waterpik Complete Care 5.5: £109.99 £54.99 | Waterpik (opens in new tab)
Enjoy saving £55 on this Waterpik electric toothbrush and water flosser duo. With an electric toothbrush that has three cleaning modes and a water flosser with five water flossing tips, your gums and teeth will be healthier and sparkling like you just left the dentist.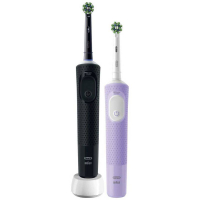 (opens in new tab)
Oral-B Vitality Pro Electric Toothbrush Duo Pack: £60 £40 | Argos (opens in new tab)
Get two Oral-B electric toothbrushes for the price of one. with this bargainous bundle. The Oral-B Vitality Pro Electric Toothbrush is perfect for those with sensitive teeth or who enjoy a gentle cleaning experience.
The toothbrush has three brushing modes (daily clean, sensitive, and sensitive plus) and an in-handle two-minute timer. Whether you want to save the second electric toothbrush for yourself or gift it to your partner or teenager, they'll enjoy tossing their manual toothbrush to the side and stepping up their oral care game. Or of course, it could make for a very functional gift for a couple.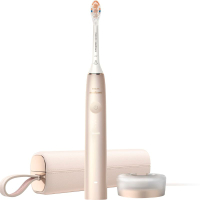 (opens in new tab)
Philips Sonicare 9900 Prestige Rechargeable Electric Toothbrush: £300 £119.99 | Boots (opens in new tab)
You'll not only love saving £100 on this gorgeous sleek electric toothbrush but you'll be impressed with its cool features as well. The Philips Sonicare 9900 adapts the brush intensity and mode based on your brushing habits. And by connecting to the Sonicare App, you can track your brushing while getting feedback and guidance on how to get a cleaner and healthier mouth. With over 120 five-star ratings, this electric toothbrush lives up to its prestigious name.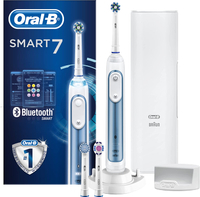 (opens in new tab)
Oral-B Smart 7 Electric Toothbrush: £219.99 £69.99 | Amazon (opens in new tab)
Snag an Oral-B Smart 7 Electric Toothbrush with a 68% discount. With over 6,000 five-star ratings, we're confident you'll enjoy adding this smart toothbrush to your bathroom countertop. While most electric toothbrushes have an average of three brushing modes, this Oral-B toothbrush has five. And no need to worry about ordering extra brush heads right away. This box includes three that claim to remove up to 100% more plaque.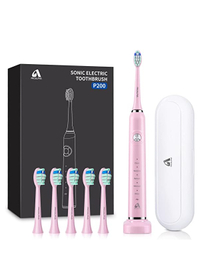 (opens in new tab)
JFT Sonic Electric Toothbrush P200: £59.99 £49.99 | Amazon (opens in new tab)
If spending nearly £100 or more on a discounted electric toothbrush is still out of your budget, save some extra coins this holiday season with the Sonic P200 Electric Toothbrush. For under £50, this wireless toothbrush is an affordable yet quality option with some of the same features as higher-cost electric toothbrushes.
The Sonic P200 has five brushing modes (clean, sensitive, refresh, massage, and white), a two-minute timer, and comes with six additional brush heads. And if pink isn't your color, there are four other color options, all at a discounted price.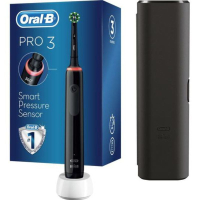 (opens in new tab)
Oral B Pro 3 35000 Electric Toothbrush £89.99 £39.99 | Currys (opens in new tab)
Another great offer from Oral B, this time courtesy of Currys, the Pro 3 3500 has an impressive 14-day battery life, making it perfect for regular travelers. It also comes with a nifty travel case for easy transportation. It has three speeds: daily clean, sensitive, and whitening as well as a two-minute timer mode. Don't miss the chance to save £50 on this iconic and reliable model - which incidentally comes third on our list of the best Oral B electric toothbrushes.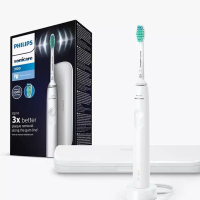 (opens in new tab)
Philips Sonicare HX3673/13 Series 3100: £99.99 £44.99 | John Lewis (opens in new tab)
This electric toothbrush from Philips helps you finesse your brushing technique, thanks to its unique sweeping motion which helps you brush those hard-to-reach areas, and a smart pressure sensor that lets you know if you're brushing too hard. All brush heads are recyclable with TerraCycle too which is a bonus, making this a practical sustainable Christmas gift that they're guaranteed to use on a daily basis.
What is the best time of year to buy an electric toothbrush in the sale?
In all honesty, the answer to that question is whenever you need one, however, we often see the best prices in November. Electric toothbrushes routinely get reduced during the Black Friday sales so we've found this is the best time to pick up a good deal. Last year, we saw some prices for some models, like the Oral B Smart 6, slashed by 73%.
Based on last year's Black Friday electric toothbrush deals, we're confident you can snag an electric toothbrush this upcoming Black Friday and Cyber Monday, which respectively run on November 25 and November 28 this year. However, many retailers in the UK and US are offering major price cuts already ahead of the shopping event, so now is also a great time to buy some of the best electric toothbrushes.
With deals reaching over $100 in the US and £186 in the UK, you can start your Christmas shopping and grab electric toothbrushes for the whole family. These will make great Christmas gifts for moms, teenagers, and dads.
Kenedee Fowler is a shopping writer based in the United States. She joined woman&home in September 2022, and ever since has been sharing her expertise with the brand to help readers source gifts for any occasion and on any budget, reviews products so you don't have to, and scout out the best deals and products to give you the best value for your money. Before joining woman&home, Kenedee was a home editorial fellow for Insider Reviews, where she wrote in-depth reviews and articles across the home vertical.

Kenedee is a recent graduate from the number one journalism school in the US, the University of Missouri - Columbia, where she gained hands-on experience as a multimedia journalist at mid-Missouri's local news station.