Gaining weight between these ages can increase the risk of early death
Oh...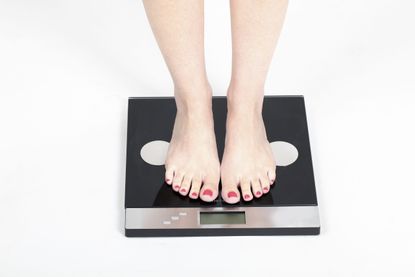 (Image credit: Getty)
Maintaining a healthy weight forms a key pillar of maintaining a healthy lifestyle and has been shown to impact the risk of developing a range of conditions, such as type 2 diabetes.
Now new research has revealed a shock link between weight gain between the ages of 25 and 47 and the risk of early death.
Published in the British Medical Journal (BMJ), the researched analysed data from the US National Health and Nutrition Examination Survey featuring 36,051 participants.
All study participants were aged 40 and above at the start of the study, with a mean age of 57.
The study participants were weighed at the beginning of study, and also told researchers how much they weighed at the age of 25, as well as how much they weighed a decade previously to their age at the study start (an average of 47 years). 10,500 deaths were recorded in a 12-year follow-up of the study.
Researchers found that those people who moved from a non-obese to obese Body Mass Index (BMI) between young adulthood (aged 25) and middle adulthood (47) had a 22 per cent increased risk of dying from any cause, and 49 per cent higher risk of dying from heart disease.
Further insights from the research revealed that weight loss later in life did have significant impact on longevity, but probably not in the way that most people would imagine.
MORE:World Health Organisation claims that two diet drinks a day might 'increase risk of early death'
They found that moving from an obese to non-obese BMI from middle adulthood to late adulthood (roughly aged 57) was associated with a 30 per cent higher risk of premature death.
Concluding the study said noted, 'Stable obesity across adulthood, weight gain from young to middle adulthood, and weight loss from middle to late adulthood were associated with increased risks of mortality. The findings imply that maintaining normal weight across adulthood, especially preventing weight gain in early adulthood, is important for preventing premature deaths in later life.'
BMI – which uses your height and weight to calculate whether a person is at a healthy weight – has the following ranges.
18.5 to 24.9 healthy weight
25 to 29.9 overweight
30 to 39.9 obese
40 or above severely obese
Miriam worked for woman&home for over five years and previously worked on the women's lifestyle magazines Woman and Woman's Own.