Victoria Pendleton has just revealed what her ideal 'death row dinner' would be – and it screams wellness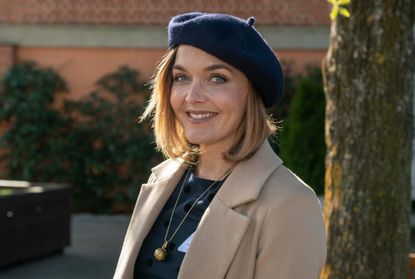 (Image credit: Chris J Ratcliffe/Stringer/Getty Images)
She's the sporting hero who's recently been nominated for Cycling UK's 100 Women in Cycling 2019 for inspiring the next generation of female cyclists.
And despite retiring from cycling following her gold medal win at the London 2012 Olympics, it seems that Victoria Pendleton C.B.E is still very much putting health and fitness at the centre of her life.
Speaking to Canary Wharf Magazine the 38-year-old – who now describes herself as a horse rider and adventurer – was asked What's your ideal death row dinner? And her response would certainly get nods of approval from wellness junkies the world over.
Here it is in her own words, "Starter: I love a really good hummus (opens in new tab) with loads of crudités. Main course: I would probably have some kind of Thali, a proper Indian meal, with loads of curries, dahl, vegetable curry (opens in new tab) and roti. Dessert: I really enjoy a vegan chocolate chip almond butter cookie. I've been making these recently and when they're warm out of the oven they're amazing."
She also went on to make other admissions that reveal further insights into her daily diet, confessing that she would opt for a "coffee with oat milk" over a cup of tea and given a choice of green juice and cocktails, she would start with the former and end with the latter.
MORE:I came out the other side: Victoria Pendleton reveals the inspiring way she dealt with her depression (opens in new tab)
In 2017 Victoria – who has recently joined forces with best friend Sophie Everard for Sweaty Betty's new Sisterhood Campaign – also offered up tips on how to switch up to a healthier regime. Speaking at the time she said, "Cut out the processed carbohydrate and refined sugars. Eat more simply constructed meals with lots of vegetables, so you understand exactly what is going in.
"When people start a new exercise routine, it can come with perceived permission to fill-up on carbohydrates and sugars, whereas more often than not it undoes all the hard work that went in."
Is anyone else adding chia seeds and split peas to their shopping basket as we speak?
Miriam worked for woman&home for over five years and previously worked on the women's lifestyle magazines Woman and Woman's Own.