How to have good, satisfying sex when you're stressed and anxious
It's time to get your mojo back!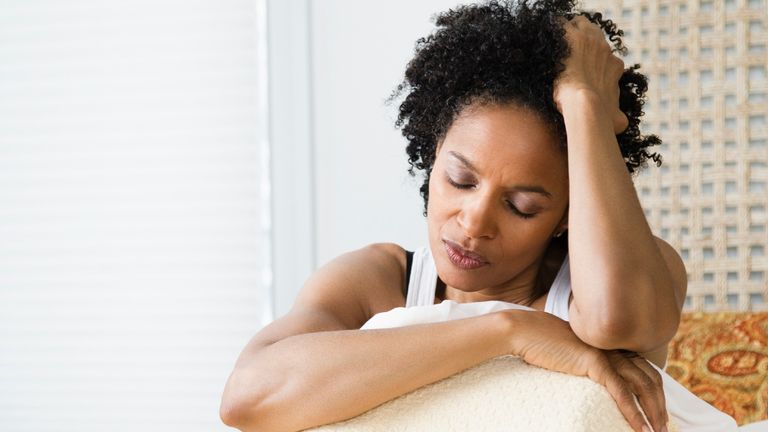 (Image credit: Getty Images / SuperStock \ Jon Feingersh Photography)
From moving house to taking a flight, we all experience stressful moments in life.
But are you feeling so stressed and anxious that your intimacy levels have suffered? You're not the only one. Many people are too stressed for sex right now. But if you're someone who suffers from persistent stress and anxiety, it may be impacting everything, from your emotional health to your waistline, too. So things need to change!That's why, if you're looking for a quick solution, we've found the bestvibratorsto help you climax.
"Stress is a sexual poison; it makes enjoyment and fulfilment hard to achieve," says Lovehoney's sex and relationship expert, Annabelle Knight. "It can have a very negative effect on your libido and your ability to orgasm." Which is ironic, as having an orgasm can actually work as an instant stress reliever.
Need more help? That's what we're here for. These are our seven top tips for maintaining a healthy and active sex life, even when life is full-on and, frankly, really bloody stressful.
1. Morning is best when you're too stressed for sex
A survey by at-home testing-kit brand Thriva found the first hour of the day is officially "The Stressing Hour" for Brits, when we're feeling the most tense and anxious. However, although you might not feel like it, having sex first thing could be the stress-relieving boost you need. "While a coffee will give you a momentary energy boost on those sluggish mornings, an orgasm is a healthier (and much more fun) way to get your 8am kicks," says Lovehoney's sex expert, Sammi Cole. "Morning sex can give you the same get-up-and-go as an early-morning workout."
Just make sure you have a good environment for sex and declutter your bedroom the night before. Bedroom always a mess? It may be adding unnecessary stress when you should be getting in the mood for sex. So, make your bed a place you enjoy spending time in, rather than dread. A comfortable, healthy environment will promote feelings of relaxation. Or, take it to the shower or sofa instead.
2. Snacking on fresh fruit can help your libido
Stressed out? Research by Thriva also found that 22% of women are likely to reach for sweet snacks when anxious. "Having an unhealthy lifestyle can be seriously damaging to your libido," says Stephanie Taylor, intimate health expert and managing director of pelvic-healthcare company Kegel8. "It's easy to turn to vices in stressful times, but eating a diet high in saturated fat and refined sugar, smoking and heavy drinking can all affect your sex drive."
Yet, choosing the right foods could boost your libido. "Libido-boosting foods are commonly called aphrodisiacs, after Aphrodite, the ancient Greek goddess of love," says Stephanie. "If you're not into oysters, a diet rich in grains, pulses, avocados, leafy greens, fresh fruit and nuts should do the trick. Opt for low-alcohol alternatives to your favourite tipple, too."
But how do aphrodisiacs work, especially when you are too stressed for sex?"Aphrodisiacs create a sense of heightened sexual state," says Annabelle."They also work by producing chemicals linked to sexual desire. Sometimes just thinking about an aphrodisiac may work as one."
3. Feeling comfortable can help get your sex life back on track
Unfounded body hang-ups can lead to women feeling so embarrassed, stressed and anxious about their body image that they avoid sex altogether. Sounds familiar? The key is to stop worrying, as there is a simple solution. Just ask yourself what will make sex feel more comfortable for you and then do it. "If that means dimming the lights or keeping your clothes on, then do it," says Annabelle. "Whatever makes you most relaxed will help you orgasm." Talking to your partner about any insecurities and how you're feeling can also help.
Plus, if you're feeling like your body has changed since lockdown or the menopause, that's understandable. Remember, you're not alone. "Low self-esteem is one of the biggest libido killers," says Stephanie. "Looking good is all about feeling good, so take time out to focus on you. Take a long relaxing bath rather than a shower. Or invest in some at-home beauty treatments and slip into your favourite lingerie set."
4. Too anxious for sex? It's worth looking at your health and hormones
During midlife, women may find their hormone levels dip and stress levels rise, which could cause low libido. "The problem today is that stress is almost continuous," says Dr Marilyn Glenville. "Eat little and often, as stress hormones are released when your blood sugar drops."
If you think there could be an underlying health problem that's making you too stressed and anxious to have sex, then speak to your GP. "Sexual dysfunction is more common than you might think," says Stephanie. "For millions of women, pain or discomfort during sex is a reality. In fact, researchers estimate at least one in 13 British women experience it. There's a long list of things that can cause sex to be painful or uncomfortable for both partners, from pelvic organ prolapse, vaginal atrophy (dryness), to pelvic inflammatory disease (PID) and STIs. Don't suffer in silence – your GP or gynaecologist can discuss this with you and provide the right recommendations and treatments."
5. Exercising can help when you're feeling too stressed for sex
Feeling too stressed for sex? Put your trainers on and go for a walk or run instead. "Exercise is one of the best libido boosters," says Stephanie. "A regular fitness routine can give you the benefit of higher energy levels and increased stamina, making you more physically engaged in sex."
Not sure what to pick? "Aerobic exercise, such as running, cycling and swimming, can also improve blood circulation around the body, including to your intimate area," says Stephanie. "Better blood flow can increase your chances of reaching climax and, when you do, it will feel more intense."
If you're feeling really stressed and anxious, exercise could definitely be the cure – and not just in the bedroom. "Exercise can also give your mental wellbeing a real boost," says Stephanie. "When you work out, your body releases endorphins and lowers your levels of cortisol. Cortisol is also known as 'the stress hormone' and this is a real libido killer. Now that's a reason to get moving!"
6. Making sex fun can help when you're feeling stressed and anxious
Associating sex with having fun with your partner can make it something you look forward to, however stressed you're feeling. "Couples can all too easily end up having Groundhog Day Sex – same time, position and place every week," says Annabelle. "Mix it up – look up new sex positions on the internet and write a brief description on each on a note and put them in a jar. Then pick one out each week and see how it livens up your libido."
And you don't have to be with a partner to start enjoying yourself again. Taking time for solo pleasure can help boost your libido when you're stressed and anxious. "Sex isn't all about being performative and pleasing the other person; it's also for yourself," says Stephanie.
"It can help to get back to basics. Masturbation can help you re-familiarise yourself with all the things you personally like and give you your sexual confidence back. Experimenting with self-pleasure can also increase your stamina in the bedroom, giving both you and your partner more time to enjoy sex."
7. Breathing deeply can help reduce tension when you're too stressed for sex
A higher level of libido is achievable; it might be that you just need to learn to relax and take some time out first. But calming your mind when you're feeling stressed and anxious can be easier than you think. Slowly inhaling and exhaling will help to calm your nervous system, lower your heart rate and, ultimately, lead to you feeling far less tense. Try this NHS-recommended breathing exercise to see if it makes a different to your stress and anxiety levels:
Take a moment to yourself and lie on the top of your bed. Place your arms away from your sides, with your palms facing upwards.
Breathe deeply but naturally in through your nose. Begin to count steadily from one to five (or as far as you can comfortably).
Without pausing, breathe out gently through your mouth, counting to five again. Keep going for three to five minutes until you feel your body and mind has started to relax.