Six ways to learn and have fun while social distancing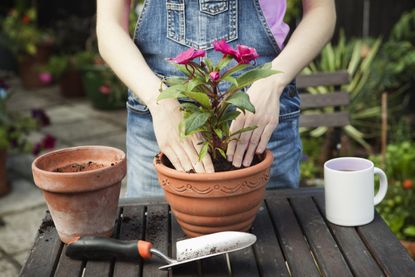 Sharpen your skills at home with these fun activities.
Wondering how to make the most of extra time at home while social distancing? It's an uncertain time for us all – but it's really important to try and find positives. And what better way to while away the hours than learning a new skill? Here are some suggestions for online courses you can do from the comfort of your own home: from gardening to singing to getting your body moving.
Sing out
If you've always wanted to try singing (beyond the shower) or hone existing vocal skills – try an online lesson with choir leader and singing tutor Laura Guarch. Slots are available on a donation basis, with priority given to those in vulnerable situations.
Sign up: Email Laura at laurarg.music@gmail.com to book your lesson
Green fingers
Spring is here and we're all spending more time in out gardens – particularly as we're confined to our homes at the moment. So it's time to get green-fingered. The RHS has joined forces with MyGardenSchool to offer a series of online gardening courses. The first is Gardening for Wildlife. This four-week course consists of video lectures, an ebook, a virtual classroom, and feedback on your own garden from their expert Andy McIndoe.
Sign up: Gardening for wildlife (opens in new tab)
Energy hit
Ramp up your energy levels, burn fat and lift your mood with free workouts from health and fitness coach Annie Deadman (opens in new tab). Annie runs live sessions on our Woman and Home Facebook page three mornings a week, and on her YouTube channel every day - they're saved so you can view them later. From Pilates to circuit-style workouts, using equipment to hand (e.g. bags of rice) and there are low-impact options too. Get moving!
Sign up: Annie Deadman training (opens in new tab)
Life is tweet
Spring is the best time to watch garden birds and now there's a fun online club that helps you learn all about these amazing wild creatures. The Self-isolating Bird Club live stream is on daily at 9am on Facebook, Twitter and YouTube, hosted by naturalist Chris Packham from his home in the New Forest. Don't fear! If you're a late riser, the videos are saved so you can catch up later with a cuppa.
Sign up: Self-isolating Bird Club (opens in new tab)
Speak up
There's never been a better time to become bilingual that when we're social distancing with time on our hands. If you haven't spoken a word of French since your days at school master a new language, or improve on a familiar one, with free app Duolingo. Choose from 30 languages - Spanish to Arabic to Hindi – with bite-sized lessons tailored to your ability.
Sign up: Learn with Duolingo (opens in new tab)
And breathe…
Learn to lower anxiety in this crazy time with daily breathing and mindfulness. The Calm app has a wealth of guided practices, while its online hub offers free resources for adults and children, including restful music, soothing bedtime stories and daily meditations.
Sign up: Calm mindfulness meditations (opens in new tab)
Helena is the Travel Editor for Woman & Home, Woman's Weekly, Woman, Woman's Own and Chat. As a journalist with 8 years' experience, she has also worked for titles including Stylist, The Evening Standard and Heat.

She is a keen traveller who loves nothing more than exploring a new country. Her dream trip is a safari. A fierce animal lover, she dreams of seeing some of the big five out in the wild. Her wish-list also includes India – to explore her husband's heritage more – as well as exploring more of America's stunning national parks.