7 outlet stores with the best running shoes sales
Bag a bargain at a running shoes sale!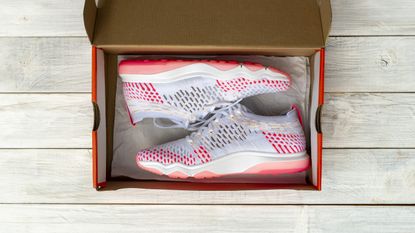 (Image credit: Getty Images)
A running shoes sale can save us all from overspending on a pair of trainers or sneakers—after all they're one of those things that we all need but might not want to splurge on.
And let's face it, most of the best running shoes for women aren't the cheapest products to buy, so it's always helpful to hit up a running shoes sale. Especially because the shoes don't last forver. No matter how far you run or how often, over time your running shoes will experience wear and tear, starting to break down and increasing your chances of injury. That's why it's super important that you upgrade your kit often and get yourself a pair of good running shoes (opens in new tab) at regular intervals.
Sound expensive? It doesn't have to be, thanks to the outlets stores with running shoes sales. Some outlet stores specialize in selling discounted sportswear and running shoes, with stock coming from a number of different brands. While others, such as Adidas and Reebok, have their own outline stores online, where they sell overproduced products for a discounted price to make room for new lines of stock in stores.
Running shoes sale: where to look
(opens in new tab)
Reebok is well known for quality sports clothes and shoes, and its online outlet (which is part of the main website) offers a running shoes sale. Expect discounted prices that range from 10-50% off. The outlet even features relatively new trainer designs and shopper's favourites. Right now you might find the Reebok Speed Breeze 2.0 and Reebok Lite Plus 2 trainers marked down. Don't mind waiting to get your hands on a Reebok design a few months after the release? Then it's worth having a browse on the outlet shop to see if you can bag yourself a discount.
(opens in new tab)
This online shop, and store (based in Canterbury) has been selling discounted running clothes and shoes for just over ten years. Since it opened, The Running Outlet has expanded its offering. Now you'll find Nike running shoes (opens in new tab) and other well-known brands, such as Brooks and Asics, for a discounted price. Among other great deals, you'll find discounts ranging from 10-20% on running shoes that are relatively new to the market.
(opens in new tab)
3. Adidas (opens in new tab)
Adidas is another well-known brand that has an outlet and discounted section on its website. As well as running clothes and accessories, it also has a running shoes sale with up to 50% off. If you want to shop in person, the brand also has various brick-and-mortar outlets throughout the country.
(opens in new tab)
The sports shop that sells everything from football kits to workout gear, also has an outlet section on its website with a running shoes sale. With a range of brands on offer, from Adidas to Karrimor, you can usually make big savings. Looking for newer models, such as the Adidas Rockadia 3 trail running shoes? You'll find offers sitting at around 20-30% off the RRP.
(opens in new tab)
New Balance is known for its fresh and innovative styles of running shoes. Prices usually range between £70 and £135, but the brand also has an outlet section with lots of discounted trainers on offer. The shoes on offer won't be NB's newest lines, but if you want to pick up last season's trainers – such as the FuelCell Echo– for up to half the price, then it's definitely worth having a look.
(opens in new tab)
Looking for year-round discounts of up to 74% off your running shoes? Then Sports Shoes is definitely worth a view. With brands such as Asics and Salomon on the roster, there's a good choice of trainers to shop. The outlet also has some recent releases – including Saucony's Jazz 21 running shoes.
(opens in new tab)
If one of your favourite running brands is Asics, then you'll be excited to hear the brand has an online outlet shop. This is the place to find the brand's running shoes with reductions close to around £30-40. It doesn't have the biggest range, and most of the featured shoes are lines which launched a couple of years ago. But, if you're loyal to the brand and want to pay a little bit less, then this is the place to shop.