Half of women will be carers by THIS point in their 40s, report suggests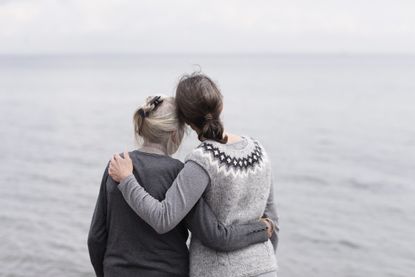 (Image credit: Getty)
There are around seven million carers in the UK, according to figures from the Carers Trust.
And this figure set to climb by an additional 3.4 million by 2030.
Now a new a report has looked at the nation's likelihood of becoming a carer in adult life, revealing that women are set to take on caring responsibilities just over a decade earlier than men.
In Will I Care? (opens in new tab) researchers from the University of Birmingham and the University of Sheffield analysed data from individuals who had participated in both the British Household Panel Survey and Understanding Society social and economic study for over 15 years between 1991 and 2018.
They found that by the time they are aged 46, half of women have been a carer. Men also have the same 50:50 chance of being carers (opens in new tab) during their lifetime, but this time by the higher age of 57.
There were variations in this figure across the UK, which were as follows (women's age vs men's age).
England – 47 vs 60
Scotland –45 vs 57
Northern Ireland – 43 vs 52
Wales –42 vs 50
Further insights revealed that currently more women (58 per cent) are carers than men (42 per cent), and that this trend was prevalent across different parts of the UK, as below (women vs men).
England – 69 per cent vs 58 per cent
Scotland – 70 per cent vs 60 per cent
Northern Ireland – 69 per cent 62 per cent
Wales – 73 per cent 66 per cent
The data also shows that 62 per cent and 63 per cent respectively of those caring for 20 to 49 hours and for 50+ hours per week were women.
READ MORE:Who's caring for the carers? Find out how to get the help you need (opens in new tab)
Concluding the university academics write, 'These findings indicate that caring features especially strongly in women's lives. Caring typically happens at a younger age for women than for men. Women are thus especially likely to be caring at ages when they would expect to be in paid work.'
Before adding, 'This often affects their participation in paid work and reduces their lifetime earnings, with wider gender equality implications.'
Does the above ring true for you?
Miriam worked for woman&home for over five years and previously worked on the women's lifestyle magazines Woman and Woman's Own.