Who's caring for the carers? Find out how to get the help you need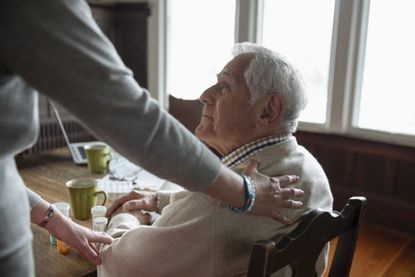 (Image credit: Getty)
woman&home newsletter
Sign up to our free daily email for the latest royal and entertainment news, interesting opinion, expert advice on styling and beauty trends, and no-nonsense guides to the health and wellness questions you want answered.
Thank you for signing up to Woman & Home. You will receive a verification email shortly.
There was a problem. Please refresh the page and try again.
Looking after a loved one with Alzheimer's disease? We investigate how to get the help you need…
Just the idea of a close friend or family member being diagnosed with Alzheimer's can strike fear into many of us. But, if you're one of the 700,000 informal carers in the UK looking after someone at home, that nightmare is your daily reality. Is there enough help for carers out there?
"It's almost like a bereavement," says lead psychiatristDr Arghya Sarkhel, from livingmind.co.uk. "You're losing your near and dear ones, and yet they are fully conscious and can talk, even if they don't make sense at times."
Alzheimer's commonly leads to dementia symptoms including memory loss, difficulties with language and problem-solving, and gradually those affected are unable to look after themselves. Of all the UK's unpaid carers, 11%* are looking after loved ones with a type ofdementia, and it can be an emotional rollercoaster.
"Helplessness, sadness and anxiety are all common emotions, especially when considering the future," says Dr Sarkhel.
Role reversal
The number of 'sandwich carers' – caregivers for ageing parents, but still with their own children reliant on them – is on the rise, with one in five Brits aged 50-64 years in some kind of caring role.
"Life can increasingly resemble an emotionally pressured juggling act, with more and more balls constantly being added," says Kelly Feehan, service director at Chartered Accountants Benevolent Association.
MORE:The bestselling memoir that reveals the powerful truth about early onset dementia
"It's natural, but often unwarranted, to feel a sense of guilt. It's easy to feel as though you're not up to the job with little things mounting up, whether you're worried about not spending enough time with your children, or concerned that your parents require more support. This, coupled with the lack of "me time", can lead to stress and anxiety."
Or, in other cases, you might be caring for a partner, so the balance of your relationship can shift, again resulting in emotional upheaval. "Due to the impaired orientation in a person with Alzheimer's, they may not be able to recognise their spouse, which can be extremely distressing," says Dr Sarkhel. "A person caring for a partner is also likely to feel tired and drained both physically and emotionally, and even helpless as they really need to monitor all aspects of the patient's daily living. This is extremely hard for anyone to do, even professional carers."
The outlook
Due to Alzheimer's being a progressive condition, many are caring at home for several years, with women 2.3 times more likely to do it for over five years. "It also makes a difference knowing that things are never going to be the same again,' says Dr Sarkhel. "It's not easy to accept that your "patient" won't recover."
And, even if you're lucky not to be affected yet, due to the fact that we're living longer and age is the biggest risk factor, it's estimated that by 2020, there won't be a single family in the UK that is not touched by Alzheimer's or dementia in some way. If that's currently you, here's how to help make things a little easier…
Help for carers starts with each individual
As hard as it might seem, you need to look after yourself. "Taking regular time out, without apologising, will help build your resilience," says Feehan. "Start to build new healthy habits, even if it is just 10 minutes, without questioning whether you should be doing something else. For example, try to enjoy a few pages of your book before bed, or take a bath every Sunday. You can also turn everyday chores into "me time", such as watching an episode of your favourite series when washing up, or listening to a podcast when driving. Find a way to combine your to-do list with the things that you've been missing out on. Build these habits into your day or week, so you eventually do it without even thinking."
Don't wait to reach out
Feeling lonely is common. "Your heavy load can sometimes be overwhelming and even lead to isolation at times," says Feehan. So it's little surprise that Alzheimer's Research UK found 63.5% of caregivers say they have no or not enough support. But don't wait until things progress before seeking help.
"Ask for help, even at the earlier stages of the disease," says Dr Sarkhel. "Getting someone into various clubs or day centres can make a huge difference to the week.' And don't be shy about talking to a professional. "I usually start my patients with psycho education – informing them about what to expect, how the illness is going to progress and reassuring that support is available at every stage. Being transparent can help with long-term planning."
Strain on finances
Perhaps one of the toughest elements of being a carer is dealing with finances, when it comes to practical help for carers. "Not only do you have to deal with personal dilemmas, but you have to manage the pressures of supporting a dependant, financially," says Feehan.
Research by Carers UK found that 60% of carers have used all their savings, 23% have remortgaged or downsized, and 53% have borrowed money. This is because, unlike patients with heart disease or cancer who are treated on the NHS, unless they have assets of less than £23,250, those with dementia have to self-fund their own care.
It's currently classed as 'social care', although the then Prime Minister Theresa May said she would consider 'proposals in relation to social care' back in May. The cost of care works out roughly as £100,000, which would take 125 years to save for.
If you are looking after someone for 35 hours a week you may be eligible for Carer's Allowance, which is £66.15 per week, although there are exclusions, including not earning above £123 a week (after deductions). Find out more at carersuk.org.
Could technology help?
While nothing can replace human contact, installing smart devices in the home may mean a carer has more peace of mind, or could even return to work. "|Technology can help to relieve the pressure on carers, improving their quality of life and enabling them to care for longer," says Gavin Bashar from Tunstall Healthcare.
"Telecare systems can help manage events such as falls, fires in the home or medication management." Most local authorities offer a service, some free if you qualify, subsidised at £3-£5 per week, or more depending on the equipment you need. You can also use a private provider, such asindeme.co.uk, for £16.80 per week, plus set-up fee.
Taking the next step
A time might come when caring at home is no longer viable, which can be very emotional for the carer. "People often think they could or should have done more," says Dr Sarkhel. "They'll feel profound sadness, helplessness and guilt."
Because of this, you need to consider options carefully."Don't act in a crisis," urges Dr Valentine-Bunce, general managerat Chelsea Court Place. "Moving a loved one into a care home is a stressful event for all parties involved.
"There never seems to be the right time, however, making the move in a time of crisis, such as poor health, a medical emergency or sudden disease deterioration is most commonly the worst time. Visit care homes and assess your options to ensure the transition, if and when it comes, is as smooth as possible."
Sign up to our free daily email for the latest royal and entertainment news, interesting opinion, expert advice on styling and beauty trends, and no-nonsense guides to the health and wellness questions you want answered.
Faye M Smith is an award-winning journalist with over 15 years experience in the magazine industry. Her continued work in the area of natural health won her the coveted title of the Health Food Manufacturers' Association (HFMA) Journalist of the Year Award 2021. Currently Health Editor across several brands including woman&home, Woman and Woman's Own, Faye specialises in writing about mental health, the menopause, and sex and relationships.