Peace of mind for you – and the people you love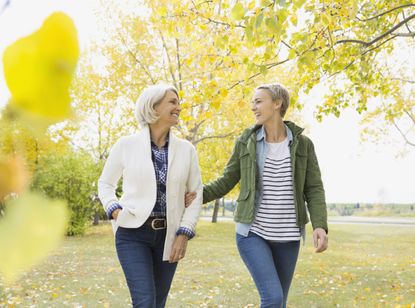 This is a woman&home advertorial
Planning ahead for your own funeral is the best way to prevent your family facing heartache and financial worry in the future...
It's not really surprising that almost half of us* duck the issue of arranging what will happen after our death. It's not something anyone really wants to dwell on.
Yet if you think it through, wouldn't you rather know that there was money set aside to meet the inevitable funeral expenses and other costs, and that you weren't leaving a huge financial burden for your loved ones to deal with, on top of the emotional distress?
By taking just a few minutes to organise flexible life cover, you can relax and get back to enjoying life, knowing that you've taken care of the money side of things. So if death is a subject you've been putting to the back of your mind (join the club!), here are some important issues you need to consider...
Save the stress None of us wants to put pressure on our relatives or friends, but dealing with death is undoubtedly a stressful time for anyone - and a quarter of UK adults who have had to manage the affairs of a loved one said they lost sleep as a result, with a fifth suffering from stress.
And with the average UK send-off costing around £4,000 plus, a survey by British Seniors Insurance Agency (BSIA) discovered almost half of funerals were funded by credit card payments - with some bereaved family members having to resort to hugely expensive payday loans.
You can relieve a huge amount of that anxiety simply by ensuring that worrying about how to pay for a funeral and other expenses is not something your family will have to consider.
With BSIA, fully flexible Guaranteed Over 50s Life Insurance pays a lump sum to your loved ones in the event of your death.** And there's even more peace of mind with this policy, which comes with a Lifetime Payback Guarantee.TM That means that either the lump sum or the premiums you've paid in - whichever sum is greater - will be paid out to your loved ones, giving you full value for your hard-earned cash.
You can opt for a payout from £2,000 to £20,000, with cover starting from as little as £6.47 per month.** Your premiums will be fixed so they won't change, and if you're aged 50-79 and a UK resident you'll be accepted with no health or blood tests to bother about.
Talk it over Another advantage of thinking ahead is that your wishes will be taken into account. Soit makes sense to chat frankly with the person who you'd like to organise your funeral - whether that be your spouse, partner, children or a friend. Then when the time comes, they'll know exactly what you wanted so they grieving process will be that little bit easier.
Far from being gloomy or morbid, expressing the way you'd like to be remembered can be very life-affirming. From basic decisions about whether you'd prefer a burial or cremation, you may want to consider options for the service - whether humanist, religious or alternative - and other ideas like an eco-friendly coffin, or scattering of ashes ceremonies.
Music and poetry are a great way to express your personality, so discuss the music, favourite readings or poetry you'd like to have, and who will read them. Plan ahead Peace of mind is precious, so talk to British Seniors Insurance at their UK-based call centre on 0800 995 1001, or find them online at britishseniors.co.uk. Arranging cover is easy and takes just minutes to set up, plus you'll get a legal Will kit with your new policy, to help plan your final wishes.
*https://www.britishseniors.co.uk/life-over-50. **www.britishseniors.co.uk/over50.
Sign up to our free daily email for the latest royal and entertainment news, interesting opinion, expert advice on styling and beauty trends, and no-nonsense guides to the health and wellness questions you want answered.