How To Reverse Poor Circulation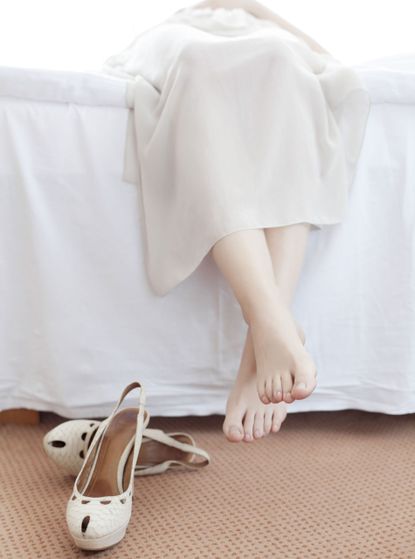 (Image credit: Rex Features (Shutterstock))
With the weather continuing to improve, many of us are looking to ditch our 40 deniers, but are faced with problem of swollen legs and ankles caused by poor circulation.
You may think it only occurs on long-haul flights, but poor circulation is more likely to be a result of bad day-to-day habits. Poor circulation isn't a condition in itself, but is actually a result of other underlying health issues. Smoking or being overweight can increase your risk of poor circulation, and in serious cases, can lead to peripheral artery disease (hardening of the arteries), which can increase your risk of a heart attack if left untreated.
What can you do to reverse poor circulation and get summer-ready legs? Well the good news is that a just few small tweaks to your diet and exercise routine can make a huge difference. Diet
Increase your consumption of spicy foods like cayenne pepper to open blood vessels and improve circulation.
Reduce your saturated fat levels and eat more healthy fats found in nuts, extra-virgin olive oil and avocados. Don't forget to stock up on oily fish like mackerel and sardines - it's been reported that foods rich in omega-3 fatty acids can decrease blood clot formation, which is especially important for poor circulation.
Potassium is a crucial mineral for cell function and regulating blood, and having low levels could result in poor circulation. Try eating foods high in potassium like bananas, apples, mushrooms and spinach.
Eat less salt - too much sodium increases fluid retention, which puts pressure on your blood vessels and reduces circulation. Read 'Am I Eating Too Much Salt?' for tips on how to reduce your intake.
Exercise
In some cases of poor circulation, the flow of blood to your legs is reduced and the muscles become deprived of oxygen. The best way to get oxygen to muscles is to get moving! Luckily, you don't have to do much to get results. Just 30 minutes of walking is enough to alleviate poor circulation in the legs. Yoga and squats are also beneficial for improving blood flow.
Other things you can do
Legology Exfo-lite is a powerful scrub made from stimulating salts that smoothe skin, energise legs and ease excess fluid. Vigorously buff in circular motions working your way up the leg, from ankle to knee, to improve circulation and reduce puffiness. For best results aim to keep your legs elevated for 30 minutes afterwards.
Don't sit or stand for too long; this allows the blood to collect and can be one of the main causes of poor circulation. If you sit at a desk all day, try taking short standing breaks every half an hour to keep the blood flowing.
Sitting with your legs crossed is also a habit that can lead to poor circulation. Instead, sit with your feet firmly on the floor with the legs slightly apart. Elevating your legs above the ground on a small stool can also help.
Your footwear can also impact your leg circulation - high heels and pointed toe shoes can interrupt the flow of blood from the heart to the feet, which leads to puffy legs. Opt for flats or trainers to give your feet a rest, or if you need to wear heels, choose rounded toes or, better still, wedges.
Swap your socks or tights for compression hosiery, such as the stylish ranges at Daylong or Gloria Tights, which are specifically designed to help blood circulate easily through the legs. They provide the necessary support for proper blood flow and can alleviate the painful symptoms of poor circulation.
Sign up to our free daily email for the latest royal and entertainment news, interesting opinion, expert advice on styling and beauty trends, and no-nonsense guides to the health and wellness questions you want answered.