Heatwave causes an influx of painful horsefly bites: here's what to do if you get bitten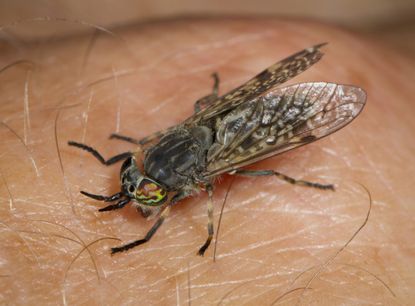 Although the recent warmer weather is a welcome arrival, heralding the start of long summer nights and garden BBQs, it also signals the start of one of the more unpleasant aspects of summer - insect bites.
And according to the BBC (opens in new tab), calls to the NHS helpline 111 regarding insect bites are double what they usually are at this time of year.
But your typical mosquito bites don't seem to be the issue.
Reportedly, most concerns are being raised regarding horsefly bites - which the NHS say can be particularly painful, and dangerous.
In fact, according to the BBC, people are even being treated in hospital for these specific bites.
Why are we more at risk of horsefly bites at the moment?
The fly bites appear to be correlating with the current heatwave, which has seen temperatures soar to 31 degrees. Horseflies reportedly thrive in warm weather - explaining their current buzz of activity.
So what do you need to know about this particularly nasty type of fly bite - including the horsefly bite symptoms, and how to treat it if you get bitten?
Horsefly bites are usually red and raised, with white centre, and a lot more painful than your ordinary mosquito bite. Sufferers may also notice a large red, raised rash, and other symptoms including dizziness, weakness, and part of your body becoming puffy and swollen.
How can you treat these fly bites?
While many bites will go away on their own, with a treatment of paracetamol and calamine lotion, others need more medical attention.
The NHS advises that if you notice your horsefly bite taking a while to heal, it may have become infected.
This will require urgent medical treatment, such as antibiotics. So if you notice your bite isn't healing, and you suffer a fever alongside the bite, don't hesitate to seek medical attention.
Dr Nick Scriven, president of the Society for Acute Medicine, spoke to the BBC regarding the recent wave of more serious horsefly bites.
He said, "We wouldn't normally see anyone coming to hospital for a bite, but we have seen a few recently needing treatment with antibiotics which is very unusual."
Explaining why horsefly bites are particularly nasty, he continued, "A couple of these were infected bites from horseflies.
"They actually give one of the nastier bites, because they take a chunk out of you.
"They can be very painful, and can take a while to heal, and as result can get infected and need antibiotics. In the worst-case scenario, they can cause cellulitis, an infection of the skin."
So how can you try and avoid a horsefly bite?
The British Pest Control Association (BPCA) has revealed that the insects thrive in standing water. The association is therefore advising people to remove any collection of water from around their homes, if possible.
The public is also encouraged not to enter rivers or streams, where the insects often hide out.
They also suggest draining paddling pools, which could be a breeding ground for horseflies. The insect may also be more of a problem in rural areas, which typically hold more standing water.
If you experience your horsefly bite becoming bigger, more red, more painful, full of pus, or if you have a fever, seek urgent medical attention.