What are the main health concerns around 5G and are they justified?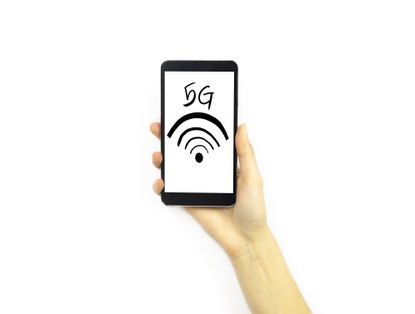 (Image credit: Getty)
As 5G, or fifth generation, mobile technology continues it's gradual rollout in the UK many will be looking forward to the prospect of increased connectivity, and the potentially positive impact this will have on both our personal and professional lives.
The headlines are mainly focused on Coronavirus and how easy it is to book a covid-19 test at the moment. Meanwhile 5G is quietly being rolled out. But some people and experts have raised possible health concerns. Are they justified? We investigate.
What is the key difference between 4G and 5G?
"The most obvious difference between 5G and 4G is speed. Just like how 4G was a step up from 3G before it, when it comes to speeds, 5G marks a significant improvement on 4G, with maximum download speeds up to 100x faster than 4G and 2000x faster than 3G," says Mark Pocock from broadbandchoices.co.uk (opens in new tab).
Continuing he adds, "This means 5G should provide faster connections for things like streaming and downloading media, files and other content taking download times down from minutes to seconds. However, just any other type of advertised speeds, you should always take the 'up to' speed with a pinch of salt.
"For mobile customers, 5G should see faster connection when you're on the go, but can also benefit home internet customers too, especially for those who don't currently have access to ultrafast broadband or fibre service."
5G technology is already present in the UK, with key providers including EE, O2 and Vodafone having launched a 5G service.
And earlier this year the government announced a new £65m package for 5G trials, with Digital Secretary Oliver Dowden confirming that the government 'is determined to make the UK a world-leader in 5G'.
5G health fears - where did they come from?
But alongside the above excitement, there are growing concerns about the impact that increased exposure to radiofrequency electromagnetic fields (RF-EMF)* that could come alongside 5G may have on our health.
In fact a group and scientists and doctors from around the EU are so worried that they have come together to launch the 5G Appeal calling for 'moratorium on the roll-out of the fifth generation, 5G, for telecommunication until potential hazards for human health and the environment have been fully investigated by scientists independent from industry.'
They also go on to hone in why they want 5G technology to put under particular scrutiny writing, '5G technology is effective only over short distance. It is poorly transmitted through solid material. Many new antennas will be required and full-scale implementation will result in antennas every 10 to 12 houses in urban areas, thus massively increasing mandatory exposure.'
5G and RF EMF: monitoring and new guidance
In a technical report first issued in February of this year and updated in April the UK's communications regulator Ofcom summarises it's results for Electromagnetic Field (EMF) measurements near 5G mobile phone base stations.
Carrying out EMF measurements at 22 locations near 5G mobile phone base stations in 10 cities across the UK, including Belfast, Cardiff, Edinburgh and London, they concluded that, '5G currently contributes a small amount to the EMF levels measured at each location [the highest level they observed in the band used for 5G was just 0.039% of the relevant level].', before going on to say that 'at all locations, the largest contribution to the measured levels comes from previous generations of mobile technology (2G, 3G, 4G).'
They also went on to note that the deployment of 5G networks and the take-up of 5G services in the UK is still at an early stage and as a result they 'will continue to undertake EMF measurements to monitor the overall trends in the long term'.
In March, the International Commission on Non-Ionizing Radiation Protection (ICNIRP) – an international organisation and evaluates all available evidence, and bases EMF limits on their interpretation of this evidence – published it's EMF* guidance for 2020.
They wrote these had taken seven years to develop and are 'more appropriate than the 1998 guidelines for the higher frequencies that will be used for 5G in the future.'
MORE:Five simple tricks to boost your mobile phone signal (opens in new tab)
Commenting at the time ICNIRP Chairman, Dr Eric van Rongen, said, "We know parts of the community are concerned about the safety of 5G and we hope the updated guidelines will help put people at ease.
"The guidelines have been developed after a thorough review of all relevant scientific literature, scientific workshops and an extensive public consultation process. They provide protection against all scientifically substantiated adverse health effects due to EMF exposure in the 100 kHz to 300 GHz range."
Key changes to guidelines
The key changes in the 2020 guidelines that are relevant to 5G exposures are for frequencies above 6 GHz. These include:
· the addition of a restriction for exposure to the whole body;
· the addition of a restriction for brief (less than 6minute) exposures to small regions of the body; and
· the reduction of the maximum exposure permitted over a small region of the body.
Dr Van Rogen goes on to state that, "the most important thing for people to remember is that 5G technologies will not be able to cause harm when these new guidelines are adhered to."
However, it is important to note that the ICNIRP guidelines are not mandatory but have historically been implemented by regulators as a scientific basis for their regulations/laws in their country or zone of authority. As an example, the European Commission based its EMF recommendation (1999) on the ICNIRP EMF guidelines (1998).
Having only recently been revised it's too early to say whether the guidelines will be implemented in part or in whole.
The World Health Organisation's (WHO) view on 5G
However, in its answer to 5G mobile networks and health, the World Health Organisation (WHO) echoes the view of the ICNIRP by stating that 'provided that the overall exposure remains below international guidelines, no consequences for public health are anticipated'.
But it does outline that while, to date, extensive research has found 'no adverse health effect has been causally linked with exposure to wireless technologies… only a few studies have been carried out at the frequencies to be used by 5G.'
It also confirmed that it is conducting a health risk assessment from exposure to radiofrequencies, covering the entire radiofrequency range, including 5G, which will be published in 2022.
5G: RF EMF now and in the future
Frank De Vocht Reader in Epidemiology and Public Health at Bristol University, whose research interests include the effects of ionising and non-ionizing radiation on human health, outlined that 5G will consist of two different parts or stages.
In stage one there will be new protocols for better handling of communications using the same frequencies as also used by previous generations.
"This will basically be the same exposure we already have, but eventually at lower levels than at present. Many studies have been done to investigate whether these are harmful to health, and the evidence is quite limited," he says.
Can 5G cause cancer?
Frank De Vocht Reader adds, "However, there are people who claim 2-4G is already the cause of many diseases including cancer and others who, based on the same evidence, say there are no health effects. The first group of scientists are relatively small compared to the second, but much more vocal. The WHO (International Agency for Research on Cancer) classifies RF-EMF as 'possible human carcinogen', which is probably at the moment the best classification for all adverse effects."
On 5G cancer fears Cancer Research UK states that 'the difference with 4G or 5G networks is that they use higher frequency waves than older mobile networks' before emphasising that 'they still don't have enough energy to damage DNA to cause cancer.'
In stage two there will be a focus on millimetre waves. Looking towards the future (but not yet in the UK) additional high frequency RF (radio frequency) will be added to enable the transmission of much more information (the so-called millimeter waves).
"There are relatively few studies done specifically for this frequency range, which is why the anti-5G community, not incorrectly, says 5G is untested. However, radiation is not a new phenomenon and we know quite a bit about its behaviour, and what we know does not indicate health effects will be very likely (except in specific situations, see below**)," Mr De Vocht continues.
"For example, millimeter waves do not penetrate in the human body for more than a couple of millimeters. There have been quite a number of claims, largely unfounded, about these millimeter waves, and these are what anti-5G protesters mostly warn against."
5G health concerns – so what's the conclusion?
A number of health concerns have been voiced surrounding 5G. And while several key bodies say these have not been evidenced, the picture for 5G is changing all the time and as a result new research – including that relating to 5G and health – may come with it.
*EMF refers to the whole spectrum of radiation. RF-EMF refers to radiofrequency radiation specifically, which is what is use for mobile phones
**"At present, the ICNIRP only recognise the effects resulting from heating (radiation is absorbed by the body, and if you get high enough exposure this can raise the temperature in the cells, which is known to have adverse effects), and have judged that there is insufficient evidence for so-called non-thermal effects," says Frank.
Miriam worked for woman&home for over five years and previously worked on the women's lifestyle magazines Woman and Woman's Own.