When will swimming pools open? The latest news and updates getting back in the water
Can we go and cool off yet?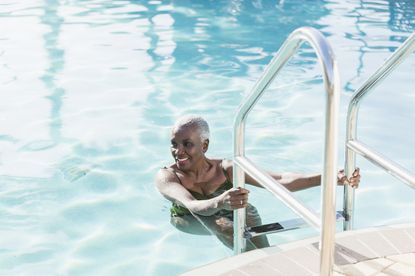 (Image credit: Getty Images)
With warm weather set to continue over summer, swimming pools have never seemed so appealing. Which brings us to our next question... When will swimming pools reopen?
Hands up who's ready for a dip? As lockdown measures ease in the UK, we look at the current coronavirus rules surrounding swimming pools.
When will swimming pools open?
All indoor and outdoor swimming pools in the UK closed at the beginning of the coronavirus lockdown back in March. But now, after more lockdown lifting measures were announced, swimming pools opened back up from July 11.
From Saturday July 11, outdoor pools were able to welcome swimmers back into the water. And alongside indoor gyms and leisure centres, indoor pools will open later this month, on July 25.
READ MORE:When can massage therapists work again? The latest news
The later opening of these facilities comes despite pubs, hotels, museums and hairdressers getting the green light to reopen from July 4.Swimming pools, along with indoor gyms, spas and nail salonsopened later this month, due to the risk they posed during the COVID-19 pandemic, and difficulties with social distancing.
Before the announcement, Swim England launched the #OpenOurPools campaign which asked Boris Johnson to rethink his decision to keep swimming pools closed.
Jane Nickerson, chief executive Swim England said at the time, "By ignoring the swimming sector in the latest easing of lockdown, the Government has let down millions who rely on being in the water. From those who use pools for mental or physical health reasons, to our recreational swimmers and competitive club athletes."
"It appears that it is okay to sit on the couch watching professional sport, go out for a high calorie meal and then go to the pub. But you can't go for a swim, which provides a sanitised environment," she added.
Swim England have also published guidance on Returning to the Pool, so now the time has come, people can get back to swimming safely.
How have swimming pools opened safely?
Swim England used government regulations and expert recommendations to outline how pool operators and swimmers could adjust to the 'new normal' when swimming pools open.
Some of these measures include:
Using a booking system that limits the number of swimmers in a pool.
Maintaining social distancing in reception areas and changing rooms.
Arriving at the pool ready to swim – with swimwear under clothes.
Showering at home – before and after your swim.
Swimming in designated lanes that follow direction signs, maintaining social distancing in the pool, no overtaking, and turning away from others when resting at the wall of the pool.
Taking your own hand sanitiser and water bottle to the pool.
What about swimming outdoors?
Wild swimming in rivers, lakes and the sea is considered an outdoor activity in the latest government guidelines and has been allowed for most of lockdown. Outdoor pools, managed often by a leisure centre, have been allowed to reopen from July 11.
However, Swim England advises that only competent and experienced open water swimmers use rivers, lakes and sea for this form of exercise. Social distancing guidelines should also be adhered to.
Swimmers should be aware of the risks surrounding wild swimming in order to stay safe. Visit outdoorswimmingsociety.com for tips.
Risks of open water swimming in wild rivers, lakes and the sea include an absence of lifeguards, unpredictable water depth and currents, and the potential for cold water shock.
Senior Health Writer Ali Horsfall has almost 15 years experience as a journalist and has written for national print titles and women's lifestyle brands including woman&home, Woman, Woman's Own, BBC magazines, Mothercare, Grazia and The Independent. She currently specialises in health and fitness content and loves sharing the best expert advice on staying well.