Turning a long stroll into a short power walk decreases the chance of an early death by 30 per cent, says study
Good news for those short on exercise time.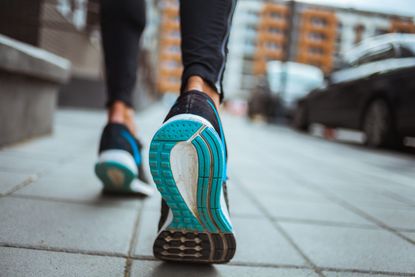 (Image credit: Getty Images)
Donning your walking shoes for a brisk 7-minutes a day could decrease your chance of an early death by 30 per cent, according to a new study.
Have you been living in your best women's walking shoes (opens in new tab) since lockdown, but not actually walking much farther than desk to kitchen and back again? Then the good news is that it takes just seven minutes of power walking to reduce your risk of an early death by around 30 percent, according to a new study.
Researchers led from Cambridge used fitness tracker (opens in new tab) data to find that the intensity of exercise triumphed over its duration. Put simply: short and sweaty is better than long and leisurely.
Collected via the UK Biobank study into disease development, researchers concluded that, 'Results show that higher volumes of activity energy expenditure are associated with lower mortality rates.'
The study further claimed that, 'Achieving the same energy expenditure through higher-intensity activity is associated with even greater benefits than through lower-intensity activity.'
The fitness and health data of 96,476 UK Biobank participants was analysed in the study (opens in new tab), the full findings of which were published in the journal Nature Medicine.
The paper's findings will come as welcome news to those struggling to get their 10,000 steps (opens in new tab) a day in while working from home.
MORE: Walking 'with purpose' is better for your health than a casual stroll, says study (opens in new tab)
The fitness tracker data collected by the study was used to calculate each participant's energy expenditure through physical activity, and how much expenditure came from moderate to vigorous activity. Participants were subsequently followed by researchers for an average of 3.1 years – during which, 732 died.
Regardless of the cause of death, researchers concluded that higher levels of physical activity were associated with a lower risk of mortality. It was found that even just adding an extra two minutes of brisk walking onto a 35-minute daily walk could lower the risk of early death by an amazing 21 per cent.
'The linkage of device-measured activity to energy expenditure creates a framework for using wearables for personalised prevention,' researchers wrote.
What is the UK Biobank project?
Based in Stockport, the UK Biobank project is an ongoing longterm study into the factors that influence the development of disease.
Such factors include genetic predispositions, but also environmental considerations like lifestyle, nutrition (opens in new tab) and medications.
It was launched in 2006, and is following around 500,000 volunteers who enrolled aged between 40 and 69. Each volunteer donated blood and urine samples to the project's repository in its beginning, and will be followed for around 30 years.
Kate is a freelance contributor to woman&home, covering everything she loves most: fashion, fiction, and fancy face cream. If she's not working, she's probably reading, feeding her online shopping addiction, or judging the taste level of celebrity houses (10/10 for Dakota Johnson, 2/10 for Tan France).

She graduated from Central Saint Martins in 2020 with a BA in fashion journalism, and her byline has also appeared in British Vogue, The Times, and Marie Claire.