If you're suffering from SAD these 5 easy tricks will break the depressing spiral of winter blues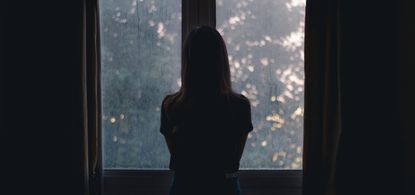 (Image credit: Getty Images/EyeEm)
More than a quarter of Brits are set to suffer with seasonal affective disorder (SAD) this season. Here, the experts reveal their tips to help beat the winter blues.
Now we're in the full swing of winter, it's not uncommon to feel a little under the weather. However, according to a YouGov survey, 29% of us suffer with SAD, which is triggered by the shorter days and lack of sunlight, which affects our serotonin and melatonin levels.
SAD symptoms
Aside from feeling a little glum, there are serious consequences of SAD. Symptoms can include:
depression
anxiety
overeating
lack of energy
loss of libido.
However, there are various ways to prevent and alleviate the symptoms of SAD.
How to tackle SAD
1. Take a lunch break
When the weather is glum it can be tempting to hunker down inside, but it's best to head outdoors when you can – especially during the winter. 'City dwellers spend more than 90% of their time indoors, leading to a range of problems for workers, including everything from Seasonal Affective Disorder (SAD) in the winter months due to a lack of natural daylight,' says Professor Charles Spence, experimental psychologist at the University of Oxford. 'The good news is that an hour spent outside is proven to drastically improve short term memory, spark inspiration and decrease stress levels.'
2. Check your vitamin D levels
During October to March, we cannot obtain enough vitamin D from sunlight alone, so it's important to take a supplement. Opt for an oral spray, rather than tablets, as these are better absorbed by the body. 'An intra-oral spray which provides effective and convenient absorption by delivering nutrients directly into the bloodstream, through the inner lining of the mouth' says Keeley Berry, Nutritional Expert and New Product Development Executive at BetterYou. Try BetterYou DLUX 3000 Vitamin D Oral Spray, £8.45.
SHOP NOW: DLUX 3000 Vitamin D Oral Spray, £8.45, betteryou.com (opens in new tab)
3. Choose the right snacks
Foods containing tryptophan, such as bananas and peanuts, are great food boosters. 'Tryptophan is an important amino acid for mood and depression,' says nutritionist Dr. Marilyn Glenville. 'Your body makes serotonin (the 'feel good' brain chemical) from tryptophan, which occurs naturally in foods such as dairy products, fish, bananas, dried dates, soya, almonds and peanuts,' she says.
4. Make sleep a priority
Once the clocks go back our sleeping schedules can be knocked sideways. Dr Mark Winwood, director of psychological services for AXA (opens in new tab) PPP healthcare, advises that we prioritise a good night's rest. 'Get plenty of good quality sleep – it essential for good mental and physical wellbeing,' he says. 'Cut down stimulants such as caffeine and alcohol as they can disrupt our body clocks and impact the quality of our sleep.'
5. Try TMS
If SAD affects you regularly, it might be worth trying talking therapies or Transcranial Magnetic Stimulation (TMS). 'For particularly severe SAD, there are some more alternative treatments which may help, such as cognitive behavioural therapy and TMS treatment,' says Gerard Barnes, CEO of Smart TMS. This treatment uses magnetic pulses to stimulate specific areas of the brain to alleviate low moods. See your GP to discuss your options.
Eleanor Vousden is a beauty journalist with over six years of experience in creating beauty, health, and wellbeing content for titles such as Powder, woman&home, and Hairdressers Journal.
After landing her first job as junior beauty editor at Powder, she's since interviewed Rihanna's make-up artist, reported backstage at London Fashion Week, and ventured behind the scenes at skincare labs to see how the world's biggest beauty brands create their products (and she's tested a fair few too).