The UK's masturbation gap between men and women is a staggering 76 per cent, says study
It's not just the pay gap that UK women have to contend with.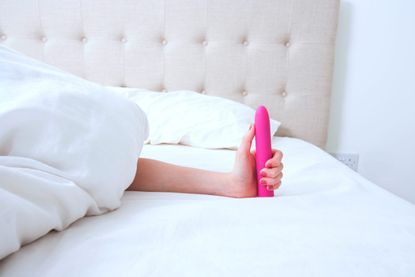 (Image credit: Getty Images/iStockphoto)
Despite discussion of the best vibrators (opens in new tab) and sex toys for women becoming more commonplace, only 14 per cent of people think female masturbation has lost its stigma in the UK, according to an eye-opening new study.
Pay gap, pension gap, health gap and now orgasm gap – a new study has found that the masturbation gap between genders in the UK stands at a staggering 76 per cent.
It's long been known that maintaining a healthy sex life is crucial to a person's overall health and sense of wellbeing; and that a satisfying sex life's benefits are far reaching – from reducing the chances of early menopause, (opens in new tab)to managing stress and improving sleep (opens in new tab).
So why are we still so reluctant to discuss female masturbation?
According to a new study by sex toy brand Womanizer, so reluctant are we that only 14 per cent of British people think society accepts female masturbation. Conversely, almost half of those surveyed thought that male masturbation has become the norm through its depiction in pop culture.
The study also found that where 33 per cent of British women said they do not masturbate, just 9 per cent of men said they weren't interested in masturbating.
READ MORE:The best vibrators for a buzz with benefits – with expert recommendations for dryness, sensitivity and toning pelvic floor
The study involved 6,000 participants from 12 countries and found that the overall average masturbation gap globally was lower than the UK's, ringing in at 68 percent. Womanizer found that on average, men masturbate 154 times per year, compared to just 49 times for women.
Where most people would put this down to a difference in libido, the survey dispelled this myth. While a quarter of respondents thought men had a higher sex drive than women, both genders scored relatively similar in their self-assessment of libido (men at 6.4 and women at 5.1).
So it's not so much about how often women need to masturbate, so much as it is how often they feel they can. 14 percent of respondents additionally thought that female masturbation held shameful and negative connotations.
But lucky for you, we have some handy guides on how to take charge of your sexual wellbeing and tackle the orgasm inequality head-on. Activism starts at home, after all.
From the best sex apps, and how to have good sex, to the best rabbit vibrators that will give you the most bang for your buck (ahem), we've you covered.
Wishing you many happy orgasms.
Kate is a freelance contributor to woman&home, covering everything she loves most: fashion, fiction, and fancy face cream. If she's not working, she's probably reading, feeding her online shopping addiction, or judging the taste level of celebrity houses (10/10 for Dakota Johnson, 2/10 for Tan France).

She graduated from Central Saint Martins in 2020 with a BA in fashion journalism, and her byline has also appeared in British Vogue, The Times, and Marie Claire.