Want to drink less alcohol during lockdown? Here's a good reason to cut down (and how to do it)
Boozing could add up to 4cm to your waist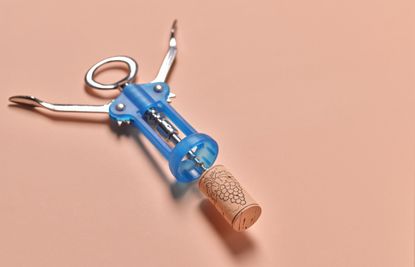 (Image credit: Getty Images)
If you've noticed you're drinking way more alcohol during lockdown, you certainly won't be the only one.
A survey by Alcohol Change UK has revealed that 21% of adults are consuming more booze while staying at home due to the coronavirus crisis.
Despite the health dangers of regularly drinking in excess, for many people, pouring a glass of wine, or opening a beer is an effective distraction from the bad news and a short-term way to relieve stress. But accordingly to a new study, heavy drinking into older age can also be a fast-track way to increase your waistline.
Researchers at University College London (UCL) looked at the long term effects of heavy drinking. They found that it is associated with high blood pressure, poor liver function and increased stroke risk – even if hazardous drinking is stopped before the age of 50.
Someone who has three or four drinks, four or more times a week, would identify as a hazardous drinker.
Dangers of alcohol during lockdown
Author of the study, Dr Linda Ng Fat, of UCL's Institute of Epidemiology and Health Care, said: "Alcohol misuse, despite the common perception of young people binge drinking, is common among older adults, with alcohol related hospital admissions in England being the highest among adults aged over 50.z
The study also revealed that lifetime drinkers had much larger waist circumferences and a higher BMI than those who'd never consumed alcohol in excess.
Adults who drank hazardously but stopped before the age of 50, had 1.17cm larger waists than those who had never drunk in excess. But those who had dangerously binged on alcohol through every decade of their life were reported to have bigger waists by up to 4cm.
"This suggests that the longer adults engage in heavy drinking the larger their waistline in older age. That is why it is beneficial, along with other health benefits, that adults reduce heavy drinking earlier rather than later," said Dr Ng Fat.
Experts agree that stopping heavy drinking at any point in life is likely to be beneficial for overall health.
How to cut down drinking alcohol during lockdown
Want to reduce your booze intake? Use these tips from Lauren Booker, alcohol consultant at Alcohol Change UK
Adjust your mindset
Don't begin quitting booze with the belief that you're denying yourself. "Instead, think about how well you're going to feel and concentrate on your wellbeing. Try to focus on the positives rather than the negatives," says Lauren.
Set your intentions
Pin down the changes you'd like to make. You might decide to ditch drinking completely, or make a conscious effort to just drink less. "There are many options to cut down and even if you don't give up drinking completely, you'll still notice that you feel better the morning after," says Lauren. "You might drink on fewer days or have drinks with a lower alcohol content. Or you may not drink as many units in one sitting. You can make simple switches, such as choosing wine spritzers. You'll have the same amount of drinks but you're consuming less alcohol," she offers.
Clear the decks
If alcohol is sat in the fridge or on the sideboard, it's easy to crumble when you crave a drink and it's only 5pm. So make it more difficult to access. "You don't have to throw everything away, but you could stash it in the shed or put it in the attic," suggests Lauren.
Share your goals
Do you drink more alcohol during lockdown with your family? "Tell them what you're doing and why, and how important it is that you have their support," says Lauren.
Overcome hurdles
Jot down your drinking triggers to preempt potential wobbles. Do you pour a glass of wine after a particularly anxious day? Is booze your way to relax? Or do you use alcohol as a crutch to deal with the loneliness? "If you establish the reasons why you drink, you can find a way around them," advises Lauren. "If you drink more when you're stressed, you can look into other ways to deal with this."
Stay on track
Use an app so that you don't feel alone on your alcohol-free mission. Track your units, monitor the money and calories you'll save by not drinking, and stay motivated by your dry streaks. Try Drink Free Days from the App Store and Google Play.
Look ahead
Lockdown won't last forever, but changing how you drink now could impact the future. It may encourageyou to have booze breaks going forward. Studies show that the simple act of taking a month off alcohol helps people drink less in the long-term.
Senior Health Writer Ali Horsfall has almost 15 years experience as a journalist and has written for national print titles and women's lifestyle brands including woman&home, Woman, Woman's Own, BBC magazines, Mothercare, Grazia and The Independent. She currently specialises in health and fitness content and loves sharing the best expert advice on staying well.