Chief of medical device watchdog resigns amidst accusations from vaginal mesh survivors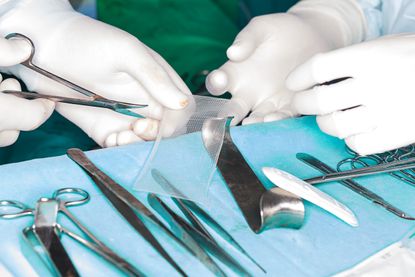 John Wilkinson is set to step down from his role as MHRA medical device chief in October, after vaginal mesh campaigners claimed the agency didn't take the scandal 'seriously'.
Last month, health watchdog NICE caused outrage (opens in new tab) when it ruled that vaginal mesh could be used by the NHS under certain circumstances. But pelvic mesh campaigners celebrated a major win later on in the month, when medical giant Johnson & Johnson (opens in new tab) was forced to pay almost $10 million to avoid going to trial over its role in the scandal.
And now it's been announced that John Wilkinson, the director of devices at the UK Medicines and Healthcare products Regulatory Agency, will step down in October.
Wilkinson has spent seven years in the role, helping to shape European device regulations as well as procedures at MHRA.
But vaginal mesh campaigners say the agency didn't do enough to support patients and survivors.
Vaginal mesh has been linked with a number of serious complications, which are often permanent. Reported side effects include chronic urinary tract infections, pain during sex and irreversible nerve damage. Some women even say that they have been left housebound as a result of the procedure.
'The agency is not an effective watchdog,' Scottish Mesh Survivors campaigner Elaine Holmes told the Scottish Parliament in 2014. 'It does not take our concerns seriously. We have written to it a number of times and telephoned it, but we get standard copy and paste replies. The agency does not listen to us.'
Politicians have also pitched in to criticise MHRA's handling of the pelvic mesh scandal. 'When the public petitions committee took evidence from it, we learned that its "detailed analysis" amounted to three postgraduate students doing a desktop exercise for two weeks at a cost of £20,000,' Jackson Carlaw revealed during a parliamentary debate in 2016.
In another debate, he suggested that the figure might actually be as high as £40,000.
Others agreed that this evidence showed that the agency's device review process was 'not fit for purpose' and 'completely inadequate'.
Samantha Simmonds is a freelance journalist, content writer, copywriter, and editor based in London.
She graduated from Reading University with a First Class degree in Psychology, later achieving a Distinction in her Diploma in Fashion & Personal Styling from The London College of Style.
Samantha is currently creating digital editorial content for John Lewis, writing for The Edit's wellbeing channel. She also writes for publications including Women's Health, Top Santé, Refinery29, GoodtoKnow, Cosmopolitan, Healthy, Health & Wellbeing, woman&home, and Yahoo, and has created commercial content for brands including Berghaus, Amazon, and Regaine.