A CA 125 blood test can detect ovarian, chest, stomach and pelvis cancer, and increase cancer survival rates for women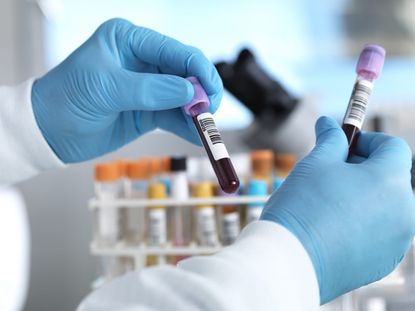 Two new studies have shown that a blood test for Cancer antigen 125 (CA125) levels can predict the likelihood of ovarian and stomach cancers, among other kinds of cancers too.
The research was presented at the 2019 National Cancer Research Institute Cancer Conference, which was held from the 3rd - 5th of November in 2019. The findings show that a CA 125 blood test could help GPs spot ovarian cancer, as well as cancers residing in the chest, abdomen and pelvic areas, earlier before having to resort to more invasive tests.
The assessment, which is performed like a standard blood test, works by measuring the amount of the protein CA125 in the blood stream, which are produced by ovarian cancer cells.
'While CA125 is widely used in general practice in the UK and internationally, prior to this study, it was unclear how effective a test it really was in general practice,' says Garth Funston, Ph.D., from the University of Cambridge who led the study.
Less than half of women with ovarian cancer survive for five years following diagnosis, and most women are not diagnosed until the disease is advanced, making it difficult to treat. However, this blood test can help catch it earlier. 'It's important that GPs have effective tools to detect ovarian cancer early and ensure patients are referred appropriately,' he says.
It's also effective at flagging other cancers in the chest, pelvic and abdomen. 'Women with symptoms who are aged 50 years or more and have abnormally high CA125 levels frequently have other types of cancer,' says Funston. 'It is really important that general practitioners are aware of this to ensure these cancers are not missed.'
Commenting on the research, Dr Shibani Nicum, Chair of NCRI's ovarian cancer subgroup and consultant medical oncologist at Oxford University Hospitals, believes this blood test is crucial for advising patients on what treatment they may need next.
'For instance, an older woman who has abnormal CA125 level should be considered high risk for ovarian cancer. Even if she does not turn out to have ovarian cancer, she might have another form of the disease and either way she will probably need an urgent referral,' she says.
'These findings can also be used to expand on existing clinical guidelines, both in the UK and other countries, to improve ovarian cancer diagnosis at the national and international level,' says Dr Nicum.
Eleanor Vousden is a beauty journalist with over six years of experience in creating beauty, health, and wellbeing content for titles such as Powder, woman&home, and Hairdressers Journal.
After landing her first job as junior beauty editor at Powder, she's since interviewed Rihanna's make-up artist, reported backstage at London Fashion Week, and ventured behind the scenes at skincare labs to see how the world's biggest beauty brands create their products (and she's tested a fair few too).