One of these over-the-counter pills a week slashes risk of multiple cancers, research reveals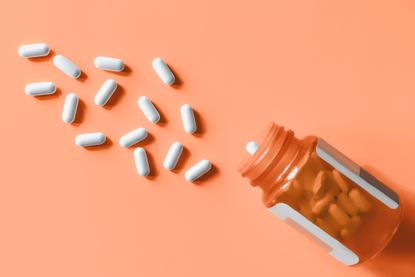 (Image credit: Getty Images)
Changes to our diet and lifestyle are just some of the measures we can take to help potentially reduce our cancer risk.
But now new research has revealed the role that a low-cost, over-the-counter drug can play in helping to keep this disease at bay.
Scientists at the University of Milan examined 113 studies into digestive cancers including 45 on colorectal cancer, 15 on pancreatic cancers and 14 on stomach cancer.
They found that regular aspirin consumption – defined as one to two aspirin tablets a week – was associated with a decreased risk of:
Stomach cancer, by 36 per cent
Oesophageal cancer, by over a third
Colorectal cancer (also known as bowel cancer), by over a quarter
Pancreatic cancer, by 22 per cent per cent
Taking a more in-depth look at how daily aspirin dosages affected risk rates for colorectal cancer they found:
a 10 per cent reduction for a daily aspirin dose of between 75 and 100 mg
a 35 per cent reduction for a daily aspirin dose of 325 mg
a 50 per cent reduction for a 500mg daily dose
Aspirin – which is also used in the relief of everyday aches and pains as well as flu-like symptoms – usually comes as 300mg tablets. However, it can also be found in other measures such as 75mg.
"These findings suggest there's a beneficial effect of aspirin in the prevention of bowel and other cancers of the digestive tract," said lead investigator Carlo La Vecchia, MD, Professor of Epidemiology at the School of Medicine, University of Milan, in a statement.
"The results for bowel, esophageal and pancreatic cancers are consistent with evidence from clinical trials on aspirin in the prevention of heart and blood vessel diseases."
But La Vecchia goes on to warn that it's important to consult your GP before taking aspirin for this purpose.
MORE:The 5 signs of kidney cancerevery 40+ person should know
"Taking aspirin for the prevention of bowel cancer, or any other cancers, should only be done in consultation with a doctor, who can take account of the person's individual risk," he continues.
"This includes factors such as sex, age, a family history of a first-degree relative with the disease, and other risk factors.
"People who are at high risk of the disease are most likely to gain the greatest benefits from aspirin."
How does aspirin reduce cancer risk?
Published in the journal Annals of Oncology, the study reveals that one way aspirin may work to reduce cancer risk is the fact that it plays a role in the inhibition of the cyclooxygenase (COX) enzyme.
They go on to say that 'COX-2 isoform [which plays a role in inflammatory response] is abnormally expressed in many cancer cell lines and is implicated in the process of carcinogenesis [the formation of a cancer], tumor growth' and more.
Miriam worked for woman&home for over five years and previously worked on the women's lifestyle magazines Woman and Woman's Own.