Study reveals that female doctors are paid 17% less than male colleagues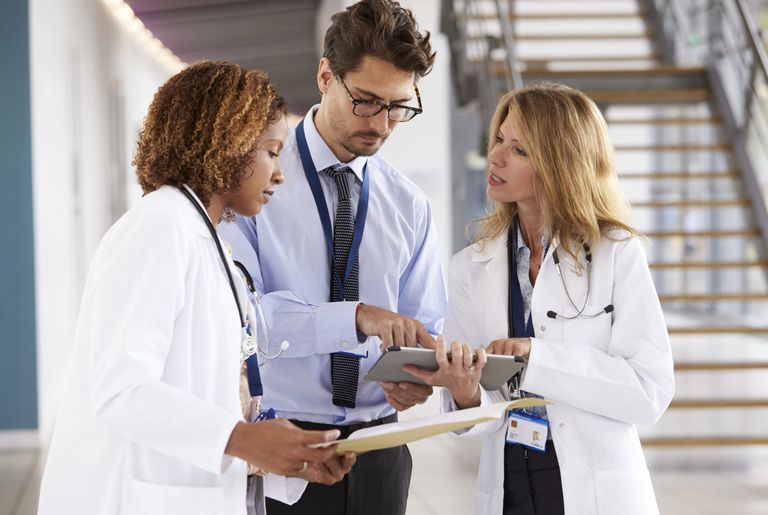 By Amy Hunt
A new study into the public sector has found that female medical professionals are still experiencing a huge gender pay gap.
It was conducted by academics from Surrey University, and included a survey of thousands of doctors and an analysis of pay data from the medical profession.
According to the findings, female doctors are paid around 17% less than their male counterparts, who do the exact same job. It's a rise from the 15% difference pay gap which was revealed back in 2018.
MORE:The LadyCare Menopause Magnet: What is it, and does it actually work?
The Guardian reports that the biggest gap is seen in GPs pay, where women receive on average salary of around £75,600, while men average £113,600 a year.
Ordered by Jeremy Hunt last year, the study also highlighted the fact that men still occupy more senior positions in the medical industry, with senior male doctors outnumbering senior female doctors two to one.
The review, which has been led by the former head of the Royal College of Physicians, Professor Dame Jane Dacre, also revealed that there are still more women than men in lower paid, less specialised medical sectors. In fact, it found that far less women are employed in higher-paid areas, such as surgery.
There are also thought to be 32,000 male consultants (senior doctors), while it is thought that there are just 18,000 female consultants. This is true despite the fact that two thirds of doctors in training schemes are women.
Stephen Hammond, the health minister, said that the results were in direct contrast to the ethos of the NHS.
He said, "The founding principle of the NHS is to treat everyone equally, yet women employed in the health service are still experiencing inequality.
"It's disappointing to see that the numbers show that two-thirds of senior medics are men, despite more women starting training, and it is essential we understand the underlying causes of the gender pay gap if we are to eradicate it from modern workplaces like the NHS."
MORE:Vaginal Mesh Implants: The biggest medical scandal of our generation
The aim of the study is to identify the issues that contribute to the huge pay gap in medicine, to try and combat the problem.
It's final results will be published in September, and will reportedly include recommendations for closing the pay gap.
Professor Dame Jane Dacre said, "Our research shows that the gender pay gap in medicine is slowly narrowing, but with more to do.
"The findings of the review will help us to work with government, employers and the profession to identify and understand the main contributors to the gap, and to explore ways to reduce it, based on our evidence"