Joe Wicks' workouts for seniors - how to stay healthy and get fit from your living room
The personal trainer has launched a new set of workout videos for the over 65s.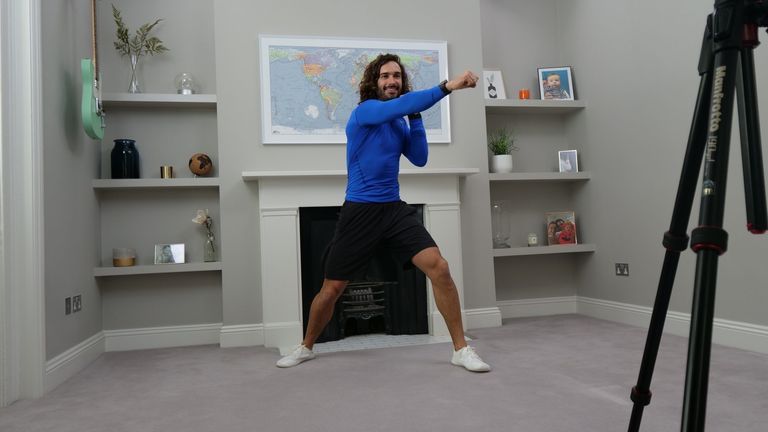 (Image credit: Getty Images)
Joe Wicks, AKA The Body Coach, is helping over 65s stay active during lockdown with his new set of workout videos for seniors.
You might have already seen Joe Wicks' workouts online, but he's released the first few videos of a new series over the last few weeks, offering workouts to seniors and those with reduced mobility.
Who is Joe Wicks?
Joe Wicks is a personal trainer and nutrition enthusiast, who has propelled himself into the limelight in the last couple of years with his 90-day fitness plan and book series, Lean in 15. He's the man on a mission to save people from the fad diet industry, offering up knowledge and advice on how get fit and healthy without going hungry.
Most recently however, he's been applauded for helping keep the nation active and healthy during lockdown through a range of free workout videos. Filmed live from his living room to YouTube, Joe keeps people moving through an extensive range of HIIT (high intensity, interval training)-inspired workouts that can be done without equipment.
MORE:Beauty balms and lotions that calm and soothe aching muscles (after your Joe Wicks workouts)
The videos were originally set up for school kids who would otherwise be missing out on P.E lessons, as they help to get your heart rate up and break a sweat. However, parents around the country have been joining in and sharing their success online.
Joe also announced when the videos begun that profits from the videos will go to the NHS and according to Metro.co.uk as of June 6, he has raised over £500,000 already for the cause.
These workouts have been a real hit for families in lockdown across the UK.For those looking for something a little more low impact though, Joe's got the answers again. In his new series of workouts for seniors, The Body Coach challenges viewers to complete a range of gentle exercises that are ideal for those with lower mobility or those who are new to exercise.
What are Joe Wicks' workout videos for seniors?
Joe Wicks' new series of work out videos for seniors offers calmer, lower impact versions of his P.E class with different apparatus and techniques woven in. The first involves marching, gentle stretching and low-impact squatting, while the other is a chair work out and so even better for completing at home.
There are currently five videos in the series so far, each only ten minutes long. But given the success of his other videos, we expect that these will also go on for the next few weeks. After all, we all know that exercise can do wonders for coronavirus anxiety - so why not get involved?
Especially as so far, each of the videos has amassed over half a million views each and fans of his are raving about their new-found flexibility.As one YouTube comment reads, "Thanks Joe! You got me up and moving and surprised me how much I need this! See you tomorrow!"
We continually check thousands of prices to show you the best deals. If you buy a product through our site we will earn a small commission from the retailer – a sort of automated referral fee – but our reviewers are always kept separate from this process. You can read more about how we make money in our Ethics Policy.
GET HEALTHY & FIT WITH JOE WICKS BOOK
The Fat-Loss Plan: 100 Quick and Easy Recipes with Workouts
How to watch Joe Wicks' workouts for seniors videos
If you want to get involved with some more exercise, the videos for seniors, along with the rest of Joe Wicks' workouts can be found on his YouTube channel. The perfect post-5pm antidote for a day spent working from home...
To learn how to stretch out safely and get your heart rate pumping while inside, have a look at this first video.
In his second video, Joe talks viewers through some basic chair exercises and encourages seniors to keep moving, working on mobility and keeping joints strong. He even incorporates chickpeas into the workout...
In the third and fourth, you can take part in a full body workout, and another chair-based workout, for those less able to stand.
Joe encourages anyone taking part in his workouts to give it their all, as exercise improves mental health as well as physical. However he does warn, "Take care when exercises and if you don't already exercise regularly take it slowly at first."
If you're looking to improve your health and fitness during lockdown, get involved with these amazing workouts from The Body Coach, Joe Wicks himself.