5 Things You Can Do To Stop Emotional Overeating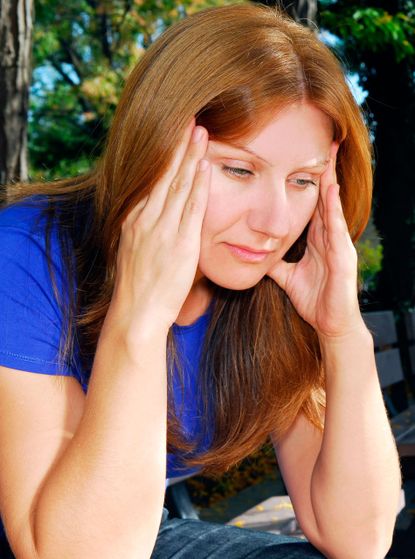 (Image credit: Rex Features)
Break the comfort eating cycle and lose weight once and for all with Dr.Jane McCartney's new 28 day plan.
Ahead of National Eating Disorders Awareness Week, we've rounded up everything you can do to prevent emotional eating. Binge eating is the second most common eating disorder after anorexia, but is a much lesser known about condition.
If you are stuck in a never ending cycle of being really motivated to lose weight, starting the diet, losing a bit of weight, then something happening, the diet failing and the weight going back on, then 'you are probably like over 70% of people who struggle with their weight: an emotional overeater.'
Dr Jane McCartney is the UK's leading expert on emotional eating and eating related psychological problems. She was also once an emotional eater and serial dieter herself and has experienced first-hand the highs and lows of losing weight, not losing weight and putting weight back on. Frustrated with the 'eat less do more' attitude of other books on the market she decided to look at the deeper issues.
'They (diet books) usually only focus on the calorie intake and completely overlook the psychological side of things', she says in her new book, Stop Overeating: The 28 Day Plan To End Emotional Eating For Good (opens in new tab) (£10.99 Vermilion) Which to me is a bit like changing the tyres on a broken car when it is the engine that needs far more attention.'
Dr Jane believes we need to discover the root cause behind binge eating before we can then stop it and enjoy a healthier relationship with food. It is possible to break the vicious dieting cycle and be happy and healthy, but only once we fully understand what's going on with our emotions.
Using the latest research and practical exercises, Dr. Jane promises that after less than a month, you can stop binge eating. There are even more than 40 recipes in the book to keep you satisfied and on your way to a leaner you.
Try out Dr Jane's top 5 tip to combat binge eating and lose weight once and for all.
Stop Overeating: The 28 Day Plan To End Emotional Eating For Good (opens in new tab) (£10.99 Vermilion)
1. Identify your emotional triggers
Negative emotional messages often trigger overeating. 'The urge to emotionally eat is usually fast, unconscious, repetitive and automatic', Dr Jane says. That's why changing the way you think about food is so important. In the book she introduces helpful abbreviations to identify the feelings that commonly cause overeating, such as FOMO, or Fear of Missing Out (if I don't eat it now, someone else will), and BIT, or Because It's There (food brought to the office by colleagues).
2. Take 10 minutes to stop and think
McCartney's first-line defence against FOMO and BIT is the 'Mini Moment.' Taking a 10-minute break before responding to the siren call of the vending machine or office treat table is often enough to recognise the trigger and change your response. After 10 long hard minutes you might find yourself forgoing the Mars bar after all or at the very least swapping it for some carrot sticks.
3. Get to the root of the problem
Once the divine intervention of the 'Mini Moment' has saved you from a near miss, 'make a point of setting aside an hour at the end of your day to work out what is going on with you.' This time, which Dr Jane has titled 'The Maxi Effect Analysis' will enable you to discover the themes behind what triggers these feelings, acknowledgement of why you are having them and how to understand and ultimately tolerate them without turning to food. 'It is likely the same or similar situations and people will come up over again when you sit down to do the Maxi Effect Analysis warns Dr Jane 'but just because they come up repeatedly don't be tempted to stop considering them. What you found distressing or upsetting the first time, after some valuable consideration and understanding is likely to be less emotional the next', dampening the usual destructive automatic emotional response.
4. Beware of the Saboteurs
The Saboteurs are the colleagues, friends and family who under a supportive guise manage to waft sugar laden treats under your nose at every opportunity. To avoid temptation, take a pre-planned lunch with healthy snacks to work and resolve to only eat what you have packed. 'Focusing on what you can eat rather than what you can't, will make it easier to maintain sustainable and steady weight-loss' advises Dr Jane. Research shows that 90% of dieters fail because they cave under emotional pressure or reward themselves to early. According to the book allowance day's are a big no no - all too often that one day of having what you fancy can swiftly spiral into weeks leaving the dieter back at square one in a never-ending cycle. However 'it is important to reward yourself in other ways, even if it's only a metaphorical pat on the back.'
5. Plan your meals in advance
The best way to avoid temptation and resist reaching for the nearest (and usually unhealthiest) option is to plan your meals in advance. There is over 40 nutritious breakfast, lunch, dinner and dessert recipes in the plan to keep you full, satisfied and on track. There is nothing gimmicky or faddy about it - instead rustic fish and chips, light margarita pizza and even pesto-drizzled tagliatelle have all made it on to the traditional homemade menu.
Stop Overeating: The 28 day plan to end emotional eating for good
Stop Overeating: The 28 Day Plan To End Emotional Eating For Good (opens in new tab) (£10.99 Vermilion)