Here's how you can safely send a birthday card to Captain Tom Moore when he turns 100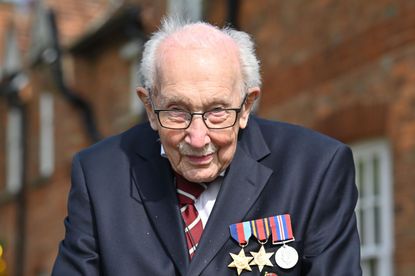 (Image credit: Getty)
This story is part of our Good News series – bringing you positive headlines every day to spread positivity during difficult times.
Captain Tom Moore has warmed the hearts of the nation with his pledge to walk 100 lengths of his garden before turning 100, in order to raise funds for the NHS.
The 99-year-old army veteran managed to rake in over £25 million worth of donations from the public, after setting an initial goal of £1000.
The hero from Keighley in Yorkshire, who will celebrate his 100th birthday at the end of April, will put the money towards helping the NHS in its battle against the coronavirus pandemic.
Now, a little girl has taken to social media to urge others to join her in a special project to make Captain Tom's upcoming birthday a great one.
How to send a birthday card to Captain Tom Moore when he turns 100
Eight-year-old Reegan Davies posted a video on Twitter asking kids all over the world to make a birthday card for Captain Tom, in order to say a big thank you for his selfless efforts.
'We want to give back to this Legend TOM @captaintommoore who has raised over One Million pound for our @NHSMillion,' she wrote.
'We are kindly asking all kids across the UK to make him a Virtual Birthday card to say thanks.'
Going on to explain the instructions on how to get involved in an adorable video, Reegan explained that all you need to do is to share a photo of your card creation on social media and use the hashtag '#makeacardfortom'.
Sharing the inspiration behind her daughter's kind plan, Reegan's mum Lisa told the Huffington Post, "When Reegan saw what Tom was doing, how old he was and that his birthday was soon, she thought he was amazing and came up with the idea [of the birthday cards]."
Hundreds of young participants have already used to hashtag to share their adorable virtual birthday cards.