Scientists have revealed why the sky looks different thanks to lockdown
The skies are bluer than ever!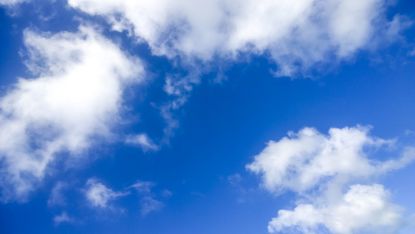 (Image credit: Getty)
This story is part of our Good News (opens in new tab) series – bringing you positive headlines every day to spread positivity during difficult times.
While some may feel that life in lockdown has had no positive impact on their lives, scientists have confirmed something to smile about.
New research has found that this year's spring sky is actually a deeper shade of blue compared to other years.
This is said to have come as a result of decreased pollution levels across the UK and Europe in light of the coronavirus lockdown.
The restrictions on going out and about and the closing of thousands of shops and work places mean we've been creating far less pollution.
According to William Collins, a climate professor at the University of Reading, the pollution we create while living our usual lifestyle creates a hazy fog in the sky, giving it a paler appearance.
But with far fewer carbon emitting vehicles zooming round on the roads, our sky is looking fresh, blue and gorgeous.
READ MORE: The one thing that's been improving in Brits' lives during the coronavirus lockdown (opens in new tab)
"The absence of traffic will be having an effect," Professor Collins told the Daily Mail.
"At the moment, the wind direction is coming over the channel from the continent which we would normally expect to be very polluted, and which would also make our skies hazier.
"The current skies were the kind of blue you'd expect to see on a nice tropical island somewhere. Everybody's been noticing it."
Great news!
The bright blue days are helpful when it comes to boosting mood too.
Professor James Lee, an expert in atmospheric chemistry at the University of York, explained, "Since the lockdown there has been quite a large drop in nitrogen dioxide pretty much uniformly in every city that we've looked at by 30 to 40%.
"I may be sitting in a study surrounded by computer screens. But I can look out of the window and see a nice blue sky – so that does make being shut away slightly more bearable."