Quick and easy marinades to transform your cooking
Just 15 minutes can make a huge difference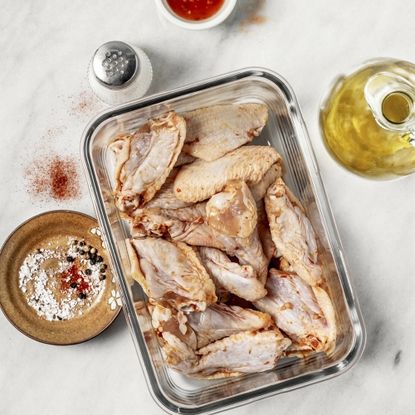 woman&home newsletter
Sign up to our free daily email for the latest royal and entertainment news, interesting opinion, expert advice on styling and beauty trends, and no-nonsense guides to the health and wellness questions you want answered.
Thank you for signing up to Woman & Home. You will receive a verification email shortly.
There was a problem. Please refresh the page and try again.
Marinadesare theperfect way to get the most out ofyour food. Here's how to add some incredible flavours to meat, fish, tofu and vegetables.
While we definitely encourage letting great ingredients speak for themselves, we also know that sometimes, your dishes just need that little something extra.
If you are short on time, marinating - even for as little as 15 minutes can transform a dish that's okay, into something spectacular. However for the most part, the longer you leave ingredients, especially meat, the better they will become, so be patient and all your efforts will definitely be worth it.
For the marinade recipes below we recommend coating your meat, fish or vegetables and leaving them in the fridge for up to 8 hours. This will give the marinades time to work their magic.
What type of marinade should I use?
With so many recipes out there to choose from, knowing what marinade to use and where can sometimes be a little tricky. Follow our simple guidelines below and clear up any concerns.
Acidic marinades
Benefits: Acidic marinades like buttermilk, citrus, wine and vinegar break down the proteins, making meat tender and juicy. Great for: Whole chicken, fish, seafood, vegetables. To make, combine:
200ml dry white wine
1 lemon, zest and juice
5 garlic cloves, lightly crushed
3tbsp olive oil
small bunch lemon thyme
Sweet and salty marinades
Benefits: Getting the combination of sweet and salty is a real balancing act. The salt will draw out moisture, which will then be reabsorbed to flavour the dish.
Great for: Chicken, lamb, duck, pork ribs, salmon, tofu. To make, combine:
5cm piece ginger, grated
6 garlic cloves, finely chopped
125ml soy sauce
175ml maple syrup
Oils and fats
Benefits: Mixing oils with fresh herbs and spices doesn't penetrate the ingredient like an acid will, but by coating the outside of meat, fish and vegetables with it will create a delicious crisp exterior.
Great for: Steak, chicken, root vegetables.
To make, combine:
100ml olive oil
100ml balsamic vinegar
2tbsp Dijon mustard
4 garlic cloves, crushed
2tbsp chopped herbs, such as thyme, rosemary and parsley
salt and pepper
Brining
Benefits: Brining is essentially just salted water, with the addition of aromatics to add flavour. Used mainly for meats, the salt initially draws out the moisture, then the brine is reabsorbed, flavouring and tenderising the meat.
Great for: Tough cuts of meat like brisket, chicken, turkey, pork, duck, cheese, vegetables, fish, seafood.
To make, combine:
1.5 litres water
6 tbsp salt
6 tbsp caster sugar
10 peppercorns
15 thyme sprigs
Put the water, salt, sugar and peppercorns in a large saucepan and bring to the boil, whisking until the sugar and salt has dissolved. Turn off the heat and leave the brine to cool before adding the thyme. Before cooking your meat rinse it to remove the excess brine.
Try for yourself
Take a trip around the world with our favourite marinated recipes
Grilled Sardines with Lemon and Herb
These delicious sardines are brought to life with simple flavours of the Mediterranean. The key to marinating fish is timing, leave it too long and the fish will break down and become mushy. Follow this recipe to get them perfect.
Crispy pork ribs with a soy and maple marinade
Ribs are great for sharing, that's why these sweet and sticky, melt-in-the-mouth pork ribs are ideal for barbequing and al fresco dining, although we won't blame you if you don't want to share.
Espetada Beef Skewers
Transport your taste bud to Portugal with these beef skewars. Usually cooked over a flame or hot coals to add that much-loved smokey flavour.
Lightened-Up Southern Fried Chicken with Rosemary
Forget the Colonel, you can make your very own fried chicken at home. The buttermilk marinade adds great acidity and makes the chicken light, tender and oh-so juicy
Tandoori Marinated Prawns with Raita
These sweet succulent Tandoori prawns are married beautifully with classic Indian spices. This quick and easy recipe benefits from a premade Tandoori paste and they're paired with a cooling cucumber raita, just in case you can't handle the heat.
Grilled Paneer with Butternut Squash and Spiced Yoghurt
Paneer is a firm Indian cheese that's great for cooking as it can take tremendous heat. It's also perfect for marinades as it absorbs lots of flavour. It's great in curries and salads, or simply on a skewer and grilled like this. Try this grilled paneer with butternut squash at your next BBQ.
Slow-cooked Lamb Madras
Wonderfully fragrant and full of flavour. This dish certainly benefits from some forward planning, so if you have time, the longer the marinade time, the better it will be. This slow-cooked lamb madras has reak intense flavour and that longed for pull-apart tender meat.
Thai Marinated Chicken
This Thai-style grilled chicken will surely spice up any dinner table. Marinate overnight for maximum flavour and you definitely wont be disappointed.
Chargrilled Asian-Marinated Guinea Fowl
This classic Chinese marinade has a number of incarnations, and paired here with guinea fowl it really stands head and shoulders above the rest. Its rich, fragrant and oh-so delicious!
Beetroot and Vodka-Cured Salmon
Marinades don't always have to be something you do before cooking, they can actually be the cooking. But curing this side of salmon gravlax-style for 24-48 hours imparts a delicious flavour and can be used in a variety of ways.
Sticky Hoisin Tuna
Tuna is a meaty fish and can withstand these bold Asian flavours, it can also take a little extra marinating time. This sticky hoisin tuna makes for a delicious, healthy dinner.
Moroccan Spiced Chops and Crunchy Salad
Take you and your family on a trip to North Africa with our Moroccan spiced pork chops. Ras el hanout - a complex spice blend is what offers that iconic Moroccan flavour.
Hot and Sour Marinated King Prawns
For a delicious meal in mere moments why not try our hot and sour prawns?
Korean-Marinated Chicken with Noodles
This Korean chicken dish has everything you need - Sweet, savoury, hot and spicy. Great for cooking on the BBQ, but works just as well in the oven
Chilli and Cumin Marinated Lamb
You can make this marinade up to a week in advance and simply leave it in the fridge until you're ready to use it! Great for BBQ season, these chilli and cumin lamb skewers will certainly hit the spot
Marinated Spatchcock Chicken With Lemon And Garden Herbs
This is a Sunday roast game-changer! Juicy, tender chicken coated in a zesty lemon and herb crust.
Brined Roast Chicken with Roasted Sweet Potatoes and Tahini Yogurt
Brining this chicken has allowed the meat to absorb all of the aromatics, while tenderising as well to make it super juicy.
Sign up to our free daily email for the latest royal and entertainment news, interesting opinion, expert advice on styling and beauty trends, and no-nonsense guides to the health and wellness questions you want answered.
Food Writer at Future plc
Keiron George develops recipes and styles dishes for a number of publications, as well as reviewing products, writing food features and How To's for Goodto and woman&home.
Keiron's love of food happened quite by accident. As an arts graduate, he was looking for new outlets to channel his creativity when he stumbled upon the world of cake decoration. He set up his own wedding cake business in 2015. In 2016 Keiron was awarded the Julia Child Scholarship at world-renowned culinary institute - Le Cordon Bleu, London, where he studied the art of French Pâtisserie.