I made the Platinum Jubilee pudding and it's way harder than it looks, here's how to learn from my mistakes
I made the Platinum Jubilee pudding, these are my tips and tricks for anyone looking to take on the mammoth challenge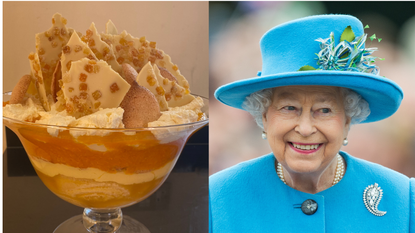 (Image credit: Future)
In celebration of the Queen's Platinum Jubilee, it was announced that there would be a Jubilee pudding competition to encourage royal fans to get creative and bake a delicious pudding that could be made by people across the country to celebrate the Queen's 70-year reign.
Judges Mary Berry and Duchess Camilla teamed up to decide on the winning pudding, and the duo selected a lemon swiss roll and amaretti trifle as the winning dessert.
While this may sound like a delicious pudding that shouldn't be too tricky to put together, this pudding is NOT to be trifled with. I made this trifle from scratch and if I'm being frank, I finally understand why everyone on Bake Off is so stressed out all the time.

Here's how I found the baking process, from start to finish, with tips and tricks so that you can avoid my disasters and make a delicious jubilee trifle fit for a Queen.
Give yourself a whole day to make it
I know it sounds mad to tell people to take an entire day to make a trifle, but if you're making it all from scratch, trust me you're going to need it!
I don't know why the official BBC recipe says you only need just 'over two hours' when really it's more like six hours of prep, and three more hours of cooking, cooling, and panicking. My best guess is that the chef, Jemma Melvin, is probably a more experienced baker than me and she possesses skills most of us can only dream of. I, on the other hand, am a wannabe baker whose only credentials are that I've watched every season of Bake Off and I made a few good loaves of banana bread during lockdown.
Nonetheless, I did manage to successfully make the trifle, so if I've not already turned you off and you're baking skills are as basic as mine, don't be afraid! You can do this. The trifle is not super hard to make, it just requires time and concentration.
This is because you are not simply making a trifle, you are making a swiss roll, the curd to go inside the roll, a St Clements jelly, mandarin coulis, lemon custard, amaretti biscuits, and some orange peel covered white chocolate bark (as well as whipping cream), so there's a lot to do!
The steps you can skip (and you should!)
The lemon curd that I made looked really really gross (see above) while I was cooking it, however, the end result was delicious and it was by far the best lemon curd I've ever had. Once it was spread in the swiss roll and became part of the trifle I couldn't tell how good it was so maybe make extra just to spread on your toast. If you are looking to cut corners, buy the lemon curd and spread it in your swiss roll.
Better yet, buy a pre-made lemon curd swiss roll. You really aren't enjoying this roll as a stand-alone cake so the effort, in my opinion, isn't really worth it.
Amaretti biscuits are another good thing to buy pre-made. Ground almonds are expensive and what I made was nice (ish) but I could have saved myself the trouble and just bought some in the shop.
You can also just buy an orange-flavored jelly for the trifle instead of making the St Clements jelly. The jelly is tasty but it required gelatine leaves and a lot of fresh fruit juice. In comparison, jelly from the shops costs far less and tastes just as nice once in the trifle.
In contrast, I would advise bakers to make the mandarin coulis as it's super easy, the lemon custard is good too, and the chocolate bark is also easy, and makes the trifle look like a real showstopper - definitely worth the effort.
Cook the amaretti biscuits for longer than you think
The recipe says to cook the biscuits for 15-20 minutes, I took them out at 17 and this was not enough. The biscuits I made were good but they were chewy and not really ameretti-like. I would also say they expanded more than I expected so don't be afraid to only put very small portions on the baking tray.
Even though they were underbaked they were still delicious, but as I mentioned previously, this is definitely a step you can skip by buying premade amaretti at the shop.
Put the jelly on the swiss roll ASAP
The first steps are about making the swiss roll and the jelly. Once you've completed them my advice is to get them assembled and in the fridge ASAP.
It'll take a while to make the other parts of the trifle and the jelly needs three hours to cool and set so you can assemble the rest. If you get the jelly and swiss roll layers cooling, you'll have at least three hours to make the other parts and let them cool before you assemble.
Side note: it's heartbreaking to pour jelly all over the lovely swiss roll you just spent ages making and I was fully expecting a soggy mess, but when I ate the trifle it wasn't at all!
Do not boil the custard!
This sounds completely obvious but by the time I got round to making the custard I was losing my marbles, just a bit! It was 2pm by this point, I had a barbecue at 5pm and I just wanted the custard to finish cooking so I could start drinking.
I made the fatal error of turning up the temperature on the hob and despite my constant stirring, my lemon custard quickly became scrambled. I immediately turned down the heat but it was not salvageable. I tried to reason that even though the lemon curd looked awful it tasted good, but this was not the case with the custard.
The curd had lumps of butter that just needed to melt, but these custard lumps were either made of cooked cream or egg, or a combination of both, and they were disgusting.
The scrambled custard had to be thrown out and a little piece of my soul went into the bin with it. I rallied and made the custard again really taking my time with the second batch. It takes a while for the mixture to thicken, but a lumpy custard is a friend to no one.
With medium heat and constant attention, I succeeded the second time around and wow, homemade custard really is delicious.
The end result...
Once I assembled the final components and made the chocolate bark (which is super easy and particularly delicious) I topped the pudding with whipped cream and took it to a barbecue where it was devoured in minutes.
My family and friends loved the pudding and after hours of work, I was pretty happy with the end result. It's not too sweet but rich and delicious. The elements work perfectly together and it tastes super dreamy on a hot day.
My final thoughts
I really enjoyed the end result but I am a bit confused as to why this pudding was picked.
The recipe encourages fans to 'use ready-made versions for most of the components' which seems a bit pointless. I can't help but think that a dessert that's easier to make, like a victoria sponge with a twist, would have been far easier to make and more widely consumed by the public.
Coronation chicken was the dish that was expected to be made and eaten at street parties for the Queen's coronation and even though there were still issues with post-war rationing this dish is still eaten today and is far easier to make than the Platinum Jubilee pudding.
Only those with a large disposable income and a lot of time on their hands will be able to make this pudding from scratch. Even when not made from scratch, this isn't a cheap dish to pull together.
If you do make the pudding, you'll certainly enjoy the results but it's a lot of work and you will most certainly need a large (and strong) gin and tonic at the end of it!
Laura is a news writer for woman&home who primarily covers entertainment and celebrity news. Laura dabbles in lifestyle, royal, beauty, and fashion news, and loves to cover anything and everything to do with television and film. She is also passionate about feminism and equality and loves writing about gender issues and feminist literature.
Laura loves drinking and eating and can often be found trying to get reservations at London's trendiest restaurants. When she's not wining and dining, Laura can also be found travelling, baking, and hiking with her dog.