10 of the best white chocolate Easter eggs for 2022
The best white chocolate easter eggs for sale in 2022 have beautiful packaging, exquisite flavours and extra treats included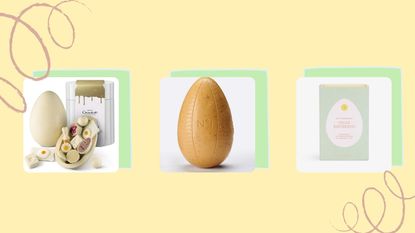 (Image credit: Future)
The best white chocolate Easter eggs mean different things depending on who you're buying for, but one thing we think we can all agree on is that for the sweet-toothed amongst us there is no greater gift than a creamy white egg.
Whether you're after a thick bite of creamy, vanilla-infused white chocolate in a novelty shape, or prefer the grown-up muscovado notes of caramelised chocolate fashioned into an architectural sphere, we've uncovered something special for you this year in our annual Woman&Home taste test of the best Easter eggs for 2022.
Contrary to what you might be expecting, the best white chocolate Easter eggs aren't always the most expensive either. The supermarkets have pulled out all the stops for Easter 2022 with reams of incredible creations for really reasonable price points.
With options on our list from as little as £4.50 there are some which make great gifts for little ones and perfect egg hunt fodder. At the more luxurious end of the market you can bank on wonderfully thick shells, exciting suites of chocolates and truffles, plus pretty packaging making them ideal Easter gifts for adults.
For those who don't discriminate when it comes to chocolate, we think white chocolate eggs happen to make the perfect foil to dark chocolate Easter eggs, giving you a brilliant contrast between bitter cocoa-rich intensity and the lighter, creamy relief of white chocolate.
How did we test the best white chocolate Easter eggs?
Why you can trust Woman & Home Our expert reviewers spend hours testing and comparing products and services so you can choose the best for you. Find out more about how we test.
At Woman&Home we're very lucky to have our own dedicated food team. It's this group of experts who inform and perform all our specialist taste tests to ensure that we're only ever recommending the very best-in-class products to our readers. For our guide to the best white chocolate Easter eggs our Deputy Food Editor and our Senior Food Writer - Rose Fooks and Jessica Ransom - managed to make their way through mountains of chocolate on their quest to come up with only the very top tier of treats (tough job).
Each egg was tasted on a blind basis to avoid unintentional bias towards certain brands. This ensures that first and foremost the flavour of each white chocolate egg was weighed up in comparison to its contemporaries. Once the team made their notes on flavour profiles and additional details - like decoration or included truffles - they looked at packaging and design. Here particular attention was paid to whether or not the packaging was eco-friendly and how the exterior would be received if given as a gift. Finally, cost and value for money were taken into account when narrowing the results down to ensure each of the eggs on the list truly were all-rounders.
The best white chocolate easter eggs to buy in 2022
No1 Blonde Chocolate with Salted Caramel Truffles Easter Egg
The best overall white chocolate Easter egg for 2021
Specifications
Weight: 215g
Stockist: Waitrose
Price: £10
Price per hundred grams: £4.66/100g
What's included?: One 215g Easter egg plus four golden truffles
Reasons to buy
+
Caramelised white chocolate
+
Crisp feuilletine fleck
+
Additional truffles included
Proving that there's nothing childish about white chocolate when it's left in capable hands, this luxurious offering from Waitrose brought both style and substance to our 2022 Easter taste tests.
Our food team were impressed by the texture which gave depth through the addition of crisp feuilletine flecks. These contrasted perfectly with the smooth, caramelised white chocolate for an egg with a bit of bite. As the chocolate melted away, the wafer shards left us with something to get our teeth into. Overall we found there to be a slight acidity and saltiness to the whole thing, which ensured the often overly sugary white chocolate shell didn't become too sweet. This mix of flavours and textures managed to avoid everything from becoming cloying too, which we appreciated.
From a design perspective we loved the overall look with the egg's pleasingly golden finish and little flecks both adding interest above the ordinary. The packaging and design, however, is heavily branded which in our eyes makes it less desirable to give as a gift - a shame given the high quality of the item underneath the wrappers. The four additional golden truffles aren't particularly exciting flavour-wise but we can see why they were included - everyone likes a little extra. Overall, for true chocolate lovers we think this is a safe bet if you can look past the logos.
Venchi Gran Gourmet Salted White Chocolate Egg
The best white chocolate Easter egg for nut lovers
Specifications
Weight: 500g
Stockist: Venchi
Price: £65
Price per hundred grams: £13/100g
What's included?: One nut-filled white chocolate Easter egg
Reasons to buy
+
Great texture
+
Nice sweet and salty flavour
+
Pretty packaging
Some of the thickest white chocolate we tasted in our tests, this luxurious egg from Venchi screams luxury. The chocolate itself is rich and creamy with honey notes while the smooth eggshell is hiding a surprise perfect for nut lovers - an entire coating of lightly salted pistachios, almonds, and hazelnuts. This is packed choc-full of nuts which give the whole thing a real bite, while the very light salting contrasts well, ensuring the white chocolate doesn't get too sickly.
The pretty floral packaging adds to the appeal and makes this feel suitably special for gifting. It's a standout in the selection but it does come with its slightly enthusiasm-curbing £65 price tag - making it one for adult Easter baskets rather than the kids.
Butlers White chocolate Easter Egg and Truffles
Best value white chocolate Easter egg
Specifications
Weight: 310g
Stockist: Selfridges
Price: £12.99
Price per hundred grams: £4.19/100g
What's included?: One white chocolate Easter egg plus truffles
Reasons to buy
+
Great for gifting
+
Delicious additional truffles
+
Smooth, classic white chocolate
Reasons to avoid
-
Packaging can get a little crinkled in transit
Comfortingly sweet and smooth, there's something nostalgic about the flavour of Butlers chocolate – something, we suppose, to do with the high whole milk content that is commonly associated with childhood treats. This specially designed egg is a Selfridges exclusive, so if you buy it online you'll be treated to the department store's famous luxurious packaging. Once unwrapped the egg has a pleasingly simple design with a smooth exterior and perfect snap. Alongside the main event is a little parcel of chocolates too which allows for easy sharing of your Easter spoils (if you're feeling generous). This addition of the little white chocolate truffles is a nice extra and they come with all the wonderful caramel notes of condensed milk and cocoa-butter rich white chocolate. They're completely addictive, and dare we suggest it, even tastier than the egg.
Sainsbury's Belgian White & Blonde Chocolate Marble Egg
The best white chocolate Easter egg for gifting
Specifications
Weight: 150g
Stockist: Sainsbury's
Price: £4.50
Price per hundred grams: £3.00/100g
What's included?: One caramelised white chocolate Easter egg
Reasons to buy
+
Caramel toffee flavour
+
Tastes "special"
+
Good price point
We've noticed a trend towards caramelised white chocolate this year, with most of the supermarkets offering up an option in their own-brand ranges. One of the best ones we tried was this blonde chocolate edition from Sainsbury's which delivers on both a high quality egg and a sweet price point. Here the caramel toffee flavours are prevalent, added to with muscovado undertones and a little acidity to balance everything out.
Jessica Ransom, our Senior Food Writer, said: "This one tastes special to me, which is particularly impressive considering the price." Jess' pick of the white chocolate Easter eggs is just £4.50, and comes in an elegant box with no plastic for extra eco-points, which increasingly and ever more-importantly plays into our purchasing decisions.
The criss-cross hand decoration across the front gives it a point of difference aesthetically but there are no added extras here in terms of goodies. Given its simple presentation, this is one for purists who are looking to appreciate caramelised white chocolate in its stripped-back state without any bells and whistles.
Sainsbury's Belgian White & Blonde Chocolate Marble Egg
The best white chocolate Easter egg for gifting
Specifications
Weight: 250g
Stockist: Sainsbury's
Price: £8
Price per hundred grams: £3.20/100g
What's included?: One Belgian chocolate Easter egg
Reasons to buy
+
Belgian chocolate
+
Pretty design
+
No plastic packaging
This white chocolate Easter egg makes the egg itself the star of the show, with one perfectly crafted sculptural piece at the centre of things and no added distractions by way of extra chocolates or treats. The marble effect runs throughout the egg and is something a little bit different to your ordinary decoration, making it feel quite grown-up and contemporary with its matte textural finish. The interior also has an attractive swirl of chocolate making it feel as though it's detail oriented throughout and not just any old supermarket Easter egg. The irregular swirling patterning means that no two eggs will be the same, making it a nice gift in its uniqueness.
As with the other Sainsbury's egg above that we thought was stand-out, this one comes with no plastic packaging. Instead you'll find a classy cardboard box which is fully recyclable - a nice touch. The initial flavour profile is certainly sweet with notes of sugary caramel coming through after the initial hit of cream has melted away. Given its richness, we thought this would make a perfect Easter egg for dessert lovers. Our only complaint was that there were slight synthetic undertones that lingered on the palate after our initial tasting. This - however - isn't an issue if (like us) you like to eat your Easter eggs in one swift sitting.
ASDA Extra Special The Raspberry One White Chocolate Egg
The best budget white chocolate Easter egg
Specifications
Weight: 180g
Stockist: ASDA
Price: £4
Price per hundred grams: £2.22/100g
What's included?: One white chocolate and raspberry Easter egg
Reasons to buy
+
Pretty design
+
Fun raspberry marshmallow centre
+
Belgian chocolate
+
Great price point
You'd have to have a heart of stone not to be melted by this pretty pastel Easter egg complete with all the trimmings. The exterior's tempting little extras meant we couldn't wait to expose what was on the inside, and we weren't disappointed. The egg was concealing a raspberry marshmallow surprise in its centre which added to the celebratory feel of ASDA's design. The marshmallow itself wasn't overly sickly, with a pleasant fruity flavour that contrasted well with the white chocolate of the shell, adding further interest in terms of taste. The texture was the only letdown, with the chocolate itself having a bit of a flatness to it, but with the real dried fruit bursts peppered throughout things were lifted past the point of it becoming dull. If you know someone who likes their food to be aesthetically pleasing in equal measure to tasting great then this would make a failsafe gift given its pleasing pink and white design.
Hotel Chocolat Extra Thick White Chocolate Easter Egg
The best luxury white chocolate Easter egg
Specifications
Weight: 405g
Stockist: Hotel Chocolat
Price: £30
Price per hundred grams: £7.40/100g
What's included?: One extra-thick white chocolate Easter eggs plus a pack of dessert inspired Easter chocolates
Reasons to buy
+
Extra thick chocolate
+
Perfect for sharing
+
Additional chocolates
+
Huge
Chocoholics are likely to already be familiar with the quality of Hotel Chocolat's white chocolate which is consistently well made and headily flavoured with notes of vanilla and clotted cream. This egg screams luxury with its descendant, extra-thick shell and centre bursting with goodies. The biggest positive for us in the tasting of this example was that the white chocolate wasn't too sweet, which white chocolate often can be - you really can tell the difference with the high cocoa content. The range of chocolates included as extras is also fun with Hotel Chocolat's typical playful spin. Here you'll find creations such as 'eggs on toast' and 'poker faces' which are sure to be enjoyed by any recipient regardless of age, as well as raspberry panna cotta and custard tart truffles which ensure there's more to enjoy beyond plain white chocolate. We have to also mention the incredibly thick shell which will only break with a good amount of force, yielding with a particularly satisfying snap.
Lindt White Chocolate Gold Bunny
The best white chocolate Easter egg for kids
Specifications
Weight: 200g
Stockist: Waitrose
Price: £4.99
Price per hundred grams: £2.50/100g
What's included?: One white chocolate bunny-shaped Easter treat
Reasons to buy
+
Fun design
+
Thick white chocolate
Reasons to avoid
-
Not a traditional egg shape
Classics are classics for a reason and we couldn't put together a guide to the best white chocolate Easter eggs of 2022 without including everyone's favourite chocolate character: Lindt's iconic bunny. Okay, it's not an egg but we hope you'll forgive us thinking outside the confines of a sphere. The white chocolate version of Lindt's rabbit just happens to be our favourite thanks to its rich flavour and extra chunky curves (which as any Lindt lover will know are around the bunny tail and little ear tops). It's actually the variation in depth that we think adds to the appeal here, giving you thinner and thicker pieces which melt and different times during the time you devour it.
There's something endearing about the real bell which tinkles around its neck and the gold foil wrapper brings with it a feeling of nostalgia. Whether used as part of an egg hunt or as edible Easter table decor, everyone will be happy to find one of these with their name on this year.
Moser Roth White Chocolate Lovers Duo Egg
The best white chocolate egg for couples
Specifications
Weight: 290g
Stockist: Aldi
Price: £5.99
Price per hundred grams: £2/100g
What's included?: One redcurrant, raspberry and blueberry white chocolate Easter egg half and one caramel, feuilletine and smoked sea salt Easter egg half.
Reasons to buy
+
Two different kinds of chocolate
+
Great price
+
Fun design
+
Fairtrade
Perfect for couples who have different tastes or for someone who likes variety in their chocolate, this Fairtrade egg boasts a chic design and sophisticated flavour combinations. One half is blonde with crunchy Feuilletine and smoked salt. The other half tastes like breakfast as it's made with yogurt and a blueberry, forest fruit crunch.
Hotel Chocolat Soft Boiled Egg
Best mid-priced white chocolate Easter egg
Specifications
Weight: 150g
Stockist: Hotel Chocolat
Price: £10
Price per hundred grams: £6.66/100g
What's included?: One blonde chocolate Easter egg plus 12 truffles
Reasons to buy
+
Playful design
+
High quality chocolate
Hotel Chocolat, purveyors of the best Easter hamper ideas every year, are also the go-to brand for fine quality Easter chocolate with a fun side too. Whether shopping for white, dark, milk or even vegan Easter eggs, this brands knows how to cater for all is the most delicious of fashions.
What we love most about this white chocolate Easter Egg from HC is the fun design. More playful that the ornate 'Ostrich Egg' offering, it's sure to raise a smile from whoever you buy it for. The hollow egg is made using the same white chocolate recipe as the thick egg described above, but the price is more budget-friendly - a win-win.
Rosie Conroy is a food and drinks journalist with over a decade of experience working for big-name titles in both print and online. Formerly the Digital Food Editor of woman&home, Rosie went on to head up the team at SquareMeal, reviewing the best London restaurants and hunting out emerging culinary trends. With previous experience in food styling and recipe development, Rosie knows what to look for in a good piece of kitchenware and has extensive experience testing consumer goods—from kitchen electricalz and cooking accouterments through to new foodie treats.
With contributions from