Best milk chocolate Easter eggs: The woman&home taste test
Milk chocolate is a classic Easter egg flavour but which buys were ranked top by our expert food team this year?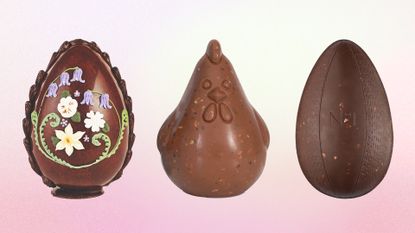 (Image credit: Montezumas//Bettys/Waitrose)
The woman&home taste test will help you find the best milk chocolate Easter eggs on sale this year. We've tasted the best Easter eggs and these are our top picks for those who love a classic take on the festive treat.
Whether you like something a little bit different, something extremely decorative or a classic chunk of chocolate there's something for everyone in our list.
Best Milk Chocolate Easter Eggs
Bettys Hand Decorated Spring Flowers Milk Chocolate Egg
The best milk chocolate egg
Specifications
Stockist: Bettys
Weight: 350g
Price: £28
This is a thing of beauty. The chocolate is delicious and the hand decorated spring flowers are truly special. Anybody would love to receive this egg and can appreciate the care and attention that has gone in to making it.
Montezuma's Orloff Milk Chocolate Hen with Dark and White Chocolate Flecks
The best non-egg-egg
Specifications
Stockist: John Lewis and montezumas.co.uk
Weight: 200g
Price: £9.50
Something special for Easter. The chocolate is exceptional, as you'd expect from Montezuma's, and the packaging is 100% recyclable which makes you feel better about eating the WHOLE hen in one sitting.
Divine Chocolate Speckled Mini Eggs
Best mini eggs
Specifications
Stockist: Ocado
Weight: 155g
Price: £4.75
The crunch on these generously sized milk chocolate mini eggs is ever so satisfying. Made using a smooth mellow Ghanian cocoa, these are our mini egg of choice and they are Fairtrade too.
No.1 Hidden Truffles Nutty Egg with Salted Caramel Truffles
Best nutty egg
Specifications
Stockist: Waitrose & Partners
Weight: 220g
Price: £10
A delicious 49% milk chocolate with crunchy almonds - the saltiness of which make the egg oh-so moorish. You also get get salted caramel truffles which explode when you bite them - divine!
Eggstremely Thick Chocolatey Biscuit Egg
Most moorish egg
Specifications
Stockist: M&S, Ocado
Weight: 345g
Price: £8
This is what Easter egg dreams are made of. Delicious, creamy milk chocolate with salty biscuit pieces. The crunch is extremely satisfying - as is the fact that there is no plastic in the packaging.
Melt's Milk Chocolate Sea Salt Easter Egg
Handcrafted Heaven
Specifications
Stockist: Melt Chocolates
Weight: 350g
Price: £24.99
A really special egg hand made in the heart of Notting Hill. Melt are clearly masters of their craft - the chocolate melts in the mouth but not to the touch. It's shiny, well-tempered and really tasty.
Hotel Chocolat Extra Thick Just Milk
Elegant and flavour filled, an indulgent Easter treat
Specifications
Stockist: Hotel Chocolat
Weight: 390g
Price: £29
The truffle and praline mini eggs inside the egg were delicious. Especially the Pistachi-oh! and Nuts about Raspberry chocolates. It's a great idea to have half the egg 40% milk chocolate and the other half 50%.
Deluxe Valencian Orange Milk Chocolate Easter Egg
For the chocolate orange obsessed
Specifications
Stockist: Lidl
Weight: 210
Price: £4.99
For the chocolate orange lover in your life. An egg with an orange lustre with Belgian chocolate that has the perfect citrus flavour.
Gold Bunny Easter Egg
Would Easter be the same without it?
Specifications
Stockist: Lindt & some supermarkets
Weight: 460g
Price: £15
An upgrade on the Lindt Bunny - a bunny and a Lindt milk chocolate egg! Both using their much loved - and yummy - milk chocolate. What more is there to say?
Asda Extra Special Caramel Egg
Great value for money
Specifications
Stockist: Asda
Weight: 245g
Price: £5.00
Such a delicious egg. The milk chocolate felt and tasted like good quality chocolate and the salted caramel/nougat pieces inside helped to add to the flavour and provide a little texture.
Chococo Milk Chocolate Honeycombe Studded Egg
The Star studded egg
Specifications
Stockist: Chococo (available online soon)
Weight: 175g
Price: £12.50
Award-winning chocolatiers, Chococo have created a range of Easter eggs inspired by, and made using ingredients from, the home of their chocolate, Dorset. Their milk chocolate honeycomb studded egg is like a crunchie bar made using the finest ingredients - including honeycomb made from Dorset honey. The 45% Venezuelan origin milk chocolate adds a touch of class too.
Coop Irresistible Hand Finished Golden Praline Egg
Glamorous and glorious
Specifications
Stockist: Co-op
Weight: 300g
Price: £8
Overall, a really tasty egg. The milk chocolate egg tastes like good quality chocolate and the golden gianduja egg that forms the decoration adds some elegance and a depth of flavour due to its praline centre. It's finished with golden cocoa nibs and milk chocolate confetti which helps to add texture and some excitement.
Lindt Easter Bunny Tin
The essence of Easter
Specifications
Stockist: Tesco
Weight: 330g
Price: £12
Easter wouldn't be the same without the Lindt bunny. This beautiful tin comes with a warren of bunnies and, you'll be pleased to know, a selection of Lindor truffles.
The Ombles egg
The egg for your inner child
Specifications
Stockist: M&S
Weight: 190g
Price: £6
This is the adult version of the mini children's ones. The chocolate is delicious but it may be a little sweet for some adult palates. The chocolate flakes that cover the egg are great - they heighten the flavour but they also add a little bit of interest, as do the white chocolate eyes.
Hotel Chocolat Rocky Road to Caramel Extra-Thick Egg
Utterly indulgent and utterly scrumptious
Specifications
Stockist: Hotel Chocolat
Weight: 490g
Price: £29
This is a great mix of chocolate. Half 40% milk with crispy cookies and puffed rice and the other half is solid caramel-milk. This is a little sweet but it's nice to have the mixture. The chocolates inside are also delicious and a good mix but mostly along the caramel lines.
Reese's Pieces Easter Egg
For the peanut butter lover
Specifications
Stockist: Asda
Weight: 344g
Price: £8
As fans of Reese's Peanut Butter Cups, we love this. It comes with 3 bars and the egg itself has the Reese's pieces in the chocolate. Perfect for any peanut butter and chocolate fan!
Monty Bojangles Flutter Scotch Egg
Truffle-y Delicious
Specifications
Stockist: Ocado
Weight: 175g
Price: £5
A really successful egg from Monty Bojangles - the truffles are delicious, smooth and creamy and just the right amount of cocoa dusting. The egg wrapping is a beautiful peacock feather design.
Lindt Milk Chocolate Egg with Lindor Milk Truffles
For an indulgent Easter
Specifications
Stockist: most supermarkets
Weight: from 285g
Price: from £7
Lindor Truffles are super smooth, or irresistibly smooth to coin their own phrase. Melt in the mouth chocolate that brings real comfort. The Lindt chocolate egg is also wonderfully warming.
Sign up to our free daily email for the latest royal and entertainment news, interesting opinion, expert advice on styling and beauty trends, and no-nonsense guides to the health and wellness questions you want answered.
Samuel has a BSc in Food from the University of Birmingham and nearly 16 years after he began his professional food career, his work has featured in national and international publications including Waitrose Food, Australian Delicious, and the LAD Bible Group.
He was also a nutritional consultant for BBC's Eat Well for Less. Throughout his career he has specialised in recipe writing and has produced many recipes for woman&home. Samuel is also Co-Vice Chair of the Guild of Food Writers and a Trustee of 91 Ways CIC.