Women Over 40 On NOT Dressing For Your Age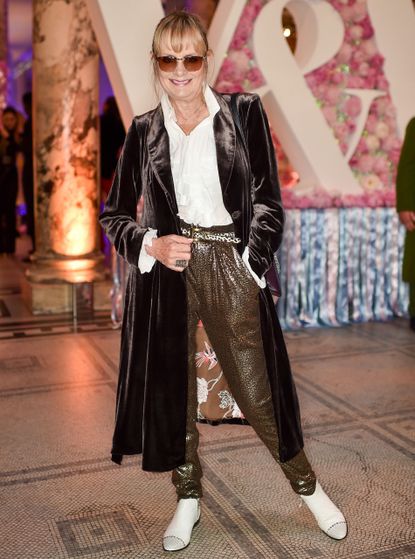 (Image credit: Nick Harvey/REX/Shutterstock)
woman&home newsletter
Sign up to our free daily email for the latest royal and entertainment news, interesting opinion, expert advice on styling and beauty trends, and no-nonsense guides to the health and wellness questions you want answered.
Thank you for signing up to . You will receive a verification email shortly.
There was a problem. Please refresh the page and try again.
Google lists more than 70 million results for 'things women over 40 should stop wearing'. But, whilst your style, lifestyle and - yes - body, may have evolved over the years, surely the idea of abiding by such arbitrary rules is more than a tad outdated? It's a fact that even the fashion world appears to be (slowly but surely) catching onto - 13 women over 50 walked in the most recent set of Fashion Week shows. Next time you need a reminder that, actually, you can wear whatever the [insert expletive of your choice] you feel like, regardless of the digits on your birth certificate, read these words of wisdom...
Twiggy, model
Twiggy, 67, is speaking to every woman who lives in a wardrobe of black in an attempt to blend into the background when she tells us, "The right tone of red is flattering on all women."
"I don't like it when people say, 'You're 45, so you should be wearing X and never Y,'" the model told woman&home. "For me, dressing is about attitude, not age. The trick is to find the style that is right for you. When it comes to trying new clothes, my advice is not to take it too seriously - it's all about having fun."
Marissa Webb, designer
"I don't think a number defines your age. Your lifestyle and energy do. I've met many women in their fifties who are in amazing shape and can pretty much pull off any outfit. What's appropriate for one person can be very different for another."
Anthonia Akitunde, writer
"The idea of dressing or looking a certain age has gone by the wayside now that more people are turning 50 and feeling like, 'I still have some of my best years ahead of me'."
Jenny Beavan, costume designer
Jenny, 66, was the subject of a sartorial storm in a teacup at this year's Oscars, when she picked up her gong for Mad Max wearing a pleather jacket from M&S, accessorised with a single chrome-painted nail. Stephen Fry was hounded off Twitter after his joking reference to the designer as a "bag lady".
"I was wearing a costume. A homage to Max Max," she explains. "I look ridiculous in frocks. I can't wear heels - my back goes out and my feet get terribly sore. And besides, I have no interest in clothes other than what they tell me about a person. I am a storyteller." Anna Dello Russo, editor-at-large of Japanese Vogue
"Why must I wait 'til the night time to wear a fabulous evening dress?" the sartorially eccentric fashionista, 54, demands. "I want to celebrate fashion at every moment of my life. Through my clothes I can say something that I cannot say to the world."
Jean Barker, Baroness Trumpington, politician
"The moment you start letting yourself go is the moment when you are old," the 94-year-old member of the House of Lords declares.
Gwen Stefani, singer
"For me, fashion is not really about age as much as it is reflecting your personality," muses No Doubt's 47-year-old frontwoman.
Bridget Sojourner, model
78-year-old Bridget found fame as one of Channel 4's 'Fabulous Fashionistas'. "Style, as one gets older, is more noticeable," she says. "How I look is to do with my identity and the fun of it. It's nothing to do with looking younger."
Sue Kreitzman, artist
76-year-old Sue first came to the public's attention as a cookery writer, dubbed the 'Queen of Low Fat Cooking'. Now, she declares, "I am the art; the art is me - this is the inside of my head. There is no such thing as age-appropriate dressing".
Daphne Selfe, model
At 88, Daphne has been named the world's oldest working supermodel. "I love dressing up, I love clothes, I like being different," explains the model, who says she wants to go on modelling and inspiring "the young, but also those who have become 'invisible' at 40 or 50".
Madonna, singer
She may have come under fire more frequently than any other fancy-free fashionista, but Madonna continues to take her responsibility to dress 'inappropriately' seriously.
"The fact that people actually believe a woman is not allowed to express her sexuality and be adventurous past a certain age is proof that we still live in an ageist and sexist society," she declared recently. "If you have a problem with the way I dress it is simply a reflection of your prejudice. As Nina Simone once said, the definition of freedom is being fearless. I remain unapologetic and a rebel. Join my fight for gender equality!"