Mastectomy bras and post surgery bras: how to find the right one for you
Shopping for a mastectomy bra can be a daunting prospect - but it doesn't have to be. From comfortable t-shirt bras to something a little fancier, there's something to suit everyone.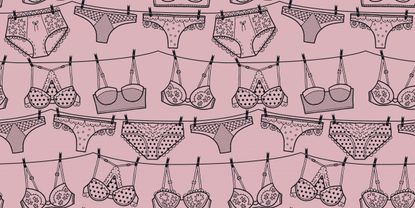 Having a mastectomy is a life-changing experience to go through and the usually quotidian task of bra shopping can turn into something quite daunting, but it doesn't have to be.
Shopping for the best bra (opens in new tab) can be daunting for all women - finding something that is comfortable, supportive and the right style for your needs is never easy. The added stress of finding a mastectomy bra can make the task seem downright impossible. But it doesn't have to be such an ordeal.
Whether you're looking for your first post-op bra, or have already bought them in the past but want to see what else you could try, there's a vast and impressive range of mastectomy bras available to you.
How to find the right mastectomy bra for you
Spend some time getting the perfect bra for you. Firstly - don't forget to start with the basics. The best advice we can give to anyone looking for the perfect mastectomy bra is to get fitted. Lingerie stores and departments across the country have fabulous bra fit advisors who can spend time making you feel at ease.
You'll be able to relax while they search for the right style and fit for you, and an expert eye will be able to spot any small problems that could result in an uncomfortable and ill-fitting bra. If you're nervous about revealing so much to a stranger, just remember that they're experts who work with different women every day. And even if it takes a couple of hours out of your day to find the perfect one, remember that you deserve to spend time on making yourself look and feel fabulous.
You need to make sure you spend plenty of time thinking about your needs and making sure you get fitted. Many specialist bra shops and department stores will have advisors who are trained to offer advice. There is no need to feel scared or embarrassed as these experts work with so many different women every day and they are here to help.
Plastic and reconstructive surgeon Mr Naveen Cavale (opens in new tab) explains there are two things to look for: compression and comfort.
He tells Woman & Home,"I tell my patients to buy a good support/sports bra with a thick elastic band under the breasts and not very stretchy cups. I ask them to buy one chest size larger than usual (so get a 34 inch chest if you're normally 32) and get small cups (B or C Cup, even if you are going to end up larger after implants, for example). That way you can still breath, and the breasts are being compressed nicely too. I also say to forget about front-fastening bras as the front zipper/clip area doesn't compress the breasts where they really need it. A back fastener is much better for this and having to do up these bras is good physio for the shoulders. Wires are also not helpful, they can dig in near incision areas and cause problems sometimes"
From scar sensitivity, lymphedema swelling, nerve sensations, and numbness, these are all things you may experience post-operation. So be careful about chafe, tight bands and underwires and fabrics that don't breathe.Naveen Cavale adds, " Compression of the armpit area can be useful if there has also been a 'node clearance' operation, you might need to wear an extra band/strap to compress here, but you need to be careful here as too much compression might encourage lymphedema swelling in the arm - a good breast care nurse (who you will be seeing as part of breast cancer care) will be able to advise you."
For a single mastectomy, it is important to fit your natural breast, to balance out the bra. The bra should be a fuller cup bra to enclose all of the breast and ensure any forms are fully secure and not seen. The bra should have pockets inbuilt into the cups to house a prosthesis.
Mr Naveen Cavale says, "Expensive isn't necessarily the best idea. Your post surgery bra will get very mucky to start with, so you won't want to keep it forever, so don't spend silly money to start with.Also, buy two of them, so you can wear one, and wash the other."
Our edit of the best mastectomy bras available now
Figleaves Royce Zahra Comfort Bra, £38
If padding and underwire isn't your thing then look no further than this beautiful, but comfy, lace offering from Figleaves. They're experts in lingerie, it's what they do, and this is no exception. With navy and blush zig-zag style embroidery, this is a great confidence booster and fashionable option. Be sure to get the matching knickers too! There's a detachable lace modesty panel at the front and they are able to hold a prosthesis. The thick straps make it super supportive too.
VIEW NOW: Figleaves Royce Zahra Comfort Bra, £38 (opens in new tab)
M&S Collection, Post-Surgery Sumptuously Soft™ Padded Full Cup Bra A-E, £20
This is the perfect bra to wear under any clothes post-surgery. Coming in black or cream and made with lightweight foam. It has a natural shape and a seamless outline, so you don't need to worry about it showing under tight clothing. Comfort is vital immediately after surgery and this will definitely offer you that and be a great everyday bra, this is a no-frills but sure to deliver option, that you can always fall back on.
VIEW NOW: M&S Collection, Post-Surgery Sumptuously Soft™ Padded Full Cup Bra A-E, £20 (opens in new tab)
Stella McCartney Black Mastectomy Bra, £54
If you're looking for a sports bra - that could just be to go for a walk in, not vigorous exercise - then this is your answer. From British fashion designer Stella McCartney, in collaboration with Adidas. It has a centre front zip for easy dressing as it may be painful to reach around. There are inner flaps for pad removal and technology which ensures good breathability. Not only this but if you're conscious about the planet then this is a great option, as it is crafted from recycled polyester which comes from old plastic bottles. Winning all round! Making inclusive bras for breast cancer survivors is close to Stella's heart after her mother, Linda, died from the disease in 1998.
VIEW NOW: Stella McCartney Black Mastectomy Bra, £54
Amoena Maxine Non-Wired Bra - Dark Jade / Multi, £54.96
With 40-years in bra design after breast surgery, Amoena is the place to go to find something a little more special, while being confident that comfort and practicality won't be compromised. They promise that the straps will relieve your shoulders, pockets can hold your breast form securely in place, and the wider under bands will provide a little extra support. We love these wintery dark jade colours, with pretty florals and sheer tulle too, its a romantic dream.
VIEW NOW: Amoena Maxine Non-Wired Bra - Dark Jade / Multi, £54.96
5/5 Nicola Jane, Fiona Embroidered Support Bra, £32
If you're looking for something chic and sensible then this is the one for you. The thick straps and cups are super supportive but with thanks to the luxurious fabric and floral gold embroidered trim. Nicola Jane is experts in post-surgery lingerie too. They're on hand, over the phone or on email to offer advice on whatever you may need, helping to boost your confidence in a daunting period. They emphasise comfort, quality and fit.
VIEW NOW: 5/5 Nicola Jane, Fiona Embroidered Support Bra, £32
John Lewis Royce Front Fastening 1010 Cotton Comfi-Bra, £30
This rich pima cotton fabric stretches for the perfect fit. In terms of design, the cut-and sew cups are lines with soft pockets that are perfect for prostheses or breast pads. Likewise, the front fastening poppers allow for easy-access to any surgical areas and help women with reduced shoulder movement.
VIEW NOW: John Lewis Royce Front Fastening 1010 Cotton Comfi-Bra, £30
Zalando Chantelle Post-Surgery Bra, £48.99
Made with jersey, this classic black bra is super comfortable and features removable padding, non-wired bra and pockets for protheses.
VIEW NOW: Zalando Chantelle Post-Surgery Bra, £48.99
TU at Sainsbury's Bright Peach Post Surgery Comfort Lace Bra, £7.50
For the price, this bra is something to shout about. The light peach colour and lace gives the bra a romantic feel to it, while hidden pockets can accommodate prosthesis for a natural shape and the non-wired design offers maximum comfort and support.
VIEW NOW: TU at Sainsbury's Bright Peach Post Surgery Comfort Lace Bra, £7.50 (opens in new tab)
Royce Jasmine Mastectomy Bra, £28
This mastectomy bra is both firm-fitting and incredibly comfortable, with it's wire-free design. It also comes in three different colours: black, white or nude.
VIEW NOW: Royce Jasmine Mastectomy Bra, £28 (opens in new tab)
Rachel is a freelance contributor to woman&home, covering news as well as books, lifestyle and travel. Her byline has also appeared in The Independent, The Financial Times, ELLE Magazine, VICE, Glamour Magazine and others. She loves nothing more than talking with people to share their stories. When she is not writing you will definitely find her nose in a book or magazine, or perhaps training for the next half marathon, practicing yoga or eating in London's best restaurants.