#WeWantItAll: The Best Things To Have Landed In M&S This Week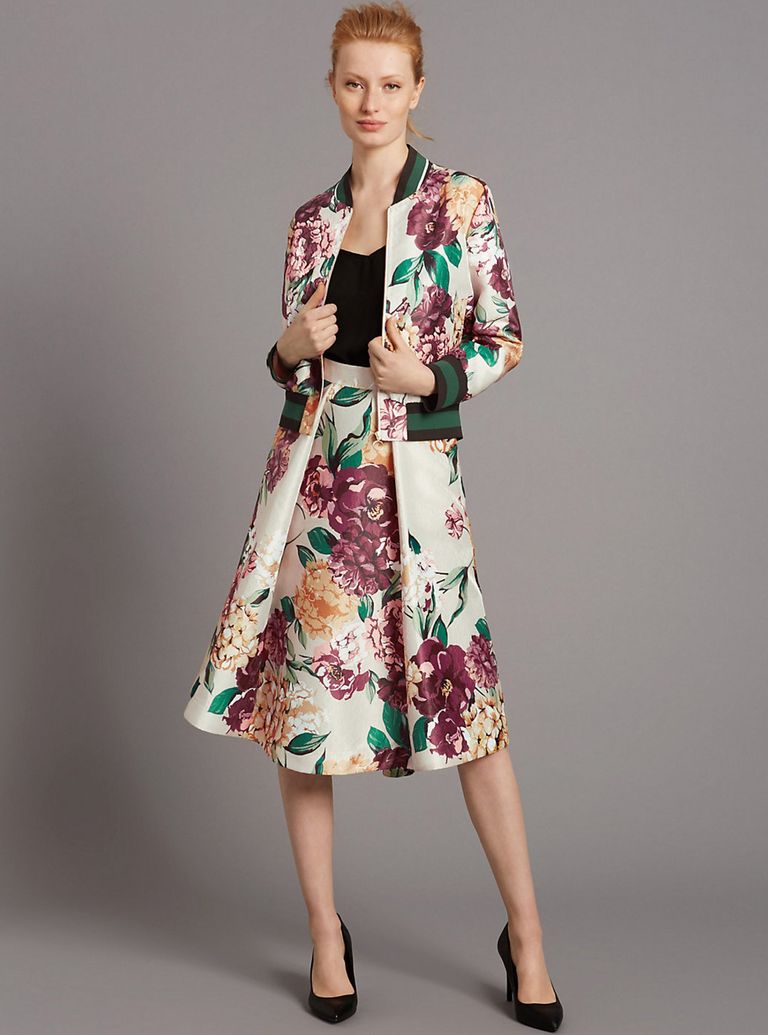 When it comes to high-quality, affordable fashion M&S reigns supreme on the British high street.
The likes of Twiggy and Alexa Chung are just some of the celebrities who have collaborated on stunning collections with the high street retailer, who continues to surprise us – year after year – with premium, on-trend designs that we adore.
There are some exceptional pieces at M&S this season, with styles that incorporate some of the hottest trends right now (think yellow tones and flared jeans).
Many of the pieces show such remarkable tailoring and attention to detail that they could easily pass for high-end designs, and we just can't get enough!
From beautiful floral bomber jackets to Seventies-style yellow midi skirts, we've rounded up the best M&S clothes that have just hit the rails this week, so you can snap them up before it's too late...
Belted Utility Straight Skirt, £35.00, M&S
Yellow is set to become the "it" colour of spring - you can look to dresses in La La Land and the new Beauty and the Beast for confirmation of that - so jump on the trend early. This super flattering midi skirt will attract attention and make you stand out from the crowd... for all the right reasons!
Floral Print Bomber Jacket, £69.00, M&S
Give your outfit some street cred with this statement bomber jacket. We all know Mary Berry's a big fan of these! Floral prints are big for spring, so this feminine jacket is an easy way to boost an everyday look.
Flared Stripe Jumper, £35.00, M&S
Flared sleeves are everywhere right now - especially when it comes to knitwear. So why not embrace the 70s trend with this chic striped jumper, with a cute button detail on the shoulder?
Floral Print Studded Shirt Dress, £45.00, M&S
A shirt dress is brilliant if you're looking for an easy way to vamp up your everyday outfits - worn over tights or skinny jeans, this colourful floral design is ultra-feminine and is a great transitional piece.
Floral Print A-line Skirt, £49.50, M&S
An A-line midi skirt is a great alternative to a dress for a formal event. If you've got a spring wedding or a special occasion in the diary, this luxurious-looking skirt won't let you down.
Colour Block Shift Dress, £45.00, M&S
Colour blocking is a huge trend for 2017 and this chic shift dress is the perfect addition to your work wardrobe for spring. The angled yellow panel (yes, that's on trend too) will enhance your silhoueter, by creating the illusion of a nipped-in waistline.
Cropped Jeans, £35.00, M&S
This year it's out with the skinny jeans and in with the bootcuts and flares. These cropped jeans are brilliant for balancing out your bottom half, espeically if you're pear-shaped.
Leather Sling-Back Flats, £49.50, M&S
Pointed shoes were big last year and the shape continues to be on-trend this year too - updated with a sling back. Comfortable, practical and fashion-forward, these shoes are winners all round.
Floral Print Dress, £45.00, M&S
The midi-length style is a top trend for 2017, and this dainty dress is perfect for transitioning into the warmer months. Its relaxed fit is perfect for skimming over any problem area, and the long sleeves are very of-the-moment.
Wherever you look florals and yellow tones are the new season's clear trends, so be sure to snap up these star buys quickly!